International Yoga Day 2017: Moms-to-be, give prenatal yoga a thought
Prenatal yoga can be immensely beneficial for moms-to-be
There's a type of yoga for everyone. For people looking to lose weight, there's vinyasa yoga and power yoga, for people trying to find a sense of inner peace, there's yin yoga and kundalini yoga.
There's a type of yoga for expectant mothers too: prenatal yoga. Though some might argue that moms-to-be can continue practising their usual yoga routine till they give birth, prenatal yoga seeks to tailor asanas to the needs of expectant mothers.
What prenatal yoga is 
Much like other types of childbirth-preparation classes, prenatal yoga is a multifaceted approach to exercise that encourages stretching, mental centering and focused breathing. Research suggests that prenatal yoga is safe and can have many benefits for pregnant women and their babies.
The emphasis is on breathing, stamina and core strength, which will help the mom-to-be keep up with her energy levels and be more resilient during pregnancy.
Myth buster
Since those nine months can be a tricky time for the mom-to-be, some women wonder if it is wise to exercise or continue with their yoga routines.
Deepali Dandekar, a prenatal yoga teacher at Mumbai's Yoga House, says, "It is in the mother's best interests to continue yoga during pregnancy."
According to Dandekar and other yoga experts, one of the best things you can do during your first trimester is continue your yoga practice, or if possible, start a specialised prenatal practice.
Even if you have never tried yoga before, if you have the right prenatal yoga teacher, it will all fall into place. Also it's important to note that no one expects a beginner to do headstands when they are pregnant, and gravity-defying yoga poses are anyway out of question.
How it works
Since the body changes rapidly during pregnancy, there's alot of discomfort for the mom-to-be. But prenatal yoga can help with these changes by making the body stronger and more flexible in all the right places for easier labour, delivery and recovery.
Dandekar says the focus of prenatal yoga is on practising yoga at the level you feel comfortable at. It also incorporates breathing exercises to calm the mom-to-be and to combat common pregnancy problems like lower back pain. Yoga asanas are different for each trimester.
As far as asanas are concerned, it is okay to continue with your regular routine till the first 18 weeks of pregnancy, in whatever school of yoga you practice. But you do need to concentrate on changing your routine henceforth, like avoiding abdominal strengthening exercises such as sit-ups; long-held inversions, such as headstand or handstand, heavy abdominal breathing and asanas where you have to lie on your stomach.
Other than that, prenatal yoga is pretty much safe. Of course, there are a few exceptions. If a doctor recommends that the mom-to-be go on bed rest or minimise exercise, its important to check the level of intensity of exercise with him/her first. But even if exercise or yoga asanas are not possible, you can still enjoy the benefits of meditation.
What the doctor says
Dr Anjali Malpani, a gynecologist, says about prenatal yoga, "It is important to get flexibility when you are pregnant and it is helpful to tone your muscles This really helps during the delivery, it makes it much easier. Yoga is not only about physical poses, it is also about mental peace. Yoga makes you calmer, more relaxed because it teaches you meditation and mindfulness. We know that when the mother is agitated, the baby also gets affected — and we have seen that the baby starts kicking around more when the mother is upset."
Is prenatal yoga good for the baby as well as the mother? Malpani says, "Yoga is of course beneficial for the mother and when you do pranayam, you are more relaxed and are improving the flow of oxygenated blood to the baby. This will definitely help the baby in the long run. Also when you do yoga properly , and follow a healthy sattvic diet, you channel more positivity, and this also helps in the well-being of the baby."
"Finally, if you start yoga when you are pregnant, you are very likely to do it after birth as well, so that your baby will learn yoga with you, and this will help the child throughout his/her life!"
Here's a small guide to yoga during pregnancy for beginners by Lara Dutta, who pioneered the trend of prenatal yoga in India with these videos:
Deepali Dandekar takes prenatal yoga classes at Yoga House, Bandra, Mumbai. 
Lifestyle
Tree pose helps you to stretch the body long, from the heels to your fingertips. The pose also helps you to improve your balance.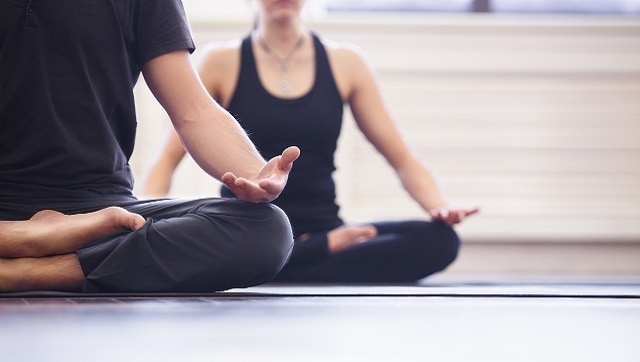 Lifestyle
An effective yoga asana to manage diabetes is Kapalbhati Pranayam. This asana works on your breathing and helps to improve respiratory activities as well as your sugar levels