International Women's Day 2017: These women in South India are models of inspiration
In the run up to International Women's Day 2017 on 8 March, we profiled little-known women in South India who have fought against all odds in their local communities to bring forth change and transformation
In the run up to International Women's Day on 8 March 2017, we profiled little-known women in South India who have fought against all odds in their local communities to bring forth change and transformation. While these women stand out as shining examples of the power of determination, there are also many women who languish in fear, battling misogyny and extreme harassment. This series looked not just at the trials and tribulations faced by women in all walks of life — whether Kerala women trafficked to the Gulf or heroines who are harassed and molested — it also showed how in small pockets of south India, individual women are triumphing against caste, patriarchy and discrimination to help not just themselves but entire communities, generations and villages.
In Tamil Nadu:
1. Fighting against the caste scourge, now an entrepreneur
The last of six children in a lower income Dalit family in Kumbakonam, Kalavathy always knew she wanted to do something different with her life. At a time when many Dalit women in the state are struggling for basic rights, she has made a mark by starting her own garment unit, employing over 80 people. She continues to battle odds, since orders dwindle when her caste identity is known. Kalavathy says she has to work extra hard in order to be as good as her non-Dalit peers.
Read Kalavathy's story here.
2. Water Warrior
The Vadamoor village near the Veeranam tank had been facing an acute water problem, with people being forced to walk several kilometres just to get drinking water. All this changed thanks to one woman, Ranganayaki. A widow with two physically challenged children, she was forced to take up agriculture when her husband died. After struggling with a water shortage and poor irrigation, she was responsible for clearing the Raja canal and removing encroachment, which helped not only bring water to her village, but also helped improve the agriculture in the area.
S Ranganayaki's journey is profiled here.
3. Rich and famous but dogged by misogyny, harassment
The recent horrific incident involving a South Indian actress has sent shock waves across the industry. Support for her streamed in from all over the country. Yet, before it could be dismissed as an one-off instance, actor Varalaxmi in Chennai came out with allegations against a TV channel chief, of harassment. In the past too, there were plenty of instances where actresses had to put up with situations that their male co-stars would never find themselves in. In 2007 actor Padmapriya was slapped on the sets of Mirugam by director Saamy, which earned him a year-long ban from making films. Celebrities like Priya Mani, Shriya Saran, Shweta Menon and Hansika, have reportedly been groped in public at different occasions. Many films have been panned for their degrading portrayal of woman on screen. Heroines often get only a tenth of the screen time that a hero gets in masala entertainers. Songs with regressive lyrics are also common in Tamil. While all this is on screen and evident, even behind the scenes actresses have to deal with abuse and harassment frequently.
We highlight the issue here.
In Andhra Pradesh:
4. The self help woman of Kurnool
B Vijayabharati championed the setting up of community radio, literacy and women's empowerment campaigns in the drought and acute poverty-ridden region of Kurnool district in Andhra Pradesh. A school teacher in Nellore, she championed the anti-poverty programs of UNICEF and launched self help groups in Kurnool district which have produced thousands of women entrepreneurs. She was invited by Harvard University to narrate her experiences.
For more on Vijayabharati's work, click here.
5. Battling misogyny without a godfather
RK Roja, actor-turned-politician has now become a strident voice against AP CM and Telugu Desam Party supremo Chandrababu Naidu. Now, with AP's ruling party training all their guns and venom on her, Roja has come into her own — seen as a threat by some of the most powerful politicians in the south, banned entry into the Assembly for her entire tenure and being banned by the ruling party from participating in the Women's Parliamentarians Congress held at Vijayawada. Yet, Roja battles on.
To find out why her rivals fear Roja's acerbic rhetoric, read on.
In Telangana:
6. The People's Officer
Hailing from West Bengal, Smita Sabharwal is a 2001 batch IAS officer of the Telangana cadre and is known as the People's Officer for her extraordinary work in Chittoor, Warangal, Vizag and Karimnagar. Sabharwal has played a key role in several health initiatives, especially her scheme to monitor government doctors via Skype to ensure that healthcare delivery in rural areas is reformed. Sabharwal was also the brain behind the 'Fund your city' scheme which pooled public resources to build parks, foot over bridges etc in Warangal. She is the first woman officer in the Chief Minister's office in Telangana.
Sabharwal's achievements are chronicled here.
In Kerala:
7. Fighting for women's right to pee
P Viji set up "Penkoot" (Malayalam for "Crowd of Women") in 2009-10 when she realised that women did not drink water despite the sweltering heat because they did not have a place to urinate. These were women working in anganwadis, textile shops and teachers in unaided schools. Three years later, she went on to set up a trade union called the "Unorganised women employees union'' or the Asangahda Mekhala Thoyilalli union (AMTU). What started off as raising issues relating to working conditions went on to demanding and fetching better wages as well. That's why, perhaps, 85 per cent of the members of her union are women. They total over 6,000 now. The 46-year-old is now considered the inspiration behind the women who led the Munnar struggle to bring the largest tea company down to its knees and get 20 per cent bonus, when the regular trade unions were able to get a meagre 8.33 per cent a couple of weeks earlier.
Read about P Viji's movement here.
8. Trafficked, duped and deserted
A Kerala woman was duped by an agent in India and sent to the UAE for work. She was then sold from there to Saudi Arabia. A similar case is that of a woman from Andhra Pradesh who was duped by an agent and sent to Bahrain. As work conditions were not good and her health was deteriorating, she had to come back, that too only after the intervention of social workers in Bahrain. As she was a widow, her two girl children were taken by the agent to work as housemaids in India. Because she returned breaking the contract, the agent threatened to send the daughters to Bahrain. The woman was not also allowed to see the daughters after return. Last Friday, activists, lawyers and police rescued the girls from the agent's house in India. There are many cases like this, of victims of trafficking — and their tales of woe continue even after they return home.
We highlight the plight of these women here.
9. Helping those with brittle bones
Latha Nair is your average retired government employee in Kerala but over the last decade-and-a-half she has been a 'mother' trying to salvage the pain of more than 100 human beings of all ages from 3 to 60 who suffer from the incurable degenerative disease called Osteogenisis Imperfecta (better known as Brittle Bone Disease).
In 2001, she started the Amrithavarshini Charitable Society with her savings. The organisation now has close to 100 members across the state and elsewhere. What started as an attempt to take care of the medical needs of the patients who are mostly resigned to wheel chairs or beds, is now also about finding employment and education opportunities depending upon to the extent their bodies can move. But importantly, the aim of the society is also palliative in nature as most patients suffer from extreme pain due to bones breaking at the slightest pressure. Latha is now on a mission to build a home for OI patients as increasingly parents of such people are worried what would happen to their children once they pass away. A home for OI patients would be the first of its kind in the country.
Read about Latha Nair's work here.
In Karnataka:
10. From waste to wealth
Nalini Shekar is the founder of Hasiru Dala, Kannada for the "Green Party". She set it up in Bengaluru in 2010 soon after she returned from the US. Before leaving for the US, she was involved in working with the waste pickers in Pune where she was working as a teacher. She believes that the waste pickers are entrepreneurs who create jobs. Indeed, she believes, that without the waste pickers, the recycling industry would collapse and the Brahut Bengaluru Mahanagara Palike (Corporation of Bengaluru) would have spent approximately Rs 84 crores just to pick up waste. Her biggest achievement, thus far, has been that the waste pickers of Hasiru Dala carry ID cards which are signed by the Commissioner of the BBMP. This is to prevent their harassment by the police.
Nalini Shekar's efforts are reported here.
Life
Nalini Shekar of the Hasiru Dala has transformed how rag pickers are viewed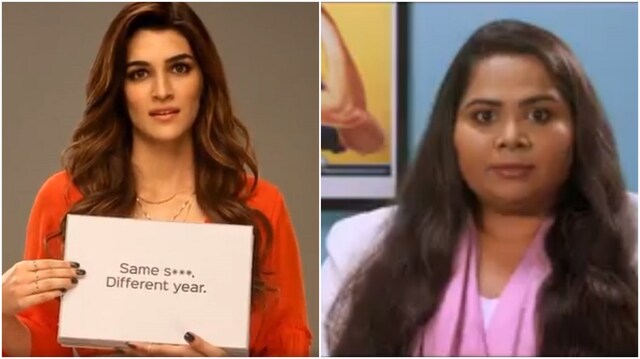 Entertainment
We took a look at two such Women's Day videos which trended for all the right reasons, we are guessing. Take a look.