Inside Sarmaya, a self-funded museum which attempts to revive India's dying art forms
Sarmaya boasts of a collection of ancient coins, maps, and tribal art forms. It conducts workshops and outreach programmes in schools and colleges | #FirstCulture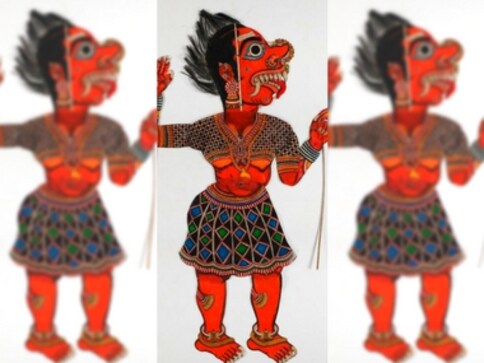 Paul Abraham started with collecting coins. A jar containing 10 coins from erstwhile Travancore, which his father took with him when he migrated to Delhi, spurred Paul's interest in numismatics. An interest in coins led to an interest in history, and in an almost domino effect, to collecting other types of artefacts until he had collected enough to start his own self-funded museum, Sarmaya, in 2015.
Coins account for a large portion of the collection at Sarmaya, numbering to around 3,000, but the collection has extended to maps, engravings, photography, tribal and contemporary art from across India. It was after he lost his wife—an avid collector of tribal art herself—to cancer in 2014 that he considered putting together their collection and turning it into a museum. 'Sarmaya', which means 'collective wealth' in Urdu, was launched in 2015 with the aim of creating appreciation, love and understanding for the country's past among the public, especially the younger audience.
When he started collecting coins from the Mughal period, Paul had to learn Urdu in order to decipher them. The coins of this era were typically inscribed with the name of the king, the year of the rule, the places where they were minted, and even poetry and couplets.
Studying these coins requires one to know where they were minted. This task is not easy, because the names of these places have changed over the centuries. For instance, what is today called Agra was once Akbarabad, Delhi used to be Shahjahanabad, and Lucknow was called Akhtarnagar. To figure out these locations, Paul had to refer to old maps, which led him to collecting maps of the period. The dealers who had these maps also often posssessed engravings from this era, which led him to explore another path.
The Mughal dynasty ended in India with the uprising in 1857, and his search for artefacts related to the devastation of the period took him on a different route: of collecting photographs of the period. His collection now includes original photographic prints, procured while travelling in London, of the aftermath of the rebellion, including Felice Beato's infamous photograph for which he allegedly dug up bodies from a nearby graveyard and had them strewn in front of the camera. Paul started collecting the photographs purely to document the end of the Empire, but he was eventually hooked on to the medium itself. Black-and-white photography, especially of the sub-continent in the 19th century, occupies a prominent place in the museum.
The collection of tribal art at Sarmaya includes forms such as Phad from Rajasthan, Pattachitra from Odisha, and Tholu Bommalata from Andhra Pradesh. All of these tribal art forms are created and practised by families, Paul says. "In Tholu Bommalata, the very people who make the puppets also perform with them on a stage and sing ballads, which are typically tales from the Ramayana. But the Ramayana they refer to is not the Valmiki version, but the Ranganatha Ramayanam, where the character of Raavan is treated more sympathetically," he adds.
Sarmaya is a dynamic museum, as it constantly holds workshops and other outreach programmes in schools and colleges, apart from exhibitions. Its collection is housed in Delhi and Mumbai. Paul deftly juggles between his day job as a senior banking professional in Mumbai and the effort he has to put into Sarmaya, where he is assisted by a team of heritage restorers, designers and researchers.
When one goes about collecting antiques and artefacts, there is much that needs to be verified. "Things are important for a variety of reasons – nostalgia, emotion, value, aesthetics, rarity, and so on. When you acquire an artefact, there has to be an element of each of these, and you have to establish its rarity, authenticity, and provenance, among other attruibutes," says Paul.
Until a few decades ago, antique collection was largely an informal profession, where one relied on their own skills to decipher and verify the authenticity of an artefact. But the ecosystem is improving these days, he says. "There are certification possibilities, auction houses, and experts, whereas 35 years ago, the only way to get hold of these coins was at informal coin melas."
But the practice of collecting is one that is filled with surprises. You might discover a precious antique in the most unexpected place. "This is especially true in India," says Paul, "Even today, farmers find interesting things while tilling the land or rebuilding their houses. Sometimes, old photographs or paintings can be found hidden under people's homes. The issue here is the culture of preservation, transparency, of having a national registry to verify, tag and authenticate such objects, so that they all have unique identities."
Crucial to all of this is the culture of awareness. One only has to look at the monuments of the country to get an idea of this, he says. Even historical monuments monitored by organisations such as the Archaeological Survey of India (ASI) are defaced. If people were made aware of their historical value, these structures wouldn't be treated so terribly, he adds.
The idea of heritage expands as time passes, with the numerous changes in our eating habits, dress codes and other aspects of culture. The kind of utensils used to make food, some of the ingredients, the vegetation endemic to a particular area, all fall into this. Take for example the sari, and how each part of the country has a different version of it, as well as the versions that have emerged over centuries. The amount of skill that traditional weavers pour into each of them is so meticulous, and Paul believes that this kind of awareness is crucial to building appreciation for their skills.
So what are the chances of these traditional crafts surviving in a technology-driven world? "It is a challenge," he replies, "Some of these are, as they say, historic inevitabilities. Society evolves; some things survive and flourish, while some perish. The only thing I think we need to be worried about is that some of these skills are so exquisite that if they are lost now, they could be lost forever."
Indeed, one of the biggest challenges faced by traditional artisans today is the lack of patronage, and it is a constant struggle for them to keep up with changing tastes. "I frequently encounter at craft melas cheap, ready-to-sell products by craftsmen who are otherwise capable of wonderfully exquisite work. The lack of patronage is what forces them to sell cheaper products," he adds.
Paul is doing his bit by keeping some of these art forms alive by commissioning new works, the latest being a series of miniatures depicting tales from the life of Christ in the Hamzanama tradition of the Mughals. They are created by Manish Soni, a miniature painter who hails from an illustrious family of miniaturists from Bhilwara, Rajasthan. "Here is a Hindu artist depicting a Christian theme in an Islamic tradition," he says, with a smile.
World
Ten of the 12 zodiac signs are shared by Vietnam and neighbouring China. However, the Vietnamese revere the cat over the rabbit and the buffalo over the ox
World
Zurich's Kunsthaus museum said that it had reported the disappearance of the works, two small paintings by Flemish painter Robert van den Hoecke and Dutch Golden Age artist Dirck de Bray, to police
World
Some museums in the UK including London's British Museum are using alternatives for the word 'mummy' like 'mummified person' or 'mummified remains' to describe their displays of ancient Egyptian bodies. A critic has likened the step to 'virtue signalling'