Indira Gandhi: A Life in Nature offers a portrait of the late prime minister as an environmentalist
Jairam Ramesh's book — Indira Gandhi: A Life In Nature — is a decent effort, coming during Mrs Gandhi's birth centenary year, to piece together a life immersed in nature although her day job would have been to cater to needs of a developing nation.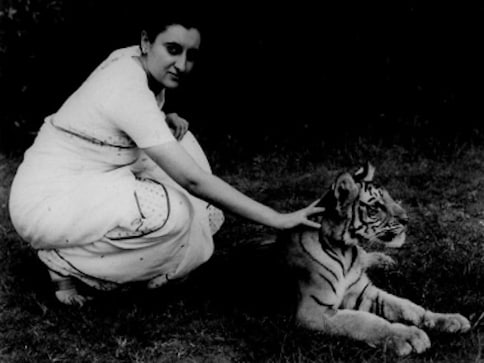 Indira Gandhi, India's third prime minister, usually draws extreme reactions. People who lived through her prime ministerial years, either venerate her for defeating Pakistan in the war of 1971 and thus creating Bangladesh; for tough economic decisions like nationalisation of banks, ushering the Green Revolution, overseeing nuclear tests — or vilify her, for imposing the Emergency, for her role in the Operation Blue Star and running the country in an autocratic fashion.
Indira Gandhi's biographers have documented her politics, written about her economic decisions or tried to exhume her personality. But there is another side to her persona that has rarely been talked or written about. That is her love for nature and concern for the environment. It is this side of Gandhi that former cabinet minister Jairam Ramesh brings out in his most recent book Indira Gandhi: A life in Nature. According to Ramesh, the late prime minister was a reluctant politician who got sucked into politics due to variety of reasons. Ramesh sets his stall out early, stating clearly his "unabashed reason" for writing the book being "a cohesive ecological narrative extending right through (Mrs Gandhi's) life based on written records has been missing".
Ramesh contends that essentially, at heart, Mrs Gandhi was a passionate naturalist and a concerned nature lover. So although her politics and economics changed according to the times, her commitment to nature remained steadfast until her death in 1984. To build the narrative, Ramesh has generously used the large number of letters she wrote, the many speeches she delivered, memos she dispatched and a whole host of other personal and official documents.
The book is presented as if it were an environmental diary of Mrs Gandhi's life. It begins with the early years of her life in pre-independent India. An only child, Indira had a tough childhood. With an ailing mother and a father who was regularly in and out of jail due to his involvement in the freedom struggle, Indira took refuge in nature. Birds and plants became her companions. Indira did her schooling in many different places. But her school days in Switzerland and a brief stint of nine months in Shantiniketan left a lasting impression on her. Her long walks and time spent amidst her beloved chinar trees in her ancestral land of Kashmir cemented her lifelong love for the Himalayas. The mountains would be her go-to-place when Gandhi wanted to destress from the hectic political life she would come to lead later. The last time she visited her favourite forests of Dachigam National Park in Kashmir would be just days before her death.
If Indira is called her father's daughter, it is not without reason. Jawaharlal Nehru had the most intellectual impact on young Indira. She not only imbibed the habit of writing letters from her father (as they exchanged hundreds of letters to keep in touch during his frequent stints in jails), but also a love for nature. During the independence struggle, Indira herself would also be lodged in jails around the country. It was when she was incarcerated in the Allahabad jail that she developed a lifelong interest in watching birds.
Indira Gandhi would occupy the prime minister's office over two periods from 1966-1977 and 1980-1984. The initial couple of years, while she was finding her bearings with leading a nation, she dealt with pressing problems of agriculture to make India self-reliant in feeding its own population. But by 1969, Mrs Gandhi had found her footing and could hold her own as a naturalist prime minister. It was an important year when she brought her private passion for nature into the public domain. She breathed new life into the dormant Indian Board for Wildlife and invited the International Union for Conservation of Nature to hold its General Assembly in New Delhi, thereby demonstrating her seriousness to preservation of natural ecosystems even while being faced by challenges of a fledgling economy.
It wouldn't be a stretch to suggest Mrs Gandhi was influential in drafting India's most important wildlife laws like the Wildlife Protection Act of 1972. She took personal interest in launching landmark conservation programmes like Project Tiger. But she also was equally clued in about the state of all kinds of animals from the lion, crocodiles, blackbuck to the sangai. Many of the natural habitats that continue to be protected to this day like the Sultanpur jheel near Delhi, Silent Valley and Dudhwa National Park, bear her stamp.
Ordinary people interested in nature frequently wrote letters to her. She took note of their concerns and made it a point to reply. Many of the conservationists of the time like Salim Ali, Kailash Sankhala, Billy Arjan Singh found a sympathetic ally in Mrs Gandhi and had easy access to her in their fight for preserving wild areas. In her capacity as prime minister, she frequently wrote letters to many chief ministers pulling them up or bringing to their attention the state of wildlife under their purview.
Ramesh does justice in bringing forth a treasure trove of information about Mrs Gandhi's love and concern for nature. But where he falters is in "allowing Mrs Gandhi to do much of the talking" in the book. For every episode Ramesh is narrating, it is broken up by Mrs Gandhi's own views on the matter — notes or letters she wrote. The book would have made for more engaging read had Ramesh built his own stories from the information he had. This would have made it a more definitive biography rather than half a memoir. Opening and closing different stories that Ramesh narrates in the book would have also made for a more pleasant read. The technique of breaking up stories in the chronology of years in which they appeared breaks the thread that holds a reader's attention.
Mrs Gandhi's passing was mourned by not only a political party and citizens but also by the mountaineering community and ardent environmentalists. The book is a decent effort, coming during Mrs Gandhi's birth centenary year, to piece together a life immersed in nature although her day job would have been to cater to needs of a developing nation.
Indira Gandhi: A Life in Nature is published by Simon & Schuster India
Entertainment
Srishti Lakhera's Ek Tha Gaon, about two women who are the only living residents of a village on foothills of Himalayas who are torn between the idea of abandoning their home or stay connected to their nature / roots, was screened at the All Living Things Environmental Film Festival (ALT EFF).
Entertainment
The film was screened at the All Living Things Environmental Film Festival (ALT EFF) this year. And Menon got candid in an exclusive interview with Firstpost about everything related to the film.
Opinion
The Gujarat model of development which has Narendra Modi's inimitable stamp written all over it has withstood the test of time and is a classic textbook case that shows one man's relentless pursuit of an aspirational India