Indian techie who tied the knot with same-sex partner in Yavatmal recounts their journey
California-based techie Hrishi tied the knot with his partner Vinh at a ceremony in his hometown Yavatmal. This is their story | #FirstCulture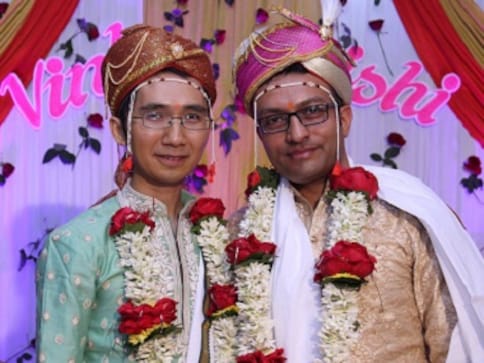 California-based techie Hrishikesh Sathawane, 43, returned to India for a visit in mid-2016; he was hoping to find the right guy to settle down with. The trip, however, was a disappointment. Hrishi didn't find his prospective Mr Right. A few months after he got back to the US, in October 2016, Hrishi came across a profile on a dating website: Vinh, a 35-year-old Math professor who hailed from Ho Chi Minh City, Vietnam.
Hrishi remembers the feeling he had when he read Vinh's bio: "The moment I looked at his profile, all the criteria matched. Even before we could connect, I knew he was The One," Hrishi says. The duo met up for a dinner date two days later. Other dates followed in quick succession. "We couldn't get enough of each other!" Hrishi recalls with a grin.
Vinh told Hrishi about a cousin's upcoming wedding in Sydney, and they decided to use the occasion as a reason to go on a road trip in Australia. They spent their Christmas holiday there, and Hrishi was welcomed by Vinh's family as his significant other. It was a turning point in their relationship: Hrishi began to feel that his dreams of having a family of his own could come true with Vinh.
"Being in my 40s, I was hoping to settle down and adopt children… With Vinh, it all seemed so much more possible. Vinh's very good with kids!" says Hrishi. On a clear day, in California's picturesque Antelope Valley — a poppy reserve where the bright orange flowers spread over several hundred acres — Hrishi popped the question: Would Vinh consent to spending the rest of their lives together? Vinh responded with an unequivocal yes. Was the proposal inspired by a Hollywood/Bollywood romcom? "I don't know if it was all that filmi," Hrishi says, laughing off the suggestion. "But it was certainly a memorable moment for a lifetime."
Hrishi's family back in Yavatmal, India, were overjoyed to hear his news. In June of 2017, they threw a party for the engaged couple. Hrishi and Vinh also decided to have a commitment ceremony in India in January 2018 before their legal wedding in California in the summer of this year.
Photos from their commitment ceremony— the traditional shaadi set-up, haldi and mehendi celebrations — went viral on social media. It was also widely reported by the press. Hrishi and Vinh were hailed as bold champions of the queer community's rights.
Hrishi says of the days leading up to the ceremony, "Our relatives had mixed reactions: a few were happy and present at the event. But there were many who also gossiped about how 'unnecessary' my 'wedding in India' was. According to them, I should have completed the finalities in the US alone. But that hardly mattered."
Amid support from friends and contemporaries, Hrishi and Vinh also managed the many small obstacles that crop up when planning an event like a wedding.
"I didn't know how tough it would be even to arrange a cake of our preference, just because we're gay!" Hrishi tells us. Hrishi had to repeatedly persuade the baker to create a wedding cake that would have all the colours of the rainbow flag. "The baker said, 'I can give you four colours on the cake, not all.' Maybe he was scared that he'd be drawn into some trouble? Finally, we agreed on using slightly different shades, but with the figurines of a gay couple on top."
A more hilarious situation ensued when Hrishi and Vinh prepped for a Bollywood dance routine to perform at their wedding. "In the first rehearsal, we were given the 'Malhari' song (from Bajirao Mastani). We were puzzled and asked if we could be given a romantic number instead. To which the (choreographers) replied: 'But where's the girl?'" Vinh and Hrishi did get their romantic song after all — and their slow dance to 'Maine Pyaar Kiya' earned them cheers aplenty from their guests.
Post-nuptials, the couple was inundated with messages on social media, most of them congratulatory. "In India, where people aren't entirely clear about LGBT rights, I know this (our wedding) is a big step," says Hrishi. "I do agree that being in the US and staying together is a lot easier than it would be in India. So we're really happy that a simple and natural move from our side could inspire the LGBT community here, to ask for their rights… Among all the positive comments, there have also been a few negative ones, but then hundreds have spoken up on our behalf, shutting down detractors. We're overwhelmed."
There has been one unsavoury note as well, in the couple's joy. A leading national daily claimed the police in Yavatmal were investigating Hrishi and Vinh's commitment ceremony. "Tell me, what do they want to probe?" Hrishi asks, adding that there has been no such development.
"According to Section 377 of the IPC, gay sex and many forms of heterosexual sex are illegal. But there is no law to prevent a commitment ceremony. The legality of gay marriage is unclear under Indian law. It's neither legal nor illegal. There is no legal basis to prevent a Hindu wedding for gay people. I think it's sad that a section of the media is pushing such fictitious stories, and in a sense, scaring the LGBT community," Hrishi says. "My request to the press is — 'don't scare the LGBT community, they already live in fear'."
As for the newlyweds, they're back in the US where they're undergoing classes organised by the Alameda County Foster Kids' Programme. Hrishi and Vinh are ready to embark on the next phase of their journey.
also read
India
In a big win for the LGBTQ community, the Central Industrial Security Force (CISF) has officially recognised a woman who underwent a sex-change operation, as a man.
Entertainment
Karan Johar was left fuming after being mocked on the social media about his sexuality following legalisation of same-sex marriages in the US
World
"It was a complex issue," says Syed Akbaruddin, the MEA spokesperson.