India is less happy than Pakistan, Palestine, says World Happiness Report. What's going on?
The World Happiness Report was released recently and it turns out Switzerland has the happiest people in the world. India is ranked at 117 in a list of 158 countries.
The World Happiness Report was released recently and it turns out Switzerland has the happiest people in the world. India is ranked at 117 in a list of 158 countries. Unsurprisingly, the top 10 includes some seriously rich countries, but the state of our economy isn't what landed us near the bottom of the happiness pile. Bangladesh and the Palestinian Territories are in far worse economic shape than India. Yet they're at 109 and 108 respectively. Despite all the turbulence in Pakistan, our neighbour is much higher than us on the totem pole of good cheer too (number 81).
Welcome to new India: it's shiny and unhappy.
The World Happiness Report calculated each country's ranking on the basis of six variables: GDP per capita, social support, healthy life expectancy, freedom to make life choices, generosity, and freedom from corruption. Comparatively speaking, India is not doing abysmally on the GDP stakes. Our life expectancy is healthy enough. We enjoy greater freedom than in countries like Iran, Pakistan and Italy (all of which are happier than India, if the data is to be believed). What is depressingly narrow is the band of yellow that denotes social support.
The social support number is the national average gathered from the Gallup World Poll question "If you were in trouble, do you have relatives or friends you can count on to help you whenever you need them, or not?" It appears a lot of Indians said they didn't.
If there is anything that characterizes the modern Indian — particularly the modern, urban, young Indian — it is perhaps a sense of being alone. "If I ask you, do you have someone you can talk to when you're feeling like crap, you'll say yes," said 34-year-old Pavitra*. "But when you're actually feeling like crap, do you actually call that person? Do you call anybody? I don't."
Pavitra thinks she might be "slightly" depressed. If you see her social media profile, it's full of sardonic updates and beaming selfies. Her conversation is witty, she seems confident and her smile rarely falters. "I'm the kind of person who, if I killed myself, everyone who knows me would tell the media, 'But she was always so happy'," she said, with a wry grin. She isn't suicidal ("don't have the balls to do it"), but she is often miserable. "There are times when I feel like I can't move. I actually make up imaginary friends and talk to them because I'm just so…," she shrugged. "I don't know. It gets me out of bed and I feel better until I realise I'm basically talking to myself."
Yet Pavitra doesn't appear to be someone lacking social support. She isn't short of friends and has close family in the city. Her phone is constantly sending and receiving cheerful messages. It's as though the path to nervous breakdown is paved with smileys.
Pavitra's episodes of paralysing sadness may not be life-threatening, but that doesn't mean they're not serious. Whether or not these bouts develop into something more severe, Pavitra needs to talk about them and not brush them under the carpet. "When there is no threat to life, at that point in time, the situation is still emotionally overwhelming. We call that an emotional crisis," said Paras Sharma, Programme Coordinator of iCALL, started by Tata Institute of Social Sciences and currently supported by Harsh Mariwala, Chairman of Marico Industries.
In a country where helplines are launched with fanfare and often end up neglected and defunct, iCALL is a success story. It has been active since 2012 and provides free counselling over telephone and email. Although it has dealt with its share of crisis calls, its focus is upon mental health issues that are considered less severe – like stress, relationships, and work-life balance. In the past three years, iCALL has handled more than 11,000 genuine calls and 1,000 emails. Its team of counsellors — which expanded from seven to 12 last month — can talk to callers in English, Marathi, Hindi, Punjabi and a clutch of other regional languages.
People have called up and confided to iCALL about trauma like sexual abuse and closeted sexual identities. Children as young as eight have talked about exam anxieties. Spouses have unravelled over heartbreak and abandonment. It is the tip of an iceberg of melancholia.
Back in 2011, a WHO report said that India had the highest rate of major depression in the world. In 2013, it was reported that 10% of the Indian population suffered from "minor" mental disorders such as stress, anxiety and depression. With this in mind, India's low ranking in The World Happiness Report doesn't seem odd.
Worryingly, the number of mental health professionalsin India is staggeringly low. In 2002, there were only 343 clinical psychologists in the entire country and while that number would have risen in the past decade, it isn't anywhere close to where it needs to be. Add to that the fact that going to see a counsellor or a psychiatrist is invariably treated like a dirty secret. "It's easier to find a switch in a dark room than it is to find a good head doctor," said Karan*, 39, who is manic depressive and has seen a number of counsellors over the years. "Anytime someone tells me, 'A friend of mine was asking about a therapist', I know they're the one who needs someone. We know we're not supposed to judge someone for being mentally disturbed, but we're also so fixated on being totally sorted. You can't let anyone know you're messed up in the head."
One would think that the stigma surrounding mental health issues in India would have weakened over the past few decades, particularly in cities. Unfortunately, it seems that while we're more understanding of mental illness today in urban spaces, we are not more accepting of it. A few years ago, a stigma study reported that 47% of its 732 participants experienced negative discrimination from friends and colleagues when they disclosed they had some form of mental illness. A heartbreaking 72% felt they needed to conceal their diagnoses because they anticipated censure or discrimination.
The anonymity that helplines offer can be a neat way of sidestepping some of this anxiety. The big concern, though, is trusting the person on the other end of the phone line. Are they really qualified to handle your call? Are they using True Caller on you as you speak? It's worth keeping in mind that the counsellors need to maintain their anonymity just as much as the counsellors. For instance, all iCALL counsellors use pseudonyms to ensure they're not harassed or stalked.
iCALL stands out among Indian helplines because those manning the calls are trained professionals (rather than volunteers) and a rigorous process is followed. Each case is recorded in detail and reviewed regularly.  The data that the helpline is collecting could eventually offer some insight into what's pushing so many in India towards emotional crises. At the moment, the fact that each case is discussed, reviewed and supervised means that instead of just one counsellor per caller, you get something of a mental health squad for each case. Every counsellor is expected to be up to speed on all the genuine calls since a caller may not get the same counsellor if they call back. Whether you just want to talk or you need legal services, the iCall counsellor will do their best to help you.
If all this sounds like what you'd expect good friends to do for you in times of need, it's not too far off the mark. Except these are friends without names, but with intensive training in counselling. "The distinction between a common sense intervention and a therapeutic intervention is often very blurred," said Dr. Sujata Sriram, faculty member at TISS's Centre for Human Ecology and one of the founders of iCall. "The difference is that as a counsellor, from the therapeutic angle, you know what technique you're using and why."
The stereotype of India is that it is a place where loneliness vanishes. We've surrounded ourselves with stories and images of well-meaning, meddling family members; strangers who invade your personal space because they figure you need help; big fat Indian weddings, and jubilant festivals like Holi and Durga Puja in which crowds become comrades. It isn't as though none of this is true, but it's equally evident that as a society, we're going through some difficult times. Let's hope we're able to talk our way out of them.
If you'd like to talk, contact iCALL at 022- 2556 3291, Mon-Sat, 10am to 10pm. You can also email iCALL at icall@tiss.edu and a counsellor will get back to you within 24-48 hours. 
* Names changed upon request.
also read
World
Israel frequently cites the lack of construction permits as a pretext for demolishing Palestinian homes, particularly in Area C, which is under the control of the Israeli army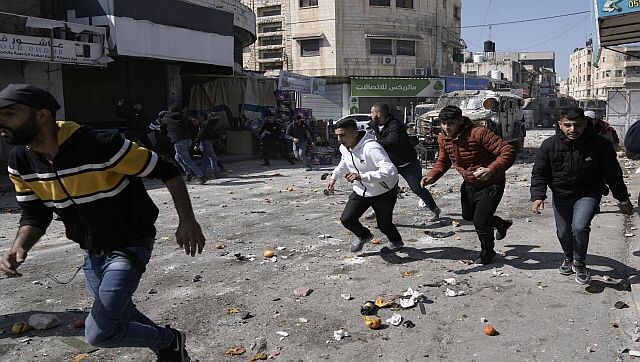 World
The Palestinian health ministry stated a Palestinian had been killed 'by occupation (Israeli) fire' in the southern West Bank, but did not name the victim