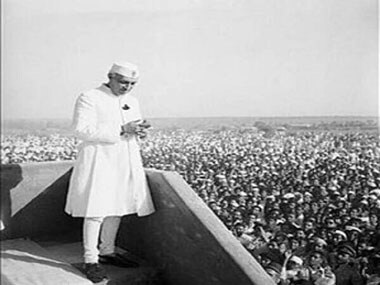 Looking back at the past seems to be a favorite pastime of social media users. There's never a non-viral day on Twitter, and the latest hash-tag to have taken Twitter and Facebook by storm is #BecauseOfNehru. A seemingly serious epithet, the origins of the hash-tag are unknown. Speculation, though, is rife.
In case you are wondering what started #BacauseofNehru trend. pic.twitter.com/Ycp290KagF

— Telangana Redux (@TelanganaRedux) March 15, 2015
Photos: So why was #BecauseOfNehru trending? Why, #BecauseOfNehru, of course! http://t.co/fPFjgc9b1p! pic.twitter.com/rmkLt3McuR

— scroll.in (@scroll_in) March 15, 2015
Along with some facts, some mean tweets, sarcasm and wit were also prevalent among the hash-tag users:
#BecauseOfNehru We have the 'Nehru Jacket' and some party called #Congress

— Salih Peerzada (@salihpeerzada) March 16, 2015
#BecauseOfNehru, India got independence in 1947. But it would had been 10 years earlier, if he had saved Bhagat Singh.

— 0mar Abdullah (@abdullah_0mar) March 16, 2015
Learning unwanted history #BecauseOfNehru

#BacauseOfNehru India is Democratic Country and so today even a Chaiwallah could become a PM.

— MSR (@MSR_Tweets) March 16, 2015

— Queen (@TheShopoholic) March 16, 2015
#BecauseOfNehru is a hashtag which proves we Indians are best at grudging about the past,wondering about the future and ignoring the present

— Prashant Jain (@bigtimefoodie) March 16, 2015
Epic Stuff! «@AdarshLiberal An #AdarshLiberal family is well settled and earning good money #BecauseOfNehru pic.twitter.com/qs7B3cReE5»

— Adarsh Chopda Saab (@Keisar_) March 16, 2015

#BecauseOfModi I could see such nice suit, Not #BecauseOfNehru pic.twitter.com/WLb3A7wbGc

— Matt (@mattombudsman) March 16, 2015

Nehru Jacket is famous #BecauseOfNehru Expensive, imported Pinstriped suit and underwear is famous #BecauseOfModi

— Arun Mysore (@arunmsk) March 16, 2015

We can feel that "achhe din ane wale he" not #BecauseOfNehru but #BecauseOfModi

— HI ! rain ! (@hiren4329) March 16, 2015

#BecauseOfModi appropriately appears like a ridiculous copycat of #BecauseOfNehru and proves that nakal ke liye bhi akal zaroori hai

— Nirbhaya's India (@NirbhayasIndia) March 16, 2015
Your guide to the latest cricket World Cup stories, analysis, reports, opinions, live updates and scores on https://www.firstpost.com/firstcricket/series/icc-cricket-world-cup-2019.html. Follow us on Twitter and Instagram or like our Facebook page for updates throughout the ongoing event in England and Wales.
Updated Date: Mar 16, 2015 16:17:44 IST