In Photos: Villagers protest a hydrocarbon project in an agricultural village in Tamil Nadu
Villagers in Neduvasal, Tamil Nadu are against the hyrdrocarbon project proposed by the Government.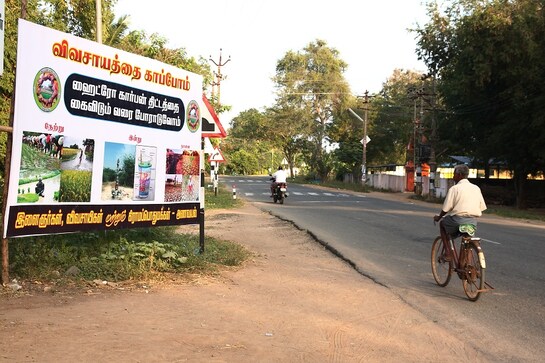 The road leading to Neduvasal, is flanked by tall and lush jack fruit, neem, tamarind, teak, banana and coconut trees, besides some wild ones. In the fields, water melon, paddy, ground nut, sesame and maize can be seen in various stages of growth. The villagers fear that this paradise of theirs will not remain so if the hydrocarbon extraction project takes off.
On Feb 15, the Cabinet Committee on Economic Affairs announced that Neduvasal in Pudukottai district of Tamil Nadu is one of the 31 Discovered Small Fields designated for hydrocarbon extraction. Since then villagers in and around Neduvasal have been protesting that the central government withdraws the proposal. Villagers reveal that they learnt about the possible ill effects of extraction from their youth working in the exploratory industries in the gulf. They take pride in the variety of crops that grow in their land and hence are in no mood to give up their lands either for money or for jobs. While the state government has told the villagers that the project will not take off without their consent, the central government has not given any such assurance.
The exploratory drillings were done way back in 1989-90. ONGC took five to eight acres of land on lease from villagers in Nallandar Kollai, Kottai Kadu, Vada Kadu, Pullan Viduthi and Vanakkan Kadu, saying they would drill to check for availability of kerosene. No exploration was done then in Neduvasal.
As per the government's statement of Feb 15, the discoveries could not be monetised because of isolated locations, small size of reserve, high development cost and technological constraints. And yet it has been decided now to be monetised.
While all the wells were sealed after the trial exploration, the one in Vanakkan Kadu was left open, with thick black oil still bubbling at the surface. This, believe the villagers, led to the death of the farmer who owns the land by cancer, besides the high incidence of cancer in their village.
The Neduvasal protests have temporarily been called off as the protest site is adjacent to school and the board exams have begun. But the protests in other villages continue and the protestors vow to do so till the government relents.
All photos courtesy R Samuel.
India
Farmers have been camping out at the Chandigarh-Mohali border since Tuesday night, demanding that the Bhagwant Mann government acquiesce to their demands on paddy sowing period, MSP for maize, moong and basmati, among others
India
The union minister emphasized that agriculture is one of the important pillars of the Indian economy as 54 per cent of the Indian population depends directly on agriculture and it accounts for around 20 per cent of GDP
World
Sri Lanka has been without a government since Monday when Prime Minister Mahinda Rajapaksa resigned after violence erupted following an attack on the anti-government protesters by his supporters