In Kolhapur, octogenarian master sculptor Ananda Kalke struggles for relevance
85-year-old Ananda is the only sculptor left in the Sangrul village of Karvir taluka in Maharashtra's Kolhapur district who doesn't use machines to sculpt idols.
This story is part of a series on the everyday heroes of rural Maharashtra.
His wrinkled hands do not fear the changing times. Ananda Kalke has been a sculptor for over six decades now. "Think and then hammer," he says and asks me to observe the movement of the chisel. For Ananda, a slight error in the hammering can cost at least 1,200 hours of work spread across half a year. A master sculptor, 85-year-old Ananda is the only sculptor left in the Sangrul village of Karvir taluka in Maharashtra's Kolhapur district who doesn't use machines to sculpt idols.
A difficult wandering
Before becoming a self-taught sculptor, he had to shift several jobs and often work without pay for months. He couldn't complete his education beyond grade II because of the financial constraints. "We didn't have money to wear a shirt. I used to take other's slate to school and learn," he says. His parents worked as farmers in the Kushire village of Kolhapur district.
For several years he worked as an agricultural labourer in Nigave Dumala village where he walked 6 km to and fro every day from his village of Kushire. Later, for five years he worked as a road construction labourer where he was paid Rs 1.25 daily for ten hours of work. He then met a mason Dadu Kochre in the nearby Wadange village and pleaded him to teach masonry. "He asked me to work for free for four months," he recollects. In the late 1950s, he started working on his own where he first constructed the 25 steps of a well in the nearby Bhuyewadi village. For the entire work, he took about 20 days and was paid Rs 10.
At the age of 17, he got married and then moved to Sangrul. For the next six years, he worked as a plumber. In 1964-65, he doubled up as a labourer in the boiling department of the sugar factory in Kolhapur's Kuditre village.
Encounter with the art form
At the age of 24, Ananda once helped Jadhav Guruji, a sculptor from his village in lifting the heavy stone. He then asked him to work on the stone idol of a goddess and decided to pay Rs 80. "After 15 days of work, Guruji only paid me Rs 40," he recollects. After rounds of a plea for the money, Ananda took a decision which changed his fortune.
"I then asked Guruji to not pay me Rs 40, but give the piece of a black rock which was lying there," he says smilingly. Immediately, the sculptor agreed to his demand. However, he had no idea as to what could possibly be done with the rock. After sculpting for six months, he made the idol of a regional deity out of it. Ananda was successful in chiseling off the stone to carve the idol, but he had no one to sell it to. "Who will take the murti [idol] without any order," he says.
In these six months, Ananda made mistakes and learned the art of hammering, sculpting, chiseling off the rock, and taught himself to learn the basics of sculpting. After carving the idol, he went to Gagangiri, a religious destination in Kolhapur's Bavda taluka [45 km from his village] cycling. The temple authorities decided to take his idol but didn't pay him. Ananda gave away the idol and later went on to carve a 12 feet statue of Shiva, the Hindu god, using cement. After a couple of years, he then sculpted a 22 feet long elephant at the same place in three months.
More than two lakh hours of hammering
Ananda has carved more than 50 idols of people who passed away over a period of six decades. These idols which are three and a half feet tall are carved from the black stone. He has to travelled several villages of Radhanagari, Gadhinglaj, Hatkanangale, and Bavda taluka in Kolhapur district for carving the same. He sculpts them on his own using a hammer, flat chisel, and a pointed chisel.
He cycles all the way to Sambhapur village in Kolhapur district [30 km from his home] for the black rock he uses in his work. In the 1970s a 2 x 2.5 x 1 feet piece of black rock would cost him Rs 40, which has now increased to Rs 250.
People would also come to his home and give him the photos, the rest of the times he would carve it by going to their villages. Ananda has sculpted more than 150 idols of gods to date ranging from 1 inch to 14 feet tall. He has also sculpted the idols of kings, social reformers, mythological characters, and animals. "I had once carved a grape vineyard in one inch," he says proudly. Along with the idols, he has sculpted several pots of 2.5-3 feet for the Basil plant. "Earlier [the 1990s], it was sold between Rs 250 and Rs 300. Now, it has increased to Rs 8,000," he says. "The orders for Basil pots have now reduced because people prefer buying the ready-made ones, instead of visiting a sculptor," he adds. His idols find places in the temples, religious places, public spaces and homes of people.
On an average, he used to earn Rs 40 daily in the 1970s which have now increased to Rs 250 per day if there's 'enough work.'
Every day he starts his work at eight in the morning and works for ten hours. In order to keep the memories alive, Ananda has maintained an archive of 81 photos of him working on the stone idols.
Plight
"For the past three years, the number of orders has come down," he says. So far Ananda has received only two orders in the nine months of 2018. He says, "Now everyone wants the idols within a few days. I need at least 15 days to make one [small] idol, but people don't wait for this long now." A few years back, he sculpted a 6.5 feet tall idol of a local politician by hammering for six months. However, the politician never showed up and it lies gathering dust at the entrance of his house. He estimates its cost to be at least around Rs 40,000.
His second wife, Kamal, 40, says, "He spent his entire life sculpting and people like his idols. He never had the time to look after the family." Kamal works as an agricultural labourer in the nearby villages where she gets Rs 200 daily for eight hours of work. "Even I wanted to learn sculpting, but I had to look after the family as this art form doesn't pay much," she adds.
"No one wants to learn sculpting now and it has become difficult to even find the black stones. Everyone uses cement these days," Ananda says sadly. He has no plans of retiring and wants to continue sculpting till his last breath.
Talking about the use of machines, he says, "I don't have enough strength left to use these machines. People like my idols made with the bare hands," he says smiling.
Two years back, he was invited to Pune for sculpting the statue of Guru Nanak. "The person who invited me passed away and I had to come back," he says. The idol remains incomplete now. To date, no one has come to Ananda to learn the art form.
"The younger generation keeps asking who will hammer continuously," he says sadly and goes back to sculpting.
India
On Tuesday, Mumbai recorded five fresh measles cases and one suspected death, the city's civic body had said in a bulletin earlier in the day. In Mumbai alone, ten deaths due to measles have been reported as of November 28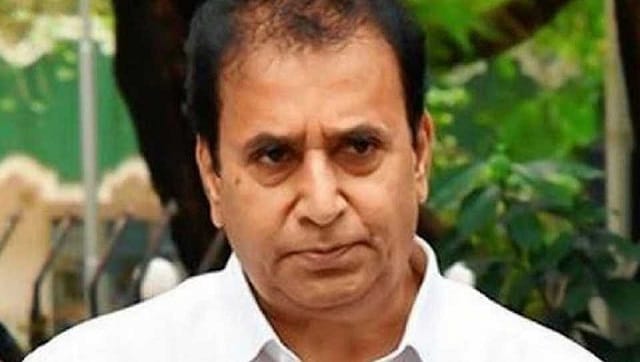 India
A special court designated to hear cases related to the Prevention of Money Laundering Act (PMLA) recorded his appearance and then granted him bail
India
The border dispute dates back to 1957 after the reorganisation of states on linguistic lines. Maharashtra laid claim to Belagavi which was part of the erstwhile Bombay Presidency as it has a sizeable Marathi-speaking population. It also laid claim to 814 Marathi-speaking villages which are currently