In Kamathipura's lanes, legalisation of prostitution seems like a faraway debate
The narrow lanes of Kamathipura, Mumbai's red light district, seem a long distance away from the debate on legalisation of prostitution raging elsewhere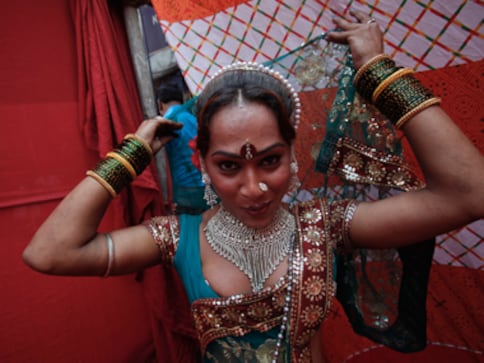 On 26 May 2016, Amnesty International released a proposal calling for decriminalising the sex trade, highlighting the rape, violence, discrimination and extortion faced by sex workers all over the world. In the time since, the proposal has launched a charge debate, with former US president Jimmy Carter penning an (also much discussed) opinion piece for The Washington Post, presenting an alternate model of punishing those who buy sex, rather than those who sell it.
That debate seems a long way away, however, from the narrow lanes of Kamathipura — Mumbai's red light district (Asia's second largest, right after Sonagachi in Kolkata).
On the day that I visit Kamathipura, its narrow lanes are crammed with the usual businesses and people common to any other neighbourhood in the city. But then you see what sets it apart from those localities — the presence of heavily made-up women, waiting for their customers.
It may be the world's oldest profession, but prostitution continues to be riddled with all sorts of problems — from trafficking, HIV/AIDS, to violence. And even after the passage of so many years, little advances have been made for the betterment of sex workers.
Shumi, 25, migrated to Kamathipura from Kolkata. She has now been working here for two years, and even though she claims customers are good to her and she's doing this of her own accord, the hesitation in her demeanour is clear. Shumi had to leave her husband and two young children, but intends to go back next year as soon as she manages to save enough money. "I want to save money for the welfare of my kids in the future," she says.
The prospect of leaving one's children behind may be brutal, but when faced with extreme poverty many women have little choice. It's no wonder then that most sex workers come from India's poorest states, including West Bengal and Uttar Pradesh. However, by large, the sex trade knows no boundaries.
Arjun (name changed), 23, has been living in a building opposite Kamathipura since he was six or seven. He drives a silver Jaguar and evidently comes from a far different socio-economic background than the other people I encounter. Yet he knows the area inside out. "Girls from Mumbai go to Kolkata and Delhi. Girls from Delhi go to Kolkata and Mumbai. And girls from Kolkata go to Mumbai and Delhi," he explains. In other words, sex workers travel as far as possible to avoid the brunt of their family and acquaintances' censure back home.
Unfortunately, as is the case in most countries in the world, prostitution is still a source of shame and as such, falls into one of those grey areas of legality.
The legal standing of prostitution is at the very least, ambiguous in India. There are many loopholes in the law, but consecutive governments have preferred to ignore the situation than to seek a long-term solution to address the issues surrounding the trade. Trafficking of minors and forced sex is of course illegal, but when it comes to consensual sex between two adults, the situation is different.
Officially, a sex worker can't legally solicit clients in public, but if she does so in a private home then she isn't technically infringing the law. Brothels and pimps are banned on paper, yet they somehow manage to coexist amongst businesses and even when there is a police unit in the vicinity.
For some young men in India, sleeping with a sex worker is almost a rite of passage. "If they have cash in their pockets, they will not hesistate. If it's my birthday or someone else's, rather than giving a treat in a restaurant, this is preferred," confesses Arjun.
Dr Nayreen Daruwalla, programme director for the Society for Nutrition, Education and Health Action (Sneha), believes there are multiple dilemmas sex workers confront due to their status, which is why she is adamantly in favour of legalisation. "I think prostitution should be legalised. Sex workers are doing it behind people's backs, so what is the whole point? Just give them that legal status," she says.
And legalising may help with one issue that many sex workers testify to: harassment from the police, for bribes. "I think if prostitution becomes legal, the police might harass them a bit less…and the women might have a more respectable position," says Dr Daruwalla.
There are an estimated 2-3 million sex workers in India, but due to the lack of registries and sex trafficking, the figure is probably even larger. According to the United Nations Office on Drugs and Crime, human trafficking, estimated at US$ 32 billion, is the fastest-growing criminal industry in the world. But when the stakes are so high, it's an industry that's hard to halt.
Aastha Parivaar is another of the many NGOs which caters to sex workers. Seema Sayyed, the manager of the organisation, believes great strides have been made since the time she first started working with prostitutes. However, there are few other forms of livelihood to which a sex worker can resort. "We are not here to stop the profession, because that cannot happen. If I enter a brothel and ask a madam to shoo away a girl and stop working, then what are they going to do? We don't have an option for them," she says.
Perhaps it is time we acknowledged — in India and elsewhere — and acknowledged the fact that sex workers are like any other human beings. They need protection but also have obligations. And the only way to uphold these rights — and duties — is through legalisation.
Arts & Culture
There is a crime, and there are clues, but the writing is not geared towards leading you to the culprit; there is a lot more going on in this novel
World
Hong Kong's famed red-light district has been jolted by the killings of two young Indonesian women, with a British banker the sole suspect.
World
The number of women being trafficked from Bangladesh into Mumbai brothels is rising as part of greater migration from India's eastern neighbour, and police and social groups need to do more to rescue and repatriate them, a charity said on Thursday.