In Chennai's slums, football is more than a sport; it's a key to a better way of life
Football is a sport widely played in the slum communities of Chennai, and each locality has stories about the difference it's made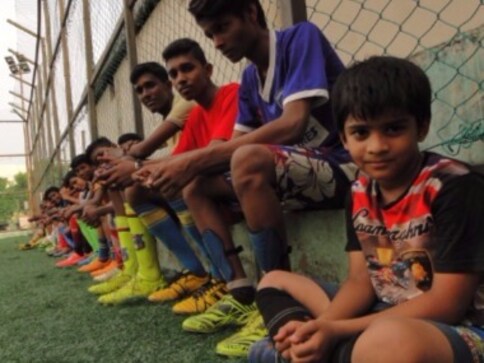 According to the 2011 census, 29 percent of Chennai's population lived in slums. Yet, for this city, the slums remain out of sight, out of mind. Could a sport help change that?
Football is a sport widely played in the slum communities here, and each locality has stories about the difference it's made. In Vysarpadi, a notorious working-class neighbourhood in North Chennai, the game is a tool two brothers — Umapathy N and Thangaraj N — adopted to keep kids away from crime in the late '90s. Since then, "over 100 have played national matches, and 23 have represented India in international arenas," says Umapathy.
In Basin Bridge, an adjacent area, football has been a prevalent sport for nearly five decades. But it is only since Oasis — an NGO that works with disadvantaged communities — launched its football programme in 2012, that many have learnt the sport formally in the area. "We used to play with plastic balls before, and we'd keep bumping into each other because we'd look down at the ball," says 13-year-old R Vijay, chuckling. In another slum settlement inside the culturally rich Mylapore neighbourhood, a few young players have drawn attention to their locality by representing India in Scotland and Spain in the last couple of years.
While each community has a different relationship with football, what it hopes to achieve is the same. As a sport largely played by young boys here — many of whom come from impoverished backgrounds, abusive households or single-parent families — it aims to give them direction and motivation. Football takes up most of their energy and time (sometimes players practise up to six hours a day), giving them little leeway to go astray.
For the stamina the sport requires, most players stay away from alcohol, which is otherwise a major menace in these localities. For example, in Vysarpadi, till about two years ago when a bus stand came up, most children from the area had to walk 2-7 km to get to the nearest corporation school in Kalyanapuram. Yet, the area has six state-owned wine shops within a 3-km radius. "Population density here is high, and we don't have adequate access to healthcare, education or employment. Instead, we have wine shops," says Umapathy.
Football offers coaches, counsellors and mentors a chance to get the attention of impressionable young boys. By catching them young and watching them grow, this sport that inherently requires self-discipline, team work and responsibility, aspires to create a generation of men who can inspire and empower those to come. Here we look at three slum communities and their evolving relationship with the sport:
The ways of Vysarpadi
The boys from Vysarpadi are tough, spunky and mostly, directionless. In 2000, most who wrote their Class 10 exams, did not pass. Their parents — largely domestic workers, labourers, sweepers and sewage workers — would leave early for work, and return late. Alcoholism was rampant, domestic abuse was common. Aggression, frustration and helplessness in children were apparent. "These boys made good goons for politicians and financiers. They would just take money and allow their lives to dissolve into violence," says Thangaraj, explaining why the area is known for crime and bloodshed. "We couldn't change them, so we decided to work with children."
He and his brother Umapathy, who grew up in the locality, started SCSTEDS (The Slum Children's Sports Talent Education Development Society) in 1997. They hoped to rectify the issues that plagued the area — high incidence of suicide, school drop outs, child marriages, child labour, crime, drug abuse, alcoholism, and lack of awareness about opportunities.
When they started though, it was tough to get parents on board. They desperately needed the Rs 2,000 the children made by washing plates instead of going to school, because the burden of debt hangs over most households here. "Even a decade ago, police would come beat up children sitting outside their homes. They'd take in young boys who are loud-mouthed, just to scare them," says Thangaraj.
Janani D, a 12-year-old player, says many her age "aspire to do drugs" and have already taken to smoking bidis. She, however, is driven. Her mother — the only bread winner in her family of five, because her father "doesn't work; he only drinks" — was concerned about what people would say when Janani started playing football a year ago. Wearing shorts, playing amongst boys, and returning home late are major concerns. But when Janani made it to SDAT (Sports Development Authority of Tamilnadu), where her nutrition and tuition are taken care of, her mother was glad. "People speak so badly about my locality but I want to show them what we've got," says Janani.
In such localities where social recognition and respect is scarce, the sport paves the way for the same. Thangaraj cites the case of a kid from SCSTEDS, whose father used to sell mawa, but shut shop to drive auto rickshaws instead when he started doing well in the sport. "Lots of parents change so that their choices don't interfere with their kid's life," he adds.
Through the children, the brothers have also been able to reach out to parents so that they can stand together to tackle civic issues in the locality — water stagnation, garbage accumulation, ration issues, etc. "In football, you need to struggle as a team to get a goal. We believe this game would teach these kids the resilience they dearly need to cope with life's curve balls," says Thangaraj.
The football field in Mylapore
A muddy playground surrounded by the slovenly streets of Pallakumanagar, in Mylapore, has been the centre of much drama in the locality. In 1986, when Maradona's moves first inspired this housing board community to take up the sport, their sprawling ground was mostly used as a garbage dump. Three years later, when buildings were proposed in place of the playground, protests erupted. "We didn't want buildings for the current residents, but a ground for future generations," says 43-year-old Srinivasan C, one of the earliest players here.
From a team of 30 in the late '80s, over 300 boys aged between 10-22 use the field to practise football now. P Dilip Kumar, who works as a production editor, moonlights as their coach. "More and more players take to the sport because of the popularity of leagues like Chennaiyin FC, Viva Chennai FC, Chennai City FC and others. Smart phones and internet access also helps them watch and learn techniques of international players," says Dilip.
In the '80s, hardly anyone in this slum locality had a graduate degree. Today, hardly anyone doesn't. In the early '90s, two footballers lost an employment opportunity in Central Excise because they lacked the necessary qualifications. This sharpened the spotlight on education.
"These boys need some exposure to keep them away from drugs, drinks and trouble. They channel the energy the sport requires into their studies," says Govindammal Loganathan. Her 23-year-old son Sai Ram, the first person in her family to earn a graduate degree, represented the country in Scotland for Slum Soccer, an NGO that works with underprivileged communities through the sport. It invited attention and won recognition for young Sai. So now, he uses a part of his salary — Sai works as a coach at Slum Soccer — to pay it forward, and buys kits and boots for younger kids who show promise. "A lot of children here ask for football boots instead of clothes during festivals," chuckles Govindammal.
The community hosts close to 15 tournaments each year, to test their skills and meet players from neighbouring communities. "We also hope it will bring the area visibility and eventually, investment and development," says 23-year-old Parthiban Parthasarathy, who also works as a coach with Slum Soccer.
Since the ground is seen as a means to a better life, it is still fiercely protected. "During the 2015 floods, the corporation tried to dump broken branches and debris here but the locality came together to protest it. When it comes to football, we put aside all difference of opinion and stand together," says Parthiban.
The angry boys of Basin Bridge
For the sportsmen of Basin Bridge, one part of a cremation ground serves as a community field. While football forges a network amongst players from neighbouring localities, communal clashes, family feuds and competitiveness also allows anger and jealousy to simmer. "Earlier, there was no match without a fight," recollects M Kavimani Nilavan, who works as a coach for Oasis' football program.
"Lots of kids have anger issues and are very disrespectful in these localities," says Mathew Nathaniel, head of Oasis, Chennai. As part of the football programme, they have team building activities and counselling on the importance of disciple, hygiene and respect. "Eventually, we see changes even in the way they carry themselves and the language they use," says Mathew.
Like in the case of Joel Joshua, who failed his Class 12 exams, but was encouraged to "stay with the sport and guide other boys from the community." So in 2016, he and his team mates — Bhoosan R and Aravind — pooled in resources to start Viyyani Sports Academy, which currently coaches 70 young boys who show promise, but lack the means to be trained formally.
Now Joel, who works as a coach at an elite football club, applies all that he learns there to train the boys in Basin Bridge. He also uses his network to find tournaments for the boys, so they can get their foot in the door with bigger clubs and private organisations. "We also take them to league matches, where other coaches can buy them for division teams," says Joel. All this opens new opportunities for players.
Many kids don't want where they come from to dictate how far they can go. But their social realities often clip their fledgling wings. "There's a lot of politics in the sporting world, and lots of bias against these boys because they come from slum communities," says Mathew. Their inability to afford necessary nutrition, attire, and keep up with training techniques also affects their chances. "It frustrates the boys and discourages them, not just in football, but in pursuing other career paths as well."
Kavimani gives the example of a 24-year-old, who played the game since he was 10, but gave it up recently to take to pretty crimes for easy money: "Once he started using drugs, it was very difficult to reason with him. He just said: 'this is how my life is gonna be now'."
"Our only weapon is football," says Joel. "We are not able to reach out to those in our area who don't play the game. But we've seen that if one boy changes, many change looking at him. That's what we strive to do."
Football
Juventus drop down from third to 10th place on just 22 points, 15 from the top four positions in Italy Serie A.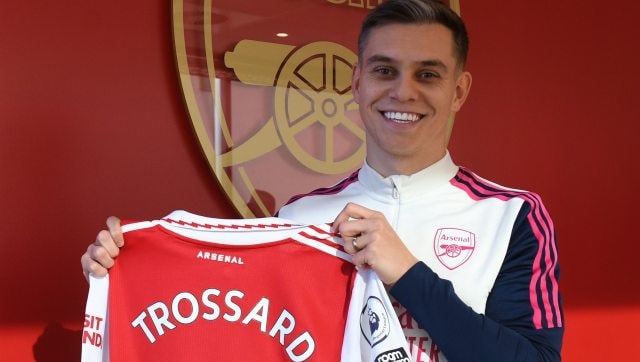 Football
Leandro Trossard agreed a "long-term" contract as Arsenal bolstered their attacking options in their bid to win the title for the first time since 2004.
Football
Experts including a former Indian footballer, administrator, coach and broadcaster weigh in on the challenges AIFF will face in implementing its 'Vision 2047' roadmap and how they can be tackled.