In a first, spider without eyes discovered in Laos cave
A scientist has discovered an eyeless huntsman spider, named the Sinopoda scurion, the first of its kind.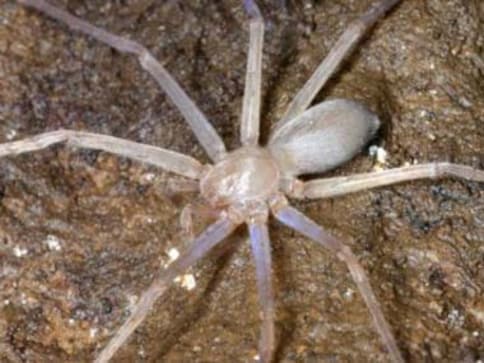 Berlin: A scientist has discovered an eyeless huntsman spider, named the Sinopoda scurion, the first of its kind.
With a leg span of only 6 cm and a body span of around 12 mm, the spider is certainly not one of the largest representatives of its kind, with more than 1,100 species.
"I found the spider in a cave in Laos, around 100 km away from the famous Xe Bang Fai cave," reports Peter Jager, head of the arachnology section at the Senckenberg Research Institute in Frankfurt, the journal Zootaxa reports.
"We already knew of spiders of this genus from other caves, but they always had eyes and complete pigmentation. Sinopoda scurion is the first huntsman spider without eyes," adds Jager, according to a Senckenberg statement.
The regression of the eyes is attributable to living permanently without daylight. This adaptation was also observed in other cave-dwelling spider species by the Frankfurt arachnologist.
"The Sinopoda species described demonstrate all kinds of transitions to cave adaptation, from eight functioning eyes to forms with six, four and two lenses, right up to blind spiders," explains Jager.
The spiders are in good company: fish, scorpions and crabs that have adapted to caves have already been found in Laos.
Frankfurt researchers have described nine new species of the genus Sinopoda. The fact that all of the species have been found in caves confirms the animals' preference for underground habitats.
The eyeless huntsman spider was named after the Swiss company "Scurion" that makes headlamps for caves. "Sinopoda scurion is the first species that I have named after a company in the context of the Patrons for Biodiversity programme," explains Jager.
IANS
Arts & Culture
Mike Zeck's artwork for page 25 from Marvel Comics' Secret Wars No. 8 brings the first appearance of Spidey's black suit.
Entertainment
Spider-Man: Homecoming will have feature a more tech savvy Peter Parker, much like his mentor, Iron Man.
Entertainment
A teenage Miles Morales puts on the Spider-Man mask and learns the ropes under the tutelage of a reluctant teacher in Peter Parker.