Illustrating stereotype: This digital artist challenges norms dictating women's lives
Digital artist Vrushali Somavanshi challenges the norms governing women's behaviour with her project 'The XX Files.'
'It's your fault' screams one poster.
Another says 'Impure.'
Thern there are illustrations of things considered taboo in India: a sanitary napkin and a menstrual cup contrasted with a nimbu mirch and nazar battu design.
These illustrations are a part of Vrushali Somavanshi's digitally illustrated passion project 'The XX Files'. For this Master in Design student, what started as a classroom project has grown into something she does because she wants to illustrate a point.
The digital artist tells us how she came about creating the project, "We were studying different ways in which we could build a narrative, the various ways we could represent it and everything in between. During one such class we were asked to photograph any object/person/building we found interesting in our surrounding neighbourhood and build a narrative theme around it which we had to later make visual in any form. I picked the nazar battus or evil eye charms that people hang outside their houses as I felt it was visually attractive and also because of the layers of meanings it could have about warding off something that was 'evil' and that it is usually accompanied by slogans like 'Buri nazar wale tera mooh kala'. I could define these desirable and undesirable aspects on my own terms and use the same symbol in a different context which I ultimately did. It kind of started as a joke when I thought that women should probably start wearing a demon mask pendant necklace to ward off the evil eyes of some annoying men. But then it gave me an idea, I thought it would be interesting to use the demon mask and the lemon chilli totem as a recurring motif and create a narrative around the discrimination faced by women as it is an issue close to my heart."
She ultimately created the illustrations as a way of taking out the frustration she felt against having to be on her guard all the time. She says, "Each illustration is based on a particular theme for example. Party girl is about how women are stereotyped and what kind of behaviour is expected from them. Using the core idea of 'warding off the undesirable' and the visual images of nazar battus I created a series of illustrations marketing fictional products (more like satirical) which comment on the way women are treated today. In some illustrations the nazar battus are not products but placed in different contexts which reveal the ugly side of our society.
So does she think activism through art does help bring about a change in society? Vrushali says, "I think art can make a powerful statement and inspire people. I think inspiration can invoke people to react and take agency. It can act as a call for action. Also, I feel these days a lot of times anything related to popular culture gets featured, a lot of it sends across wrong messages. Especially since feminism is in vogue these days I feel there are quite a few things going viral which are really diluted forms of feminism/pseudo-feminism and don't really represent the movement in good light. I think online platforms have a responsibility and they should really assess the quality of what they make public because it has huge implications considering the sheer amount of people connected through the internet."
Here are a few illustrations from her project:
Impure

Property


Party Girl


Standards of Beauty
All illustrations courtesy Vrushali Somavanshi.
Sports
Japan's first professional women's football league kicked off in upbeat mood on Sunday.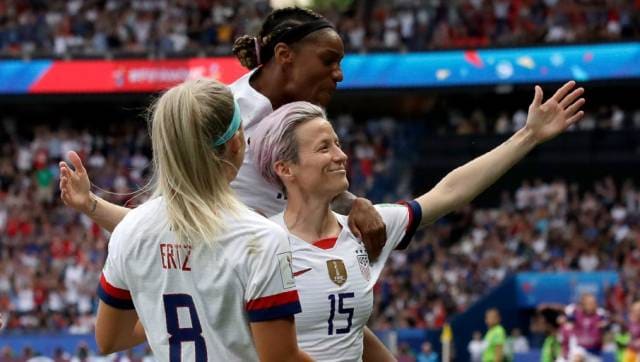 Sports
USSF President Cindy Parlow Cone sent an open letter on Friday, which called for the men's national team to allow the USSF to reallocate a portion of FIFA's World Cup payments to the federation to the women's team.
Entertainment
Our newest Ella is no regular Cinderella. She dreams of becoming a star dressmaker. Marrying the prince of her kingdom will have to wait.