#HowWeDate: Indu Harikumar explores relationships and Tinder through her drawings
Indu Harikumar found that in the Indian context, dating on Tinder didn't just mean meeting people: It also involves discovering oneself and one's sexuality on a platform free of judgment
Artist and illustrator Indu Harikumar, who has illustrated several children's books, recently started the crowdsourced art project #HowWeDate in association with Tinder. In this project, she aims to understand perspectives around dating, relationships and Tinder. A year ago, she started #100IndianTinderTales, a project where she created a nuanced, individualised portrayal of the relationships people build on dating apps, as well as telling their stories in their own words. It will soon be exhibited at Kunsthalle Bremen, a museum in Germany.
She talks about why Indians are using the dating app, and how it has changed the way they date.
On the dating culture in India and its evolution
It's so interesting to watch how Indian society is transitioning and how the desire to make your own choices has increased with each generation. I grew up in a time where you only dated if you thought there was a solid future or if you were in love. Within my friend circle, I knew a lot of people who married the first guy they met (or at least aspired to marry him), with variations across parts of the country, and even within parts of Mumbai. I remember that no pictures of one's partner or couple photos were shared on social media, unless the couple was married or nearly married, but this trend is also changing.
This generation has mostly seen and often partially experienced first-hand the world of arranged marriages, gender segregation and sexual taboos — a world of limited choice. And now, they can see and have the option of something different, so they are literally choosing a different paradigm for themselves — especially women. Since this project is primarily aimed at women, their desire for control, choice and independence is very apparent to me. The way our society is structured, it is difficult to meet people outside of one's family and immediate friends, and women have explained that "if I am an engineer, the only men I meet are also engineers."
These physical barriers are amplified further by the fear of rejection, judgement, unsolicited attention and the taboo attached to dating. Interestingly now, there is less shame associated with romantic relationships. Women are expressing the desire to meet new men, not just for the possibility of love, but also to discover themselves. Some are candid about their desire to explore their sexuality. Technology, smartphone accessibility and the private, judgement-free space dating apps provide are factors that have shaped the way the dating scenario is evolving.
For me, personally, the choice that dating apps have provided has helped me to discover myself, have a healthier, more established sense of self and identity, and a positive body image. Being with someone does not make you — the individual — a non-entity; your identity can exist outside of the relationship. I've always liked online platforms, as they bring together people who share common interests through active choice, rather than common backgrounds and passive happenstance.
On the diversity of stories she has encountered
Like any aggregation of stories that are profoundly human and personal, the submissions have varied greatly, from tales of first love, to epic first dates that turned into solid friendships, to a platonic relationship based on a shared interest for reading and books, to the longing for deep love, to two people in the same mental space at the same (and right) time, and shared adventures. It just drives home the point that the possibilities are endless, should you decide to turn to a platform that facilitates them.
To further explain the overarching themes, women have written in to speak of their changing relationship with themselves, the abandoning of the traditional 'but will you marry?' narrative, and the advantage of learning how to talk to people and discovering what works, what doesn't.
I am amazed at the variety and plurality of people's experiences, and they have helped me to accept my own flaws and shortcomings. When I started my previous project, #100IndianTinderTales, I only wanted to know what other people were experiencing and wanted to draw their stories because I thought it would be fascinating. I had no idea it would change my perspective on gender, sexuality, dating and up my self-esteem. I think the journey over the last few years has helped me to slowly move away from my pious main-tulsi-tere-aangan-ki image and be more accepting of who I am.
On why people use dating apps, and the ability to be vulnerable
At the risk of generalising, I would say that we as humans are looking to connect: The difference lies in what people want to do with that connection. Some don't want to take it offline, others want longer connections, some brief connections, and some are online only for sexual connections and intimacy. There exist so many permutations and combinations, but at the base of it, I think everyone is seeking connections, and technology is a useful tool in fulfilling this desire by providing a controlled, private, personalised and judgement-free space.
As humans, we want to be seen and feel validated, and what better space to find that in than by dating? I see that some women still talk about the shame of not meeting someone organically, but this again varies across geographies. Some still worry about putting themselves out there because of what others would think of them, but I have received messages from women who reinforce the positive aspects of trying online dating. Some girls knew their personal destiny of arranged marriages and came from fairly conservative households. They tried Tinder out of curiosity, loved the experience and say this helped them better navigate relationships.
Dating apps like Tinder have made it much easier to find someone and to express interest — essentially the first step, which, as the cliché goes, is the hardest. Similarly, communication tools like WhatsApp have made staying in touch easier.
Someone who follows me on Instagram said, "Vulnerability is your special sauce," and I have appropriated it. My work comes from a very personal space, most of the questions I put out to people are problems either I am thinking about or have encountered or am building off a friend's experience.
Now, I also get questions about the things that worry people, because they want to know that they are not the only ones experiencing them. I think this is what drives people to share; we all think we are alone in our misery and confusion, and as one person starts to share, it becomes okay for others to add to the story. I have felt safe while being vulnerable online, and I guess when I share, it becomes okay for people to do the same.
A specific story from 2016 deserves special mention: "The main thing I want to tell you is that it's such a liberating feeling to read all the Tinder experiences. I spent years making myself feel guilty for my boyfriends and sex life, because it was after all not what a 'good Indian girl' did. Sex before marriage... oh my goodness! Such bad charitra, bad karma! I would enjoy it while it lasted but I would spend hours, days, months, years shaming myself for doing it. In fact, when I would meet a guy, one of the first things I would guiltily admit to him was that I'd done it already. Weird! So much so that in the first few years of my marriage, I actually believed that the tough times we were having were actually my punishment for my bad karma. I would make compromises, settle for things, endure pain, endure ridicule and meanness, justifying all of it as my punishment."
Indu Harikumar picked out two drawings she created for Tinder's #HowWeDate project, which are close to her heart:
"I felt so safe and happy. I knew it wouldn't go anywhere but I knew it was the right place to be that day"
"But falling in love with A gave me the hope to last a lifetime and I don't know if I would have survived my teenage or had the courage to dream so wild and free if not for him. And yes, I still dream of finding more love in this world of endless possibilities"
I love both these stories, I am slowly learning that love is not linear; it is a complex and beautiful emotion.
Indu Harikumar posts her artwork for #HowWeDate on Instagram (@induviduality)
Entertainment
There was a time when talking about and showing women's desires on screen was a complete taboo. A look at how positive sex talks and women's desires are widening through the shows and films on the digital platform.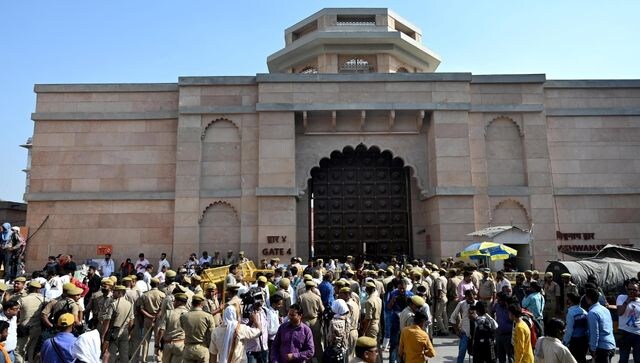 India
A Varanasi district court has allowed the Hindu side's petition seeking carbon dating of the structure found inside the Gyanvapi mosque complex, which they claim is a 'shivling'. But what is carbon dating and how does it work?
Sports
Nine days after her death, on September 29, a well-known social activist Vanramchhuangi aka Ruatfela Nu filed a police complaint accusing the child's parents as prime suspects and demanded their immediate arrest