How toddlers learn
Have you seen toddlers seriously at play? Little faces puckered in concentration, tongues sticking out — completely, utterly focused.
By Team ParentCircle
Have you seen toddlers seriously at play? Little faces puckered in concentration, tongues sticking out — completely, utterly focused.
Whether it is in arranging blocks into a tower shape, or, drawing what looks like a squiggle to you, but is actually a cat or maybe, a dog! This is how toddlers make discoveries about the world. And you, the parents, have a vital role in this journey.
Learning is a constant process for children. It starts with babies beginning to recognise their parents in the first few months to toddlers figuring out the mysteries of a mirror, to understanding the world through touch, taste and feel. Children grasp new things every day. Noted developmental psychologist Alison Gopnik points out in her 2012 paper 'Scientific Thinking in Young Children', published in Science: "Preschoolers test hypotheses against data and make causal inferences; they learn from statistics and informal experimentation, and from watching and listening to others."
Gopnik believes children learn by actively engaging with their social and physical environments. So, toddlers learn when they are given age-appropriate opportunities and are encouraged to explore the world around them. It is important for toddlers to go through experiential learning and cognitive growth, as this lays the foundation for understanding abstract concepts later. That is why toddlers should be exposed to multisensory learning, as it involves activities that engage multiple senses. For example, when your child picks up a flower out of curiosity, ask her how it smells, looks and feels.
Listening to stories can be a fun activity for children. But, it is also an important learning tool. Stories transport children into a world of fantasy, where they can use their imagination and develop their creative thinking. Moreover, storytelling is also critical because it helps enhance the vocabulary and language skills of toddlers. It's best to stick to telling them short tales that talk about things and characters toddlers can relate to.
Furthermore, because toddlers are eager to know the world around them, they learn most when allowed to explore the things they are curious about. So, if your toddler is fascinated by sand, let her play in a sandpit to experience and understand what she can do with it. Observe your toddler keenly to figure out what stimulates her curiosity, so you know what activities to engage her in.
Toddler learning is different from formal academic learning. This is because their play translates into significant learning experiences. With every new playful activity, they learn a little more about the world around them. This, in turn, shapes how they interact with the world as they grow older.
Here is what you can do with your toddler:
-Tell bedtime stories
-Have conversations
-Organise treasure hunts
-Teach colour recognition
-Expose her to new textures
-Label household items
-Familiarise her with the neighbourhood
Do ensure your toddler's safety as he explores the world around him. Give him the opportunity to try new things, to touch, feel and learn. This will help him develop his curiosity and seek answers, which, in turn, will enhance his enthusiasm for learning.
This article is part of the just-launched season 3 of 9 Months, a popular web series from Firstpost, where ParentCircle is the official Magazine Partner.
This piece has inputs from parenting expert Arundhati Swamy, Head, Parent Engagement Programmes, ParentCircle.
This is a partnered post.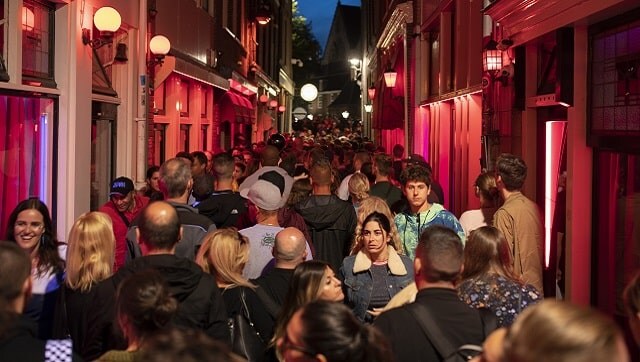 World
Amsterdam has been trying to navigate a conundrum for years: how to embrace its status as a vibrant, international hub without making the city unlivable for its residents — and without letting go of its famous, free-spirited roots.
First Cricket News
Under the policy, women cricketers will get up to a year of paid leave and will also have the option to transfer to a non-playing role until commencement of their maternity leave leading up to the birth of their child.