How to get a date: You matched on an app. Now how do you ask him/her out?
You've matched on an app. Now how do you ask him/her out on a date?
Editor's note: This is the second in a six-part series called 'Around the heart in 80 dates', that guides young people on how to ace the dating game. Read part one — Do Indians even know how to date? — here.
If this week, like many others, you've watched the fantastic music video by the boys of IIT Roorkee dancing to Ed Sheeran's 'Shape Of You' then you couldn't have missed this delicious bit in it. After much dancing and performing, the boys finally catch the attention of the girl they've been wooing. They get on their knees with red roses, eager and expectant. The girl glances at them and struts off. 'So desperate!' she says, as a final rejoinder, dashing all their hopes.
This story is so reflective of India, yesterday and today, that we can't help but chuckle. Through the last couple of decades when our cultural appropriation has made way for barhopping and bed hopping, I've heard the same story over and over again. Guys tell me that they can't walk up to girls in bars or gyms or public spaces without being glared at, yelled at, or being called 'sleazy'. A male friend was slapped by a girl for asking if he could buy her a drink! Carrying your heart on your sleeve can prove dangerous for men.
The story for women is not much different. In an era where women's emancipation is being hailed and lauded, many women don't think it inappropriate to ask a guy out or buy him a drink. But many among these women complain that these same 'feminist' men run when asked out! They mistake the women's assertiveness for aggression, or — worse still — for desperation. "Let a man be a man," is the oft-heard response.
In this gender deadlock, how are men and women supposed to meet? How are they supposed to get a date? Aside from the cascade of clucking aunties, forever armed with an arranged match (do you really want to go there?), there are many avenues. You've heard them all: dating apps, matrimonial websites, single's events, hobby classes, dance lessons, travel groups, cycling groups … the options are endless. But that's where — and this is rather surprising — the buck stops for many.
Why? Because even after meeting potential matches, most men and women don't know how to convert a match to a date. They have absolutely no idea how to begin talking to the opposite sex! They want to start a conversation but stutter at breaking the ice. They are afraid of being misunderstood, they're afraid of being rejected, they're afraid of pissing someone off. They want to tell someone they like them, but only if the other person likes them as well! So… they stall.
Even on Tinder and Hinge, where swiping right is as affirmative an action that the other person finds you similarly attractive, people are stumped as what to use for a conversation starter. Yes, even the self-proclaimed 'sapiosexuals'. So... they keep mum. And the entire effort of sifting through many, many people is lost.
It's no wonder that many apps give those intrusive opening line prompts!
And it's not just dating apps. Even at popular mixers like Floh and Mix & Mingle where people come with the obvious intention of dating or mating, friends tell me that the hosts often have to introduce guests to one another. This must likely be to stop the event from becoming a high-school dance where boys stand googly-eyed in one corner and the girls in another. Or perhaps it is done to prevent redundant (and grammatically incorrect) greetings like "Hey! Waddup?" from being (over)used.
Due to these 'impediments' I've actually met people who are convinced that the vetting process would be made simpler still by dividing apps and mixers on the basis of communities, socio-economic status or even caste. Citing the example of the very popular Jewish dating app JSwipe, some of these folks wish there was say Marwari Tinder, exclusively for the good (read: virgin) Marwari boys and girls, or Elite Tinder, where only those with a banging net worth above Rs 10 crore could apply! Basically, these men and women want an arranged marriage wrapped in modern clothing.  Looking at the demand, and despite the risk of regressiveness, it's sad that this idea could potentially work for all the dating apps out there!
Personally, I disagree that we need to be handheld through dating. We're all adults and getting a date should not be that difficult.
Let's take a look at dating apps. Most of them have the double opt-in feature, where you know that your match has swiped right as well. You also have, at hand, enough information about your match. For example, their photograph could show them trekking to Machu Picchu. Ask them about that experience. Or, you might find something in common with their write-up, their friends or hobbies. These commonalities could make conversation enjoyable.
To begin conversation you can also refer to a current movie or news item (politics and religion might be too controversial) or a new restaurant that you've tried. Do ask them what kind of work they do, if they've travelled to anywhere interesting, or if they've read a good book recently. Don't inundate someone with a million questions like 'where do you work', 'where do you live',  'what does your Papa do' or 'what did you wear to work today'. This is not an interrogation. Go on and address the elephant in the room: that it may be awkward to meet this way, but you're glad you did. Be honest. Be smart. Be funny. The other person is as nervous and uncertain as you are.
Don't be creepy. Messages like 'Sit on my face' or 'Your place or mine' will be too forward unless you're both very obviously looking for a hookup. Never comment on a woman's, or man's, body or looks. It makes you sound superficial and horny. While women like men with a sense of humour and intelligence, men also like girls who don't take everything seriously. So, use your funny bone without being slapstick. Don't be overtly intellectual. A friend had a match who only replied in poems. Finally she got fed up of never getting a direct reply and unmatched the guy.
Patience is also a virtue here. Many of my single female friends complain that men are especially quick to unmatch if their messages are not quickly responded to. Perhaps your match did not check in or she may have been distracted by something else. Your intention should not so quickly be tied to judgment or jitters. Relax.
Of course, if you're on these apps for the cheap thrills of gamification, the high that having matches gives you, or because you fought with your wife, then it's better for everyone that you keep mum.
If you're meeting someone at a single's event or social gathering, talk to them like you would with any other person. Be yourself. Be relaxed. Strike up a conversation before asking them out. You're not going to like everyone you meet and everyone you meet is not going to like you. Knowing those facts, don't try too hard when it's not clicking. Only one human being is supposed to be your soul mate, not each and every one. So if conversation is a strain, forget about it and move on. Life's too short to expend an infinite amount of energy and time towards people who don't deserve you. Enjoy the process. Savour it. It might be a story for your grandchildren one day!
Next week I'll talk about what you should do after you've caught someone's interest and how to fix up a date.
Meghna Pant is the award-winning author of The Trouble With Women (Juggernaut, 2016), Happy Birthday (Random House, 2013) and One And A Half Wife (Westland, 2012). She has previously worked as a business journalist with Times Now, NDTV and Bloomberg-UTV. Follow her on Twitter @MeghnaPant.
Entertainment
Irreverent to the core, On The Verge does not care for political correctness; and that may feel shocking at times, but remains very real. Let's face it – who is politically correct while talking to friends?
World
A woman has alleged that the prince forced her to have unwanted sexual intercourse at the London home of Ghislaine Maxwell, a British socialite and friend of late financier Jeffrey Epstein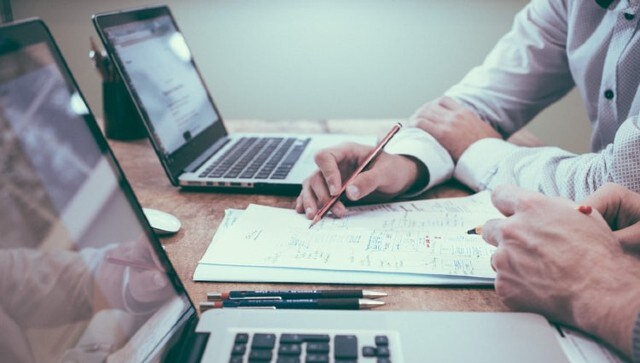 Business
This comes merely a day after the income tax department said a number of technical issues on the new ITR portal are being progressively addressed and 1.19 crore ITRs for 2020-21 fiscal year have been filed so far.