About a fortnight before Christmas, there's a distinctive aroma that wafts through Sydney and Ramona Fernandes' home in Mumbai: it's the fragrance of vanilla essence. Over the next few days, enough sweets are made to last the festive season, and to share with family and friends. There's cordial (made with coconut), boros (biscuits), neuris (like the karanji, but with lots of layers and stuffed with mawa), date rolls, kulkuls, and thali sweet (suji, coconut, sugar, "and lots of eggs," as Ramona Ferandes says; all baked in a thali).
On Christmas day itself, the lunch menu for the Fernandes family comprises vindaloo and sorpotel (into which goes a generous measure of 'bottle masala' — a ground red chilly and spice mix), wedding rice (rice garnished with fried cashewnuts and plums), fugias and varias, which Ramona says is "sort of like a medu wada and eaten instead of bread".
In the home of Sunil and Cassia Pereira too a veritable feast has been laid out for the festival: Cassia has cooked pulao with green peas, mutton curry (again, seasoned with bottle masala), potato chops and chicken roast.
Cassia's menu incorporates many of the traditional dishes of her community — her mother Dorothy Rodrigues, after all, wrote a highly-regarded cookbook on the cuisine of the East Indians.
The Fernandes and Pereira families are part of the East Indian community in Mumbai,  considered to be the city's original inhabitants. 'City' is not the right word perhaps: the East Indians, or 'native Christians' as they were known before the 1800s, were (along with the kolis) the earliest residents of the islands of Bombay, Salsette and Thana. Living in territory that was controlled by the Portuguese (before they had to hand over the islands to the British as dowry for Catherine of Braganza' wedding to Charles II), the East Indians speak a dialect of Marathi that's different from the one you'll otherwise hear. The community's customs — especially the cuisine — has a heavy Portuguese influence, and sets the East Indians apart from other Christian communities.
Their uniqueness is something the East Indians are proud of, and try to preserve. During Christmas, this takes the form of keeping up traditions that have been passed down through the generations.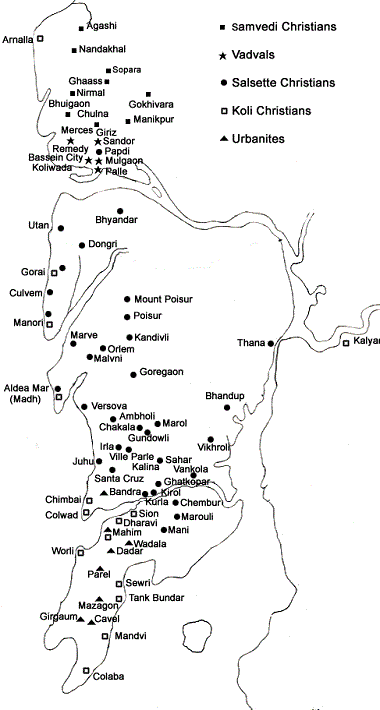 Juhu resident Sandra Creado is a treasure trove of information on the community. She shares that all community members have to go for confession before Christmas; the Creados go to St Joseph's Church for the midnight mass. The church is decorated with stars made by members, who also put together the crib. Sandra says in East Indian villages (gaothans), each pakhadi (cluster) makes their own star and there are competitions to judge whose is best.
While some of these customs are shared by Goan, Manglorean and Syrian (from Kerala) Christians as well, the Christmas sweets of the East Indian community are undoubtedly distinctive. Apart from the ones mentioned by Cassia Pereira and Ramona Fernandes, Sandra Creado names riquejao (made of curd) and bolde-coque (a Portuguese cake). There is also the Christmas rice — brown rice, topped with hard-boiled eggs, deep fried onions and dry fruits.
The sweets play an important part in Christmas celebrations. While platters are sent to neighbours, family and friends ("to sample and give critical comments"), special batches are also made up for those in the community who have recently suffered a bereavement. "If a family is mourning the loss of a member, then they won't make Christmas sweets that year. So we take sweets to them, as well as to the elderly or homebound," says Sandra.
This practice of sharing sweets is called 'koswad' — an indication that Christmas is not only about celebrating but also about caring and sharing. In the olden days, special plates — a glass dish with carvings or paintings, and covered with a knitted kerchief/scarf — were set aside for the purpose. (For families in mourning, the sweets were taken in a box so they wouldn't feel obligated to give anything in return.) If the koswad didn't come from a family, it used to be indicative of displeasure!
Christmas is a time for family, and both Ramona Fernandes and Sandra Creado say that it's spent catching up with loved ones, over good food (and homemade currant wine). Some families also head out for a dance in the evening, such as at the Bandra Gymkhana. At such places, music is an important part of the celebrations. Hector Pixeira is among the community's well-known musicians, and during Christmas, he's called on to sing much-loved numbers like 'Galyan sakhli sonyachi'.
"We do compose new tunes, but we don't forget the old songs," says Hector, who writes, composes and sings in the Hindi, Marathi, English and Konkani languages. Hector adds that with his music, he also tries to make people aware of the true message of Christmas, and why Christ came to earth.
A community blog estimates that at one time, there were more than 300 gaothans and 100 koliwadas in the region; now there are only 189 of the former and about 43 of the latter. Sandra Creado also says that the community has scattered, and families have dwindled, adding, "We've managed to keep our customs intact so far because we married into the community, into the same background. But we can't expect our children and the next generation to do that. So I feel East Indian traditions may survive maybe for one more generation."
However, at both the individual and community level, several efforts are being made to ensure that the East Indian community's identity lives on. In August 2013, a museum was set up in the western suburbs to document the over 500-year-old history of the East Indians. Sandra Creado has been preserving traditional jewellery that merges both Hindu and Catholic influences. Cassia Pereira ensures her mother's cookbook  is available to anyone who wants to know more about East Indian cuisine — it's a valuable resource considering recipes are treated like state secrets! (Cassia's father Teddie Rodrigues also wrote a book, Trace, that painstakingly details the community's history.) And online, the community has a dedicated website that compiles traditional recipes, songs, wedding rituals and helps members to connect with each other.
There is hope then, that the community's story will be better known, and understood. As the East Indian community gathers round for Christmas celebrations, they'll certainly be raising a glass of currant wine, and saying "sukhala!" (cheers) to that.
Visit www.east-indians.com for a comprehensive guide to the customs and traditions of the East Indian community of Mumbai
Updated Date: Dec 26, 2016 17:58:18 IST