How tattoo artist Mo Naga is working towards saving the rich tradition of Nagas
During his first year in college, Mo Naga stumbled upon the art of tattooing and decided to give it a go, more as a hobby than a profession. All that changed towards the end of his education when he discovered the rich tattooing tradition of the Nagas, which was gradually disappearing with time.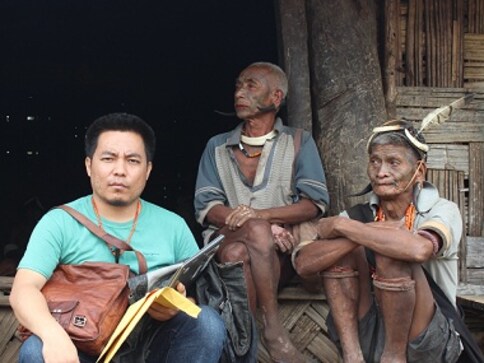 There was a good chance that Mo Naga would never have been associated with the world of tattooing. During his first year in college, he stumbled upon the art and decided to give it a go, more as a hobby than a profession. All that changed towards the end of his education when he discovered the rich tattooing tradition of the Nagas, which was gradually disappearing with time.
It was then Mo decided to do something to keep a little piece of his people's history alive.
It had been eight years since Moranngam Khaling or Mo, one of India's top tattoo artists, started studying Naga tattoos. Despite being a Naga himself, he had little idea of the relevance of tattoos in the community. But once he realised what it meant, he set up Headhunters' Ink in a bid to revive the art.
"I was trying to learn about traditional textiles in the north-east of India for a college project when I stumbled upon the tattoo tradition of the Nagas," says Mo, who studied apparel design at the National Institute of Fashion Technology, Hyderabad.
"It changed everything for me. When I started researching in 2008, I realised that there was not too much information out there," he says.
Tattoos had both a symbolic and spiritual meaning for the Nagas back in the day. Before the Christian missionaries set up base in Nagaland, headhunting was practised by tribes such as the Konyaks, Noctes and the Kukus to name a few. After a raid on the neighbouring village, the warriors who returned with heads from the battle would be rewarded with tattoos on the face and the body. Consequently, men with more tattoos had taken more heads and were considered to be the bravest of the lot.
Each tribe had their own designs and patterns, which also made for easy identity, while women too had specific tattoos that symbolised events such as marriage and childbirth. Delivering a tattoo was a privilege, usually reserved for the wife of the Ang or the king, known as the Angya.
The decline of tattooing started as the Nagas took to Christianity, which discouraged the practice of headhunting and tattooing alike. As a result, the next generation was mostly oblivious to the art, and the last of the tattooed warriors and artists, who could talk about their experience, were now in their 80s and 90s.
"All the knowledge was going away with the passing of this generation," he says.
The only way then, to learn more was for Mo to make the trip himself. So in 2012, Mo set up base in Guwahati and started travelling through Nagaland to districts such as Mon, Tuengsang, Kiphre and Phek, which are known to have a rich tattooing heritage. He then visited Naga tribes in his home state of Manipur, Arunachal Pradesh and a few villages in Assam, while also making his way across the border to Myanmar.
"During the course of my research, I have come across tribes who do not have any evidence left of their tattooing culture — all that remains now is in their memory and songs. A handful of old men and women knew about it, the rest had no idea that they were once a tattooing tribe themselves," Mo says.
After four years of tattooing using modern techniques, Mo was now in the midst of thorns, bamboo shoots and natural pigments that came from trees and fruits. And from the comfort of his tattoo parlour, he was now sitting in a faraway land amid men who had taken heads in the past.
This was a generation that considered headhunting a way of life, and a few of them now felt uneasy living in a society which was a far cry from what they had experienced. Some had even taken to Christianity and believed that getting a tattoo was against the Bible.
"There is a lot of conflict for this generation, yet they were quite excited to talk about their tattoos and why they had got them. Culture is constantly evolving. But if we can wear shawls that talk about wars and headhunting to church, why can't we do the same with tattoos," he says.
One particular incident stands out for Mo during his travels. On a visit to the village of Sheangah Chingyu, he met an old lady who was the Angya and used to tattoo her tribe members, but had stopped some 60 years ago.
"Her eyes lit up when she heard that we were there to learn about the tradition. It was an honour for me when she agreed to deliver a tattoo on me. In fact, her eyesight was so poor that she didn't connect the needle at times. It was a very spiritual experience, the moment will remain with me forever," Mo says.
There are hurdles along the way that Mo takes in his stride. All the money that he earns commercially goes back into the research that he's conducting, which is an expensive affair most times.
"Just getting to a village can be taxing at times. Then, the language that they speak there is so distinct that I need to get two to three translators to make sense of it, and then need to verify if the real message has come through," he says.
After seven years of trying to gain an understanding of the technique and the philosophy behind these tattoos, Mo decided that he was ready to finally deliver one on his own at the Hornbill festival last month.
"It was a big, big moment; historical, not only because it was my first, but also because for the first time as per my knowledge, a non-Naga was receiving one. It was a mixed feeling. I ensured that the designs were not the same as those present on the tribesmen who are alive, since those are sacred tattoos and I would not like to offend them," Mo says.
"It was only possible because more people joined the movement. It's not one person's initiative but something that we are trying to do for the community and the culture. We want to find a balance between protecting and promoting this Naga art," he adds.
While Mo is in the process of setting up his new studio back home in his village in Chandel, his ongoing project, Godna Gram in New Delhi, hopes to promote tattoo traditions from around India.
"Through my journey, I've realised how hard it is for traditional tattoo artists to carry on this practice and survive today. I met some folks in Madhya Pradesh and Rajasthan who have quit their family tradition to become daily wage labourers. So there was an urgent need to study this art and give them a platform to promote themselves," he says.
India
The High Court was hearing the petition filed by Bhartiya Janata Party's Haulim Shokopao Mate, who finished second in the 2019 general elections, claiming that the MP from the constituency, Lorho S Pfoze's affidavit for the poll had defects
India
Peace talks between the Centre and the National Socialist Council of Nagaland-Isak Muivah (NSCN-IM) will resume later on Tuesday based on the Framework Agreement signed on 3 August, 2015.
World
The strike was launched on Thursday by the All Nagaland Adhoc Teachers Group (ANATG)-2015 Batch on the fourth day of their peaceful demonstration outside the state civil secretariat.