How green was my Valley: A Kashmiri Pandit looks back on the horrors of the exodus
Prithvi Nath Kabu looks back on when the militants first came to Baramulla, and how the Kashmiri Pandits were terrorised into leaving home
Excerpted from 'Seasons of Longing', by Prithvi Nath Kabu, from the second edition of 'A Long Dream Of Home: The Persecution, Exodus and Exile of Kashmiri Pandits', edited by Siddhartha Gigoo and Varad Sharma and published by Bloomsbury India in January 2018.
I endure a lot of pain every day. I can't walk properly. My bones are weak. But somehow I manage to look after myself. I cook and attend to my needs. I watch television and listen to devotional songs. I keep a close watch on the happenings in Kashmir. I will live my remaining life the same way I have been living during the last several years. I will limp. I will crawl. I will bear the pain. But I don't wish to be a burden for anyone. When I die it will be difficult for people to take my body on their shoulders from the fourth floor of this building. I have made arrangements for that. I will write a note so that my neighbours locate my things easily.
When I die, my neighbours shouldn't feel inconvenienced. I have kept a rope near my bedside. My neighbours can tie the rope on my legs and drag the body out. I don't care what is done to my body after I am gone. It's only a body. My well-wishers can either burn it or throw it in the river. Whenever I feel unwell, I don't bolt the door at night. Ashok Dhar, my neighbour, has given me his phone number and told me to call him in case I need anything. He is the most kind-hearted person in the camp. My only saviour is the Bhagvad Gita. I read passages from it every day. Reading gives me strength.
I shall now tell you one of my earliest memories of growing up in Baramulla in Kashmir. In October 1947, Pakistani raiders crossed the border and marched into Baramulla. They carried guns and ammunition with them. I saw them come in groups of tens and twenties. When they entered our village, they started killing people, robbing the houses and raping women. We had not seen such devastation in our lives. The marauding raiders set fire to almost a hundred houses in Baramulla. They asked the Pandits to read the 'Kalima'. Many Muslims joined the raiders to save their lives. Fearing for their lives, many Pandits read the 'Kalima' when the raiders asked them to. The terror lasted several days. Anayat Ula Kakroo was the owner of the Regina cinema hall at Baramulla. He was a wealthy man. He thought the raiders would spare him because he was a Muslim. They got information about him and went to his house and plundered it.
My father had 25 paisa in the pocket of his coat. Some raiders came to our house and searched us. They slapped my father, took his coat and the 25 paisa from its pocket. One night, Maqbool Sherwani of National Conference came to the village riding a horse, and visited all the Pandit houses and assured them nobody would be harmed. 'Pandits, don't panic,' he proclaimed confidently. 'So long as Magaz Sherwani is alive, no harm will come to you.' We felt safe. He appeared to be sincere. He had the spirit of humanity in him. We called it the spirit of Varmul. He misled some of the raiders and they lost their way. But some raiders killed him mercilessly.
To escape this persecution at the hands of the marauding raiders and save our lives, my father took us to a Pandit family in a neighbouring village in Baramulla. We stayed with them in their house for a few days. After some days we decided to return to our house in our village. While going back to our house, we saw hordes of Muslim men and women beating their chests and wailing. 'Nothing is left of the village. The houses have been burnt. Everything has been plundered. The raiders raped our women and marched towards Srinagar,' they said. When we reached our house, we got to know that some raiders had gone to Jawahar's house. Jawahar was our neighbour. He was left-handed, doughty and tall. He had kept dried grass and wood on the top floor of his house a night before the raiders stormed our village. Jawahar had refused to read the 'Kalima' and had rushed to the loft of his house where he set fire to the wood and to his house.
After destroying our village, the raiders left Baramulla and reached Shalteng on the outskirts of Srinagar. Their mission was to take over the Secretariat. Soon, the Indian Army was sent to Kashmir to save it from ruin.
After a year, my family shifted to Srinagar to start life afresh. Little did I know that years later we would be driven out of Kashmir for good.
The most horrible day of my life was when I heard that militants had killed my son in Gool Arnas. My wife and I were living in a rented accommodation in Jammu in 1997. It was our sixth year in exile. One night in June, we heard a spiteful knocking on the door of our rented room in Parade, Jammu. I woke up frightened and opened the door. I saw policemen outside the room. 'Are you Prithvi Nath?' they asked. I nodded. 'Come with us to the police station,' they said. I sensed something was wrong. 'There has been an accident,' they said to me. They took me to the police station at Parade in Jammu city. At the police station they informed me about the killing of three Kashmiri Pandit lecturers by militants in Gool Arnas. My son was one of the lecturers. I felt numb, as if somebody had smashed my head with a stone. I waited for the whole day at the police station for the body of my son. The body reached us late next evening and the police asked us to do the cremation that very day. My son's face was not recognisable. There were wounds on his body. He seemed to have fought with his killers. My son and his colleagues had been dragged out of a bus and shot dead by militants. How am I to reconcile myself to this horror? My son was a lecturer. He was killed because he was a Pandit and a teacher. My son's guide, P Kachroo wrote a condolence letter to me sympathising with my loss and pain.
Prithvi Nath Kabu was born in 1934 in Baramulla, Kashmir. He worked as a teacher in Kashmir and left the valley because of militancy. These days he lives in the migrant camp for Kashmiri Pandits at Muthi, Jammu.
World
The government of Pakistan has put an end to the subsidy on electricity for PoK that has been illegally-occupied by Pakistan for the last seven decades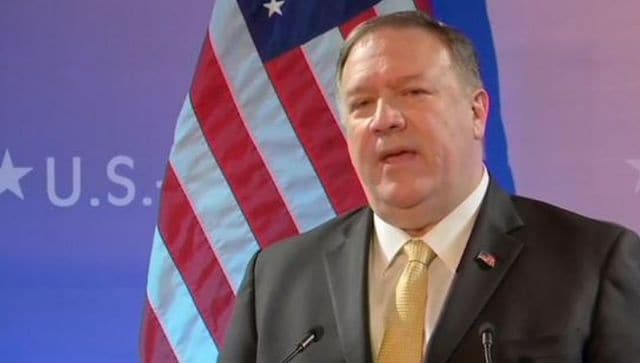 World
"I do not think the world properly knows just how close the India-Pakistan rivalry came to spilling over into a nuclear conflagration in February 2019," the likely future presidential contender wrote in 'Never Give an Inch', his memoir of his time as Donald Trump's top diplomat and earlier CIA chief
India
On Wednesday a massive avalanche hit Gulmarg leaving two foreign tourists dead and many trapped. 19 of the trapped tourists were later rescued by the police