Veteran editor and literary agent Preeti Gill recently set up Majha House, an exciting new arts and culture space in the heart of Amritsar. It aims to 'provide a platform for debate, discussion and critical thinking around socially relevant issues and concerns'. She spoke with us about the genesis of Majha House, her vision for it, and future plans.
What was the impetus behind starting a creative space in Amritsar? Why have you named it Majha House?
Majha House or Billoo's House — the name it's also known by — has been the Gill family home for the last 40 years. When my parents-in-law passed away about a year-and-a-half ago and we inherited the house, we did not want to sell it off or rent it out. What I wanted to do instead was to use the house as a community space, build a platform that was non-intimidating... where people could come to listen, to talk, to perform, and where we could invite the best and the brightest to come share their stories. I wanted it to be a living space full of people, especially the young people of Amritsar and Punjab, who would find here a place where they can come freely to discuss and debate, create and write. It is named Majha House because that is where it is located — in the Majha region, the heartland of Punjab. This region, before Partition, was the fulcrum of art and culture, of a composite culture. Much of that has been lost or forgotten and I just felt that we should try and bring back some of that 'virsa'. To me, the region represents the indomitable spirit of Punjab, resilient and forward looking in spite of all the cataclysmic events that it has been witness to including the Partition and the horrific bloodletting that engulfed the region.
The property that houses this space has a compelling, somewhat tragic past...
The house was built on land that was given to my parents-in-law as a sort of 'compensation', they bought it at lower than market price. Their young son Billoo (Second Lieutenant Swaranjit Singh Gill), who was not yet 22, died fighting in the 1971 war. A war that was not of his making, but which left the family shattered. The house has therefore been witness to loss and longing — of a beloved homeland they had to leave, and of a beloved son who left the family too soon. For me (I never met Billoo) it is a memorial, an imaginative use of a home as a memorial space to celebrate his life and spirit of giving to the community that nurtured him. The Punjab has nourished our roots and we have found happiness and success and perhaps it is also time to give some of that back.
How much work went into renovating the property? How would you describe the design aesthetic?
Renovations and changes took about a year and some. What I have done is to reuse the Annexe and make it into a Book Cafe and Library and this is where we do most of our Saturday events with writers and performers. We opened Kikli Book Cafe (that's what it is called to signify companionship and playfulness) on 14 July and since then we have had several book discussions, musical performances, storytelling workshops for children as well as film screenings. We get audiences of 60 or so each time and we also get books to sell. The Library is being built up slowly — I have taken most of my own books there and now we have started to get books from publishers and friends here in Delhi as well as Amritsar. Many people come by with cartons full!
Are there any other privately owned and run cultural spaces in Amritsar? Does the city have enough connoisseurs of arts and literature to be able to sustain an initiative like this?
There are no such spaces, not any that are housed in a home in quite this way. Amritsar has a vibrant community of artists and theatre goers. There are at least three institutions that I can think of — but they have been in the city for years and they are not really tapping into literature and ideas in the way that I think we are at Majha House. And this is mainly because of my own background in publishing and years of being in this industry.
Majha House appears to be giving as much importance to arts , music and films as it does to  books and literature. Have you been associated with these art forms in the past?
Yes of course! I have been a commissioning editor and rights manager looking after the sale of book rights for years — I have more than 25 years of publishing experience. This is the world I know best! I have been curating cultural and literature festivals in the past for Zubaan and also consulted with NBT for their Brahmaputra Festival etc.
The place runs on membership fees, patronage and sponsorships. Can you describe your business model?
The activities at Majha House are being run by a Trust — the Majha House SS Gill Trust. At present we are mostly funding it ourselves. We have a Friends of Majha House donation — a very small amount — that entitles Friends to come for all our events for free and we are happy to give tea/ coffee with some refreshments at the end of each session. Non 'members' pay a modest registration (fee) of Rs 200. This is also helping us to build a mailing list and to increase our community.
Other than this we have patrons who have contributed financially. There are some other collaborations in the offing and I hope that we are able to work with other likeminded individuals and organisations. We are looking for support from institutions as well as the Punjab government.
How many events have you organised so far? What has the response been like?
We opened the doors of Majha House with a two-day festival in early March — the Basant Festival, where we had some outstanding writers, journalists, commentators, artists, poets, singers and performers come to Amritsar. There were sessions on Punjabi poetry, on issues that are still very much a part of people's discourse there like the events of 1984 and Partition narratives, as well as Dastangoi and Sufi songs.
Since then we have had many events at Majha House e.g. on the Jallianwala Bagh Massacre on 14 April, on Migration and Exile on 18 August. In between we have had author interactions and story telling for children as well as film screening ad music performances.
Our next big festival is in November — the Syal (Winter) Festival.
The response has been fantastic. People say there is no reading culture in Punjab and in Amritsar. It is true that there are no bookshops and very little opportunity to meet and interact with writers etc but I think there is a hunger, a desire to do this. People go to various litfests across the country including the Jaipur Literature Festival and there is now a definite community of people who are interested and who attend these discussions. At out Basant festival we had 200 plus people come each day to the house. The sessions were all held in our lawn and we had chai in khullars and lots of Amritsari street food on offer. It was pretty wonderful!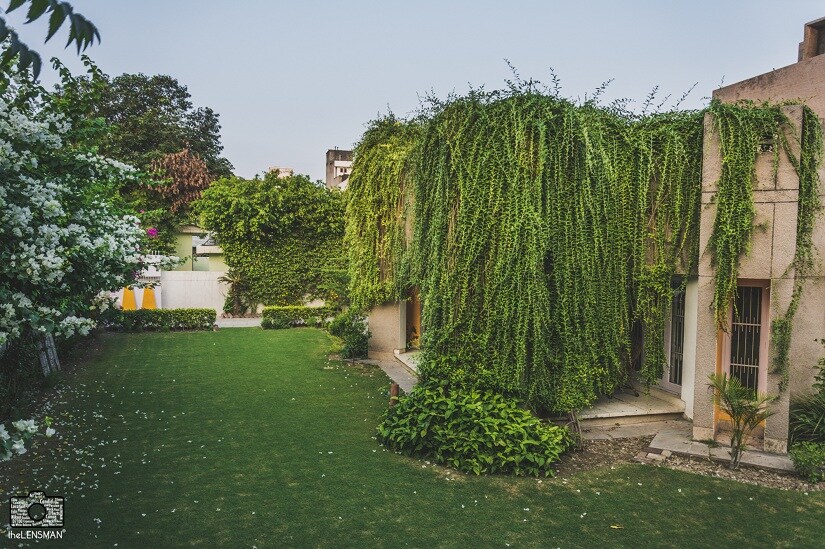 How do you decide the themes for your events and workshops?
The themes are organic, they must grow out of the place — to my mind this is the most important thing. People come because we are speaking of issues and events and ideas that mean something to them — each person is connected to the issues we bring to the table. What I try to do is expand the discussion — so if we are talking about Partition we do not want to look just at Punjab but bring in Bengal, the Northeast, Sylhet etc. The idea is to make connections, to grow our understanding, to create dialogue across the region and country. If we look at Migration and Exile we look at Partition, at the Tibetan Migration, at the Rohingia, at what is happening in contemporary Punjab and knit all of these diverse disparate migrations together to see what happens when people are forced to leave their homelands.
Majha House organises two literary festivals annually, in the months of March and November. Is there a reason why you chose these two months?
Well the reason is pretty obvious — these are two lovely months in Amritsar when the weather is just right. It is beautiful to sit out in the lawn surrounded by greenery and flowers and listen to some of the finest speakers.
At the moment you offer a writing residency for a small fee. Do you have plans to offer fellowships, say, like Sangam House?
I do hope that I will be able to grow this space and we can offer fellowships soon.
What can writers expect from the residency?
A lovely comfortable home, good home-cooked food, quietness, research opportunities, fellowship of local writers and artistes who can be invited to listen and perhaps critique a work in progress. We can also curate special visits to our own village which is an hour away, or a birding trip or other activities like a food trail, a historic walk if required.
Tell us more about your research project on Sikhs who migrated from Punjab to Assam. How will Majha House be involved with it?
The basic idea was to start looking at connections between the North West and the North East — the project on Assamese Sikhs is part of this endeavour. It is also at a time when the attention of the whole country was drawn to Shillong in June when there was violence and curfew in that hill town because of an incident involving mazhabi Sikhs who had been settled there by the British. Majha House is the local partner in Punjab for this project and one of our young researchers is from the university there. This is to my mind an important and integral part of what Majha House will do — become a hub of research studies and give opportunities to local students to participate in such projects that will allow them to develop their skills and give them national and international exposure.
One of the mandates of Majha House is to train and educate young people in the arts. How are you planning to fulfil this objective?
We are in the process of drawing up an MoU with the university there (GNDU) which will enable us to work closely with the faculty there to bring in professional consultants and subject experts and organise talks, workshops and seminars on skills like creative writing, photography, editing, film direction etc.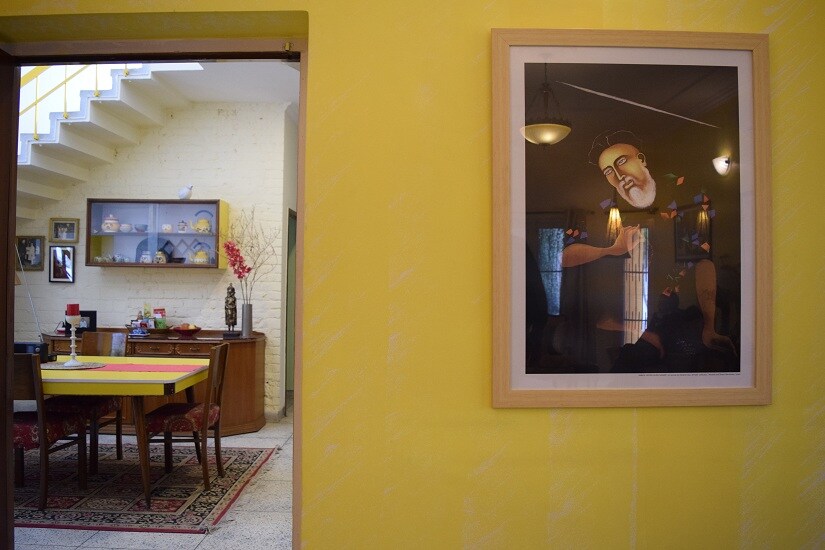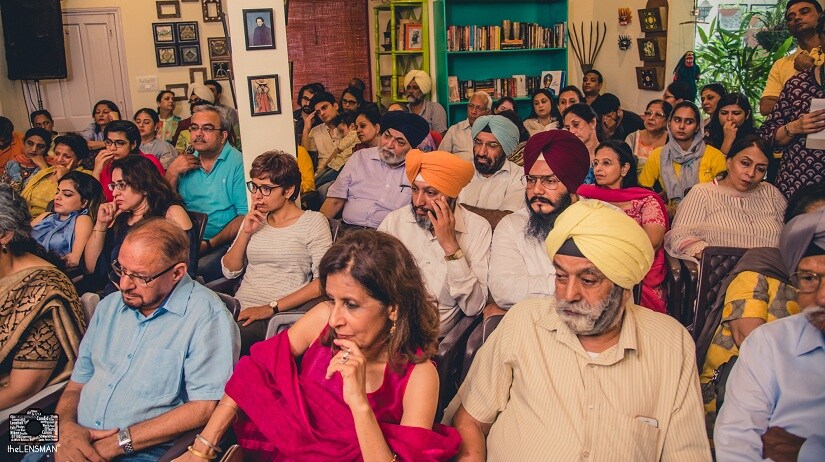 Will you be placing more emphasis on Punjabi/local writers or do you encourage participation from  across regions and languages? How has the local/Punjabi arts and literary  fraternity responded to this initiative?
We are certainly focusing on Punjab and its issues and problems — to be organic in our approach. We have had sessions on Punjabi poetry and Punjabi books from both Punjabs but this is not to say that we want to restrict participation. On the contrary I think we have to constantly push the envelope, build bridges across languages and cultures so we most sessions are in English or we ask those who speak to weave English, Hindi and Punjabi together in an easy and comfortable manner. We have participation from Punjabi writers and publishers who have had book releases and author events at Cafe Kikli. In fact each festival we plan to make a session on Punjabi poetry mandatory since it draws so many people in.
Amritsar is close to the Wagah Border, which gives Majha House the opportunity to collaborate with creative minds from Pakistan. Do you plan to explore this avenue in the near future?
Definitely! I hope we are able to invite authors from that Punjab (and from Pakistan) here too in the near future. In Amritsar in fact the stories one hears of travelling across to the other side are so common and so compellingly real that it would be a shame if we were to stay aloof. Some of the most powerful writing one reads is from that part of the world so yes I would very much like to have things ease up so that borders become easier to cross.
I went to Wagah on the night of 14 August with a lot of committed people who have been working on building peace and harmony between India and Pakistan for the last 23 years and it was an unforgettable experience for me. Having grown up listening to stories from my mother and grandmother this Aman ki Asha is to me very real, very immediate.
How many people does your team comprise? What is your level of involvement in the day to day running of the place?
We have five trustees as well as an advisory board with eminent people from Delhi and Amritsar. I also have an eight-member Majha House Team in Amritsar who deal with the logistics and manage the finances. We plan and create content together and I am there for most events — which means I travel to Amritsar each weekend! From designing posters and invitations, brochures and other material, to taking care of the guest speakers, setting up the stage, growing our list of 'friends' everything is done as a team.
You've been running awell-regarded literary agency for some years now. How do you find the time to do both things? 
It does get tough especially since I have a lot of reading to do. But I enjoy both places, both activities, both my 'lives'. They fit together and I am happy that I have this opportunity to do work that I completely love.
What is the state of contemporary literature in Punjab? 
Among the poets that I know and have heard are Surjit Patar, Nirupama Dutt, Manmohan, Simrat Gagan, Nirmal Arpan. Though the literature has a glorious history what I hear now is that there is a disconnect — the voices of great poets like Pash and Lal Singh Dil that spoke to the ordinary people have been replaced by those writing of mystical things which perhaps do not have as great a connect. Each year 1,000 new literary books are printed in Punjabi but nothing goes into a second edition. Harman seems to be an exception — his Rani Tatt has gone into seven editions or more so that is a record!
A number of organisations are trying to revive ma boli Punjabi/and writings in Gurmukhi. Majha House too is supportive of this.
Firstpost is now on WhatsApp. For the latest analysis, commentary and news updates, sign up for our WhatsApp services. Just go to Firstpost.com/Whatsapp and hit the Subscribe button.
Updated Date: Aug 25, 2018 18:16:31 IST