Hong Kong on a plate: A foodies' guide to the 'Pearl of the Orient' that goes beyond baos
From the 'char siu bao' at Tim Ho Wan to snake wine at the Little Bao, this is ultimate foodie's guide to Hong Kong
Three times in four years. There must be something about Hong Kong!
Sure, it's only a five-hour direct flight away, there's a variety of accommodation available on both sides of the harbour (depending on how much you want to spend on your stay, your affinity for elaborate breakfast spreads, and how happy harbour views make you), the weather's usually pretty good, you can get a lot of conventional and offbeat sightseeing done in a few days (because of the size of the islands and the ease of transport), Hong Kong's metro is quite possibly the best in the world (at 99.9 percent accuracy, I'm convinced it beats New York, Tokyo, London, and Singapore. There, I've said it!), and the possibility of shopping for awesome things (clothes, shoes...even fridge magnets and baggage tags are better there!) could lure anyone into visiting Hong Kong (HK) again. And again. And again.
Well, maybe not anyone, but if like me, you're female, petite, and otherwise have to buy shoes and clothes from the kids' section in Indian stores, HK is a shopping paradise. That should explain the three visits in four years part. That, and the best pork buns in the world!
With Hong Kong, the food safari begins on the flight there. Discovery, Cathay Pacific's travel-focused magazine, does a terrific job of giving travellers to HK the lowdown on the best food joints: from the city's ubiquitous Dai Pai Dongs (the iconic street food stalls) to new restaurants in hipster neighbourhoods, from local desserts that have become Instagram sensations, to the best international cuisine money can afford. As I was reading through the recommendations, adding these names to my already-too-long "must-eat"/"must-visit" list, I turned the page to see the most charming infographic since Matthew Inman explained to us what the red velvet mite can teach us about love.
Who knew there was so much awesomeness to noodles! Looking at those pictures had me feeling appropriately hungry, just like the steam rising up from that insanely delicious-looking bowl of ramen from Ponyo on the Cliff does. Twenty minutes to land, and I was already planning out our food itinerary for the next few days!
The City Garden Hotel has become our go-to accommodation in Hong Kong. It's a bit further away from HK Central, like four metro stops, which makes it super affordable; it's walking distance to the metro station, which makes it super accessible. And it has an absolutely smashing breakfast spread each morning, which makes it super pleasurable. We stayed there for a week in 2014 and found out (to our immense aforementioned pleasure) that being in the "Signature Room" gives you a whole bunch of perks.
We returned again this month; besides the crazy-good breakfast buffet (a smorgasbord of English, Continental, American, Asian, and Scandinavian breakfast foods: pork/chicken sausages, bacon, fresh fruits and yoghurt, cereal, croissants and muffins, freshly made pancakes and waffles, pork/chicken/beef/vegetable/red bean dumplings, a variety of noodles/fried rice, an array of cold cuts including ham, peppered beef, mackerel, smoked salmon), you also get access to the Club Lounge and its awesome "chef's special" buffet in the evening. Everyday, from 6.30-9 pm, you can enjoy free drinks, fresh fruits, starters/appetisers/amuse-bouches, and desserts.
You'd be foolish to dismiss this as a "free-so-must-be-crappy" charade; during our previous trip, when exploring HK was our primary objective, we made sure to grab a few snacks each evening, before setting off on our nightly expeditions through the city. Fortified by the yum food in the mornings and then again in the evenings, we managed to travel across HK with the zeal of tourists and the proficiency of locals.
And nothing is more local than the bao!
No food item from a specific restaurant/street vendor has impacted me more than the char siu bao from the 1-Michelin starred Tim Ho Wan in Hong Kong. Two years ago, we went there after watching countless videos of impressed visitors devouring the bao at this modest eatery which has now been dubbed "the world's cheapest Michelin-star restaurant" (a plate of 6 bao costs you under HK$50). And we totally got it! Our reactions after having the bao were so similar to the YouTubers, it was quite unnerving. Known for its brusque servers and no-nonsense atmosphere/decor, Tim Ho Wan also does a range of dim sums (both sweet and savoury) but it's the char siu bao, that sweet baked bun filled with moist barbecued pork that's the chef-d'œuvre, and what we kept going back for over and over on this trip as well (we even got some back home!).
Tim Ho Wan is just one golden (brown) nugget in the food treasure chest that Hong Kong guards so proudly. Our research in the days prior to our trip had pointed steadfastly in the direction of up and coming restaurants: one name that kept popping up was Little Bao, a modern "Chinese diner" with an unconventional, almost-Western take on traditional Asian food. After a long day trekking through narrow village roads across nearby Lamma Island (which promises its own share of mouthwatering delicacies, for those into seafood and other crustaceans), we got back to HK island in the evening hungry and raring for some comfort food. And boy did Little Bao deliver!
Located on Staunton Street, SoHo in Central HK, Little Bao is smack in the center of the Mid-Levels (HK's iconic outdoor escalators) and in the heart of the city's expat neighbourhood. Walking up the steep, San Francisco-like streets can be a bit challenging, so using the escalators is the wiser option. This tiny-yet-swanky restaurant was adorably comforting; doors opened at 6 pm sharp to reveal a bite-sized diner and a young staff wearing t-shirts with the quirky Little Bao logo on them. Food is served over the counter, and seating consists entirely of bar stools. We're big fans of pork belly (Fatty Bao PB&J, hear! hear!) and decided on the signature pork belly bao (slow-braised pork belly between quintessentially Asian white buns, dressed with leeks, shiso red onion salad, sesame dressing, and hoisin ketchup for HK$88) for our mains; for the rest of our meal, we asked our waitress for recommendations.
She suggested trying the truffle fries, a house-favourite served in a huge bowl with shiitake, tempeh (deep-fried fermented soybeans), a generous dollop of truffle mayo, and pickled daikon. For HK$98, this was taking your average french fries into "oh-my-god-I-need-more!" territory.
We were game as soon as she suggested it. But first, we said, let us quench our parched throats with one (or more) of these potent nectars you have listed here. Well, we weren't quite so posh, but we did order some unusual drinks. Let's just say I'm one step closer to being like Leonardo DiCaprio's character Richard from The Beach; he downed a shot of snake blood in Thailand, I did a shot of snake wine (which is made of the entirety of a venomous snake's venom-filled body) in HK! Known for its healing properties in traditional Chinese medicine, the wine by itself was a strong reddish-golden liquid that burned through me, but mixed with agave and lime, and served in a caramel sugar-rimmed glass, the Snake Master (HK$85) was a surprisingly delicious snake wine cocktail.
Keeping the Snake Master company was the Yuzu Leaf (Jim Beam bourbon, yuzu leaf, maple syrup, and sea salt). Mic drop!
The drinks, the truffle fries, and the bao meant we were quite full: but that's the beauty of little desserts, you can always make room for some! The Little Bao Ice Cream Sandwich (HK$45) was a great palate cleanser, and the perfect way to end our meal. In the long version, it's green tea ice cream with condensed milk or salted ice cream with caramel, sandwiched between two, wee, deep fried bao. In the short version, it's perfection!
We left the diner with big, satisfied smiles and full tummies: one of the reasons we were too lazy to go introduce ourselves to the owner and chef May Chow, who was ambling up Staunton Street as we were heading down. Reading about her management style and seeing her pictures gave me a bit of a fangirl moment when I saw her in person, but I refrained from squealing and headed quietly down the street. Like any self-respecting adult ought to!
If you're really into pretty and decadent desserts, head down to Oddies Foodies a few levels down, on Gough Street in Central. One look at Oddies' Instagram (WARNING: avoid looking directly at most pictures if you're diabetic or trying to stick to a weight-loss regimen) will explain the hype around the desserts; their 'Night Wolf' ("Italian low fat soft gelato twisted with 66 percent dark chocolate served with buttery crumbles, caramelised banana ice cream, passion fruit panna cotta, brownie and chocolate chips eggettes and crunchy flakes") is one of the most Instagrammed desserts of all time!
The passion fruit panna cotta itself was worth killing for! Or something less Frank Miller-ish.
Other favourites include 'Where's Wally' (a whimsically-named "Red Velvet Cake eggette, served with Italian low fat soft gelato, chewy oatmeal raisin chunks, homemade yogurt gelato with Cointreau-soaked dried fruits, red velvet cake crumbs, and caramelised almond nibs") and Smokin' ("smoky coffee gelato, with maple syrup bacon bits"), along with hundreds of other equally delish flavours.
There's never any dearth of good food in Hong Kong. Whether it's the street food at Temple Street in Kowloon after a bargain-shopping expedition or the numerous other eateries in the city that cater to all kinds of taste buds and budgets, HK literally never disappoints. Which may be true for most world cities: London, New York, Melbourne, all of them can make such claims. But there's something about HK that's a bit more honest than the other places, something intense, something that combines traditional and modern so effortlessly that you keep going back, despite the well-documented bluntness of waiting staff and street vendors across the city.
Then, of course, there's The Felix, on the 28th floor of The Peninsula in Kowloon, overlooking the spectacular HK harbour and making you privy to the fine-dining world of the elite: where the garçon waits on your every wish, where foie gras is made to look like humble breakfast cereal, where you cut into the tender meat as the laser show transforms the harbourfront into a 4th of July spectacle, and where the restrooms have the best views in the world.
That's HK for you: three times in four years, and yearning for more!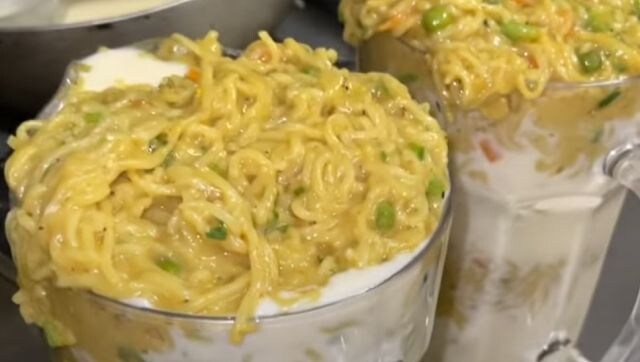 India
The image, shared on Twitter and other social media websites, features two tall glasses filled with milk, generously topped with Maggi.
World
The passengers are also required to present a negative PCR test result done within 48 hours before the departure at an approved lab that has a QR code, it said.
India
Mahalingam also does not believe in seeking guidance from guides as she believes that travelling with them narrows one's perspective and limits from exploring other places.