In the year 1914, literary master and Nobel laureate Rabindranath Tagore wrote a short story in Bengali called Streer Patra, an epistolary tale of a woman who walks out of her marriage, while outlining what it means to be a woman in early 19th century India. For that day and age, Tagore's characters were revolutionary and feminist in thought, challenging and questioning the role of a woman in domestic spaces, marriage, and how inequality towards women was ingrained in society.
More than a 100 years later, not much has changed for women, feels theatre director Sharmistha Saha, who has produced a modern stage production called Her Letters, with Tagore's story as the basis. The idea for the play came to her in the year 2012, while she was pursuing her PhD in theatre at Freie Universität in Berlin. "When the December 2012 gang rape occurred, some of my friends in Delhi participated in the protests, and they were beaten up severely. All of that affected me," says Saha, as she explains that the incident was a trigger for creating the play.
The plot revolves around Mrinal, who writes a letter to her husband, explaining her plight and the resentment she felt since the time she got married. The story also includes Bindu, the sister of Mrinal's sister-in-law, who comes to live them. The two women develop a close bond, with Mrinal standing up for Bindu when her husband's family treats her like an unpaid servant. In his story, Tagore, one of the pioneers of the Bengal Rennaissance, sought to comment on androcracy and improve women's status at that time. However, Qissa Kothi's Her Letters is not about doing a play by Tagore, argues Saha. "My basis is not Tagore at all. Rather, it is about his text," she says.
"His story is a very useful one to talk about domesticity. I had read it earlier in Bengali, and it occurred to me that this was the text I could work with. I think this short story is one of the most feminist texts written for its time, and it is extremely relevant for our times as well," Saha believes.
While the short story is historically located in 1914, Her Letters portrays women's issues in a modern context. In the dramaturgy of the play, they have incorporated elements from their own lives and what they have gone through, in terms of existing in a patriarchal society. The script was developed through lengthy discussions with the actors. "All of us sat together and spoke about different issues that affect us. In this play, one of the actors speaks about skin colour, and how being dark is a problem in this society. While in Tagore's story being dark is not discussed, we explored how that plays out," says Saha.
"We also talked about belongingness. For example, we often do not want people, who don't belong to our spaces — such as migrants — in our houses. We'd rather prefer they go away. Bindu's case is quite like that. She is not wanted in the house," she explains. The play seeks to critique a hypocritical society and make the audience members understand this isn't an isolated situation. "It happens in our homes too," she says.
As situations and themes emerged during these discussions, Saha and the actors would improvise something and block it after they felt it worked well. "The script wasn't written before the play. It was written as we progressed with it, which includes the process of discussing, devising and then putting it all together," she says.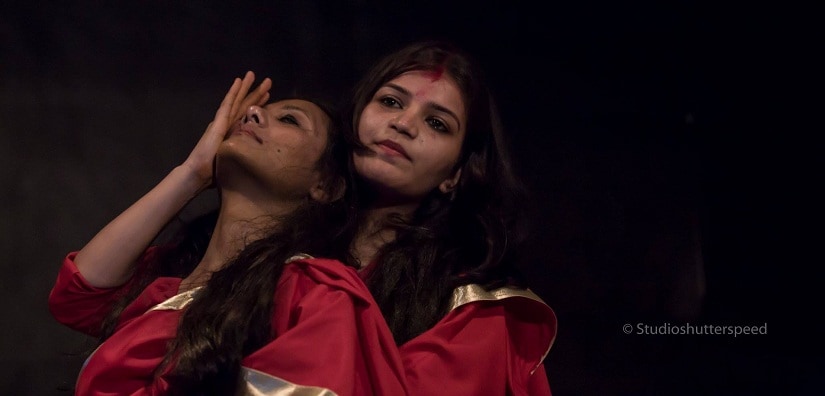 She describes the play as a metaphorical representation of how women are treated by society. "It is not a realistic play at all. It is highly metaphorical, and movement-based. The idea was not to do Tagore or an early 20th century period drama. The intention was to talk about the issues of women and explore what gender really means," she says.
"We have also included events or stories of other inspiring women," she says. One of these women is Virginia Woolf. "We wove in her suicide note into the play. Similarly, Meena Kumari and Amrita Pritam's lives have also been included," says Saha. They are added not as separate characters, but rather entwined within the story of Mrinal and Bindu.
When translated from Bengali to English, Streer Patra is usually written as 'The Wife's Letter'. So why call the play 'Her Letters'? "In Bengali, the word 'stree' could mean 'woman', not just 'wife'. It could be used in different contexts. That is why we used 'Her Letters' instead of 'The Wife's Letter'. We also did this because we included different narratives from other women's lives," Saha explains.
Her Letters is culturally anchored in the Hindu rituals practised in Bengal. "We used elements from the Bengali culture, more so because I belong to that culture," explains Saha, "such as the use of a conch in the play." It also includes Rabindrasangeet as music.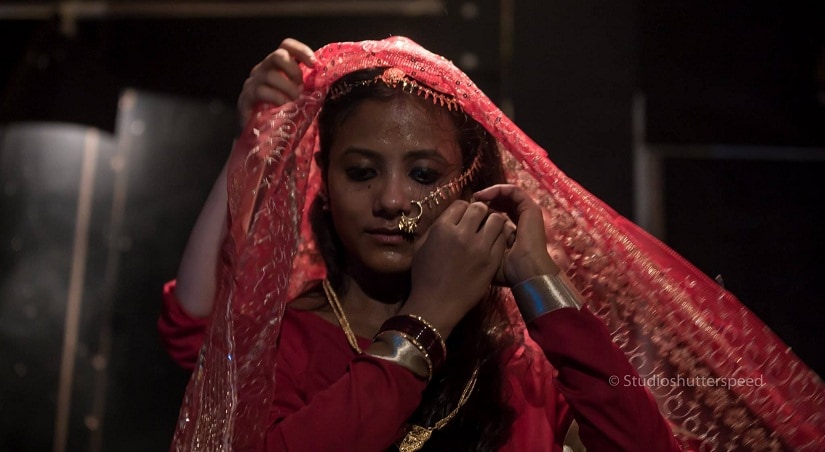 Her Letters was first performed in Berlin in 2014 in Bengali, English and German. The play made its debut on the Mumbai stage in 2016, and was well-received. "There has been a drastic change in the script from the time the first show was staged, to the present. It kept changing as and when new actors joined and with regular audience feedback," Saha says.
One of the interesting parts in the play is the depiction of the relationship between the two characters, Mrinal and Bindu. In his short story, Tagore describes Bindu as being "besotted" with Mrinal. 'I had read about these kinds of relationships in novels but that was always between men and women. I have never read about something like this between two women,' reads one of the lines from the Tagore's original story. "Tagore wrote this. If Mrinal is saying she has read about this intensity of love, then she definitely is not talking about love between siblings. This relationship is of a different nature," says Saha. She felt that the relationship between the two women went beyond sisterhood, though it is up to the audience to interpret it, however they see it.
"I don't know if one can define love using certain words, by labeling it as being sexual or romantic. Love stories were a crucial part of 19th and 20th century novels. Devdas is a good example. For me, the relationship had to be shown as one that has gone beyond friendship, not of two women who are great friends. If you want to call it love between two women, them being lesbians, it is alright. It is up to the audience to find out, I have nothing to teach here," says Saha.
While the focus of the play is Mrinal's domestic world, the director feels it could not have bypassed her relationship with Bindu. "The relationship establishes that human beings are capable of loving so intensely. And in such a patriarchal world, one has been made incapable of loving. I didn't want to highlight the play as a lesbian relationship or as Mrinal's struggle at home alone," she explains.
Her Letters will be performed on 11, 12 and 19 May across venues in Mumbai, including Bhau Daji Lad Museum
Firstpost is now on WhatsApp. For the latest analysis, commentary and news updates, sign up for our WhatsApp services. Just go to Firstpost.com/Whatsapp and hit the Subscribe button.
Updated Date: May 10, 2018 20:20:49 IST