Headless, Blood Red, Half-and-Half: Kali-doscope in one Kolkata neighbourhood
Durga Puja is the mother of all festivals in Kolkata. But in the neighbourhood of Chetla, Kali Puja is queen. And each form of Kali is different from the next - blood red Rakta Chamunda to headless Chhinnamasta to even one in the colours of a football team.
"Go past the last mosquito net store and turn left," says the man at the sweet shop. The mosquito nets, once plain white cotton, are neon and nylon these days – shocking pink, bright green and eye-popping blue. As promised, right after the last one, a lane leads to a Kali that causes every first-timer to do a double-take.
That's a tall order because the Goddess Kali, blue or black, her tongue dripping blood, naked but for ornaments of severed heads and hands, is often a bit of a shock for the uninitiated. But this Kali is red – red skin, red tongue, red hair standing up on end as if she's just had an electric shock.
This is Rakta Chamunda, the form the Devi takes when she slays the demon Raktabeej and swallows his blood before it soaks into the earth and produces more monsters.
"There is no temple to this form anywhere," claims Subir De from the Chetla Milan Sangha which is worshipping Rakta Chamunda for the 33rd year. "There is only a description in the Sri Sri Chandi that we use." Hundreds come to see her every Kali Puja.
In Kolkata, Durga Puja is the mother of all festivals but in the congested neighbourhood of Chetla, close to the burning ghat, Kali Puja is queen. In the narrow lanes and by-lanes here, there are some 75-80 Kali Pujas and each one strives to be different from the other.
"Barasat (on Kolkata's eastern outskirts) is known for the height of images. Chetla is known for variety," says Dibeyendu Mali of the Chetla Physical Culture Association. His club worships the Haajaar Haath Kali where the Goddess is shown astride a lion, a thousand hands spread out like a fan behind her, a potbellied Shiva sitting placidly beside her.
No one quite knows why Chetla became such a petri dish for Kali Pujas. It's an unremarkable crowded mixed neighbhourhood with cramped bustees, bustling markets and decaying old houses. Life empties out on to the streets in the evening as women in printed nighties gossip, children ride bicycles and old men play cards. A butcher piles up goat heads while barbers snip hair in shops that open out onto the street. Only the dimly-lit clinic with faded promises for cures for fistula and piles is discreetly shuttered. Many of these lanes house "clubs", most of them just a green-washed room with stacked carom boards, plastic chairs and posters of Lionel Messi and Swami Vivekananda. But they are a gathering place for young men and political parties keep them in good humour.
It's no accident that almost every other Kali Puja here has as its patron or "special guest" Bobby-da or Firhad Hakim, Mamata Banerjee's Minister for Urban Development. These club pujas do not have big ticket sponsors like Durga Puja and need all the help they can get. They have a more subaltern feel than the glitzy traffic-stopping Durga Pujas. Here every side lane leads to another Kali Puja- some just a little image in a garage, some over twenty feet tall. Many started as regular Kali or Shyama Pujas but switched to newer innovations to draw visitors.
Varun and Rajeev, teenagers hanging out in front of the Shahid Smriti Club house rattle off all the names as they take a mental walk down Chetla Haat Road.
Shiv Kali – half Kali, half Shiva. Dacoit Kali. Durga Kali. Adya Kali. Chanda Ghonta Kali. Nataraj Kali. Chhina Masta. Rakta Chamunda. Hazaar Haath. Aadi Chamunda. Panchamunda with five heads. Jwalonto Kali or the Burning Kali. Krishna Kali – half Krishna, half Kali. The white ShwetKali.
They admit they do not know the history behind the many Kalis. They suggest asking the old men at the Gitanjali Club. "They are more classic juger lok (men of a more classic age)," explains Varun.
"There are 108 forms of the Goddess," asserts Balaram Das of the Gitanjali Club which worships the bell-bearing Chandakali after getting a clearance from their priest."All these depictions of the Goddess come out of our scriptures." Well, almost all. Unless the Mohun Bagan Kali in the football team's signature purple and green colours is the hitherto unknown 109th form of the Goddess. The Jwalanto Kali or the Burning Kali has no scriptural basis either.
But fourteen-year-old Vicky Singh says that's just petty jealousy. He says the Burning Kali, often a theme-Kali with "scene-scenery" of villages and caves with flickering flames and sound-and-light shows, is such a crowd-puller it leads to snaking queues that annoy the Kalis-next-door.
Kali Puja has another attraction for Vicky who wants to be a dancer. It's a time to showcase his talents. He has programmes lined up everyday - a bit of Chandi thakur dance as well as some Bollywood. He watches dance reality shows on TV. "I have dreams of becoming a hero but I am got getting a chance," he rues. Kali Puja has other attractions. "Also the whole neighbourhood feasts. Not just Puja khichuri but also fried rice and chilli chicken," he grins.
After the post Durga Puja doldrums, Kali Puja becomes a pick-me-up. "Festival is good, the more festivals the better," says Subir De. It's good for community building. His club will hand out free mosquito nets. Dengue is rife in these parts. Mohammad Shamim at the Chetla Balak Sangha right next to a chicken shop and a stall selling Motton Hulf biryanis celebrates Eid and worships the half-Shiva, half-Kali ShivaKali. "We are Hindu-Muslim bhai bhai," he says.
Vicky admits some in the area, already financially stretched, complain about having to cough up donations for so many Pujas. That's why Arun Srivastava says their Elokeshi Puja refuses to take money from the neighbouring shops. It's a private home puja that has now become much bigger with Bollywood singers and pulao-paneer feasts for hundreds that shut down the street. "Our dada organizes everything," he says. But Srivastava admits there are too many pujas these days. "And it's not just Kali. Who celebrated this many Ganesh Pujas in Kolkata before?" he asks.
Some of the older more established Pujas also look a little askance at the newer additions. "If you stand at the cross road you cannot tell which loud speaker is saying what," complains Tapan Kumar Dutta of 86 Palli. 86 Palli worships Chinnamasta from Jharkhand's Rajrappa in Tantrik style, the Devi holding her severed head in her hand, jets of blood spouting from her neck. A copulating Rati and Kamdev are under the feet of the goddess and women are not allowed inside the pandal. "We do not know what (menstrual) state they are in," says Dutta delicately.
Dutta says they do their puja, now in its 40th year, for the good of the community, not ads. He says the new crop can try out new-fangled "inappropriate" Kalis like the Mohun Bagan Kali but the old ones are unperturbed. "In houses around here people swear by Chhinnamasta, not a regular Ma Kali," he boasts.
Each Kali Puja here claims something about it is unique and crowd-pleasing. But in a blue-collar neighbourhood, the blue Goddess in all her many forms comes as a blessing. "We chose a peaceful form of the Mother because her sons here are often less than peaceful," quips Mali about their 1000-armed Kali. While purists might wonder if it is turning it into a Kali Puja amusement park that's more about chilli chicken than singing Kali bhajans, Balaram Das is not complaining.
"I don't know why Chetla became a home to so many Kali Pujas," he says. "I just call it Ma-er den (the gift of the mother). And if five people get some entertainment out of it, even better."
Subscribe to Moneycontrol Pro at ₹499 for the first year. Use code PRO499. Limited period offer. *T&C apply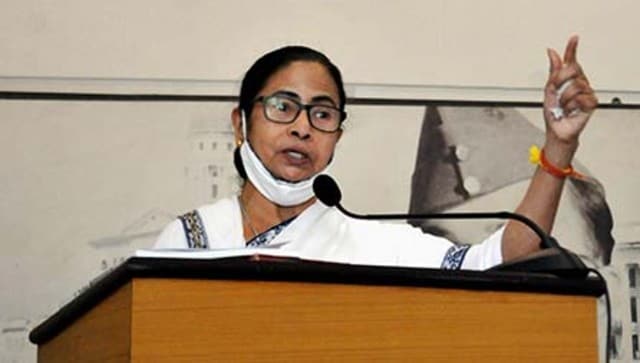 India
Banerjee also took exception over the EC appointing two special police observers for West Bengal, Vivek Dubey and MK Das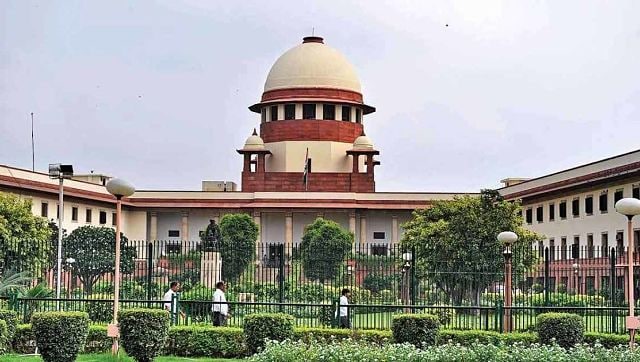 Politics
The plea had also sought to bar the BJP and its leaders from using the 'Jai Shri Ram' slogan while campaigning in the state
Politics
The use of the prime minister's photograph on hoardings violates the Model Code of Conduct, which came into force on 26 February