Guru, goddess, guide: Pt Raghunandan Panshikar recounts his musical tutelage under Kishori Amonkar
Pt Raghunandan Panshikar talks about what it was to be trained by the legendary Kishori Amonkar for more than 20 years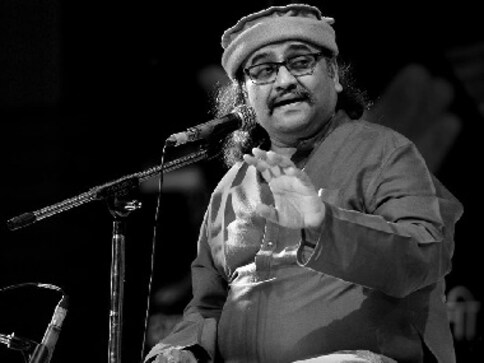 It is often said of the Indian classical music that more than being an art form it is an arduous sadhana (devotion) to rise above the tangible plane and make yourself one with the intangible — what many call parabramha or power supreme. While it sounds like an abstract concept, there have been musicians in India who have achieved that spiritual confluence. One such artiste is the legendary Kishori Amonkar, conferred with the title of Gaan Saraswati (Goddess of singing).
Amonkar hailed from the Jaipur-Atrauli gharana, and received her training under the strict mentorship of her mother Mogubai Kurdikar (considered among the most formidable vocalists in India at a time when women artistes were looked down upon). Amonkar breathed her last on 3 April 2017 leaving a wide chasm in the cosmos of Hindustani classical music.
Pt Raghunandan Panshikar, a student of Amonkar, performs on 3 August at the National Centre for the Performing Arts (NCPA) in Mumbai where he pays homage to his gurus, the mother-daughter duo Mogubai Kurdikar and Kishori Amonkar.
Born into a family of stage artists and actors, Panshikar was enveloped by the performing arts from the earliest time he could remember. Consequentially, he too was driven towards arts (music in his case). He even started receiving formal training at the age of 11 under Pt Vasantrao Kulkarni. He would actively participate in school competitions and sing Natyasangeet, Bhavgeet and film songs with much ease. Music was more of a hobby to him then, but as he turned 17, he began to think of his career goals in full seriousness.
"It was purely my decision to take up classical music as a profession. More than the idea of making music as a profession, it was my earnest desire to spend at least 12 years with a guru, that is what we call doing a tap. Hence, I ventured out in search of that guru," he says. While the idea of choosing music as a full-time career had just begun to germinate within him, little did he know what was ahead.
"Our drama company was working on a production, for which Kishori ji was composing the music. At that time, I was also learning music, not with a view of becoming a professional singer, but just as a hobby. So, I would go and visit her to help her with the music arrangement as a representative of the drama company. One day, she was teaching a song to someone and he was not able to reproduce it perfectly. So, Kishori ji just happened to ask me, all of a sudden, 'You sing, right? Sing this thing for me.' I promptly sang that bit and she was really happy. She remarked, 'The kid has talent in his voice. Start coming in the evening for lessons.' It all happened so haphazardly that I couldn't fathom that I was indeed going to be trained by her."
This began Panshikar's musical journey under Kishori Amonkar; he began learning from her in 1979 and stayed in close proximity to the legend till 2000. "While I had hoped to spend one tap (12 years) with a guru, I ended up doing 1.5 tap," Panshikar says and reminisces about the first lesson he got from Amonkar after she called him to her place. "It took a while for it to sink in that a stalwart of Kishori ji's stature asked me to come for music lessons. I knew she was a legendary musician, but I had no real interaction with her until then. I remember, the first day I went she taught me a taraana in the Raga Bhoop; my parents had also accompanied me. Gradually, and pretty much unconsciously, I started imbibing whatever she taught me or told me. It took me 4-5 years to comprehend her music, her style of singing... those years were really crucial for me."
As much Amonkar was recognised for her musical expertise and excellence, tales of her mercurial temperament are also widely known. It is often said that she was very impatient with the audience who came for her performances. She would get up and leave the stage if she found people talking while she was performing, or people walking by, clicking too many pictures, flashlights going off right on her face, or due to technical glitches with the set-up, instruments etc. In fact, she wouldn't start performing until her tanpura was tuned to perfection.
Read: Kishori Amonkar — Recounting a meeting with the 'temperamental' vocalist
Was this infamous temperament of hers present even inside the four walls of her home? Was she also this strict with her disciples? "She was never whimsical with her students. In fact, she was more interested in getting her students to access maximum knowledge of the art. She used to spend a lot of her time and energy in doing that. She also valued time, if we were even five minutes late, she would scold us. Her scolding was enough to bring us to tears; she was a disciplinarian that way. Apart from that, we never saw her being whimsical. That was probably reserved for outsiders, never for her students. Outside, especially while performing, she didn't flinch a bit to scold the audience if they created any sort of unsolicited distraction."
In the many years that Panshikar spent with Amonkar, he learnt a wide variety of things: Be it the music, the history behind it and the supporting texts. "As my interaction with her became frequent, I started understanding the beauty of her music and the fact that music is so developed and so unexplored. It takes years to understand a single sur and after getting that right even many more years to work around it and execute it. She taught me everything — from the riyaaz, traditional ragas to the more-specific Jaipur gharana bandishes, her personal compositions, light music, Urdu ghazals and a bit of Carnatic music too. She also made me see how the sur is used in classical and light music, so when I sing classical you won't see the traces of light music and when I sing light music you won't see classical," he says and further adds, "She used to say that it is not enough to just sing, one should also know the history behind that music — what has been written on it, who has previously worked around it and how. She made us read and understand ancient scripts and texts like Bharat Muni's Natya Shastra, Saranga Dev's Sangeet Ratnakar, to name a few. Usually what happens is people know their guru first and then start going to them to learn. With me, the exact opposite happened; I went to many gurus to see if they are 'the one', but I guess it was always supposed to be her."
Kishori Amonkar (or Kishori tai, as her pupils called her) is regarded as one of those artistes who infused a lot of emotion in their singing, apart from the accuracy of their musical notes. But this emotional approach towards notes is also a gift of Amonkar to the Jaipur-Atrauli gharana's singing style. Panshikar explains this with a brief lowdown on the conception of the gharana itself vis-a-vis what we know of it today.
"The Jaipur-Atrauli gharana was founded by Alladiya Khan sahib. When he was young, he would sing like any other gharana singer — be it the aalaap, the taan etc — everything was very much like the other gharanas. Once he was called by the erstwhile king of Amleta (in Madhya Pradesh) to perform in his durbar. Instantly, the king fell for Khan sahib's singing, so much that he would constantly call for him and listen to him for four hours in the morning, noon, evening and night. This happened for around a month and it had a deteriorating impact on the voice of Khan sahib; his voice stopped functioning. Then for the next two years, he worked a lot on his voice and got it back to work, at least in some way. During then, he realized that his voice was no more like the one he initially had. Since he belonged to a musical family, he devised a technique that let him sing comfortably and that is what we know today as the Jaipur-Atrauli singing style. Since he couldn't hold on a tune for too long, so the tradition of taking long aalaap stopped, the vilambit (slow) rhythm became rapid to a madhya (middle-paced) taal. What Kishori tai did was that she got back that emotion and tranquility in the singing and that gave the gharana gayaki a new dimension what we call as bhaava. The bhaava, with which she presented her gayaki is what people even today can't forget. She brought in the desired intensity... fused with love and devotion towards the sur. See, the sur affects your intellect and mind, so Kishori tai worked hard to cast that spell of the sur over the minds of her listeners," says Panshikar.
While Panshikar spent time under the tutelage of Amonkar, he was lucky enough to get some on-and-off training from Amonkar's mother, Mogubai Kurdikar. She would stay for six months with Amonkar and the remaining six with her other daughter. He says, "When Kishori tai would go for a concert, she would tell her mother to teach us something new. The taans in the gamak pattern have been taught to me by Mogubai; she also taught me some bandishes. But what she taught us the most was the importance of being original. When a teacher teaches you something for two-three days, then on the fourth day it is the student who should start coming up with something original. 'How long can you replicate and imitate the guru? There should be some part of yourself in the recital too, right? It can't be all guru,' she would often tell us."
Panshikar explains how the mother-daughter pair were different from each other despite being so close. He says, "Mogubai learnt music under very adverse conditions; she would have to earn money from tuition in order to meet her and her family's ends, as her husband died very early. That experience made her really tough. She was like the mother and father to her children. She had a lot of discipline and that comes across clearly in her singing too. You couldn't just go up to her and say just anything, that way she was really intimidating. Mogubai used a lot of gamak in her sur, her music was more reflective of the Jaipur-Atrauli gayaki."
"Kishori ji brought in the emotive touch with her aalaap that was not as prominent in Mogubai's singing. Kishori tai's nature was very motherly. She would be a mother to us while she taught us music; she would scold us when we made mistakes and praise when we did something right. Not only that, her motherly nature also reflected in the way she approached and handled the swaras with utter love and dedication. I think that is what set her leagues apart. Her voice would make one go into a trance, take you into another world – the world of her love," he added.
Panshikar says it is this quality of Amonkar that has seeped into his vocal texture too. He says, "When I started, it was not that common for a male student to learn from a female guru," and he adds that it is the motherly virtue of Amonkar's personality that gave a soft texture to his voice also adding that it would certainly not have been possible had he been trained under a male guru. He further throws light on how the advent of microphones has changed the manner of singing. He points out how Mogubai's voice was strong because she sang at the time when there were no microphones, but today singers can perform low notes with a very soft voice as they know the sound will reach the farthest sections of the audience.
As for whether this change is good or bad, Panshikar concludes with a quote that Mogubai once told him: "Singers today have a lot of talent and are very thoughtful, but they lack the grandeur." Truly, they don't make legends like them anymore.
Read: On Kishori Amonkar's 86th birth anniversary, a student looks back on the legendary singer's career, teaching
Pt Raghunandan Panshikar will be performing at the National Centre for the Performing Arts (NCPA) in Mumbai at the ninth edition of its Indian music festival, 'Bandish 2018 – A Tribute to Legendary Composers' on 3 August. He will pay homage to his gurus, the mother-daughter duo Mogubai Kurdikar and Kishori Amonkar of the Jaipur-Atrauli Gharana, which boasts of rich rhythmic intricacies and ragas.
Life
I can say with confidence that my brother Ramakant Gundecha's biggest dream and singular passion — of training professional Dhrupad artists and enthusiasts — has come to fruition and will continue to grow beyond his wildest dreams | Akhilesh Gundecha writes
Life
It does not have the tag of "the biggest" or "the music festival in town" because the town is only Varanasi. The 'Dhrupad Mela', however, is among the most joyous celebrations of Dhrupad.
Life
Classical singer Jayateerth Mevundi explains the nuances of Kirana gharana and how some of its doyens like Ustad Amir Khan and Pt Bhimsen Joshi have had an indelible impact