Gulzar's life, unpublished poems presented in latest edition of daughter Meghna's Because He Is
While the world knows a lot about the legendary poet-lyricist Gulzar, his daughter Meghna Gulzar's book 'Because He Is' presents him and his life in a never-seen-before way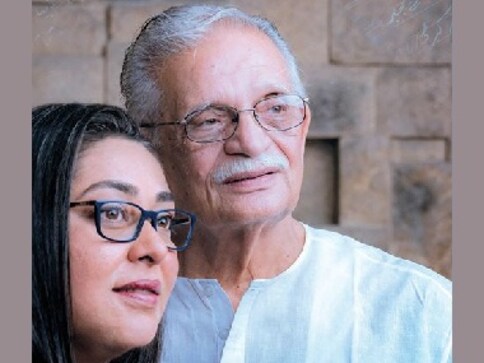 Kai barson se seene mein rakha tha aasmaan…
Kai barson se seene mein rakha tha aasmaan
Tay karke maine meri ummeedon ke naqshe they uss par,
Mere khwaabon ke baadal they, mere ashkon ka paani tha!
Main nanhi ungliyaan beti ki sehlata tha,
Unko choomta tha badi ho kar ye mera aasmaan kholegi ik din
Woh apna kehkashaan uss par bichhaaegi!
Badi ho kar meri beti ne khola aasmaan aur,
Ungliyon se naam apna likh ke roshan kar diya hai aasmaan mera
Kai barson se jo tay karke maine seene mein rakha hua tha!
- An unpublished poem by Gulzar that is featured in the latest edition of his daughter Meghna Gulzar's book Because He Is...
The soul of this poem is a father's innermost feelings for his daughter. And for Gulzar, Meghna (or Bosky, as he calls her) is the centre of his universe. When asked how he managed to create such a vast body of work along with the task of raising his daughter, Gulzar very casually answered, "How was I managing? She was my priority. Everything that I did, do, or will do, is for her."
Because He Is... is a poignant, unfiltered and endearing account of a father over the years, through the eyes of his daughter. It is like a collection of diary entries made by a daughter who has been taking notes and making keen observations about her father. In doing so, the author has found things that she never thought of or realised in the first place. Describing the nature of the book as anecdotal and insightful, Meghna says, "It kind of gives a peek into how his mind works, what kind of a person he is, what his day is like — it's through a daughter's lens. I understood him as a person, a writer, a filmmaker and a father. There are a lot of things I understood about the way he has raised me."
While Gulzar has an exhaustive filmography, Meghna has made few films, most of which have been appreciated both by the audience and critics. Though her last two films — Talvar (2015) and Raazi (2018) — were based on true events, Meghna was appreciated for introducing freshness to both narratives, something that Gulzar was also known to do. Meghna credits her father for inculcating in her a keen interest towards creative pursuits from a very young age.
"It was all him, he encouraged me to explore every form of art — whether it was poetry, music, dance or painting. Then it was up to me to find my calling, but he made sure that he had exposed me to everything," she says.
Being around a writer like Gulzar meant that reading was as vital an activity as eating or sleeping. Growing up, Cinderella was Meghna's favourite book because of the magic in it, and because it told the story of an orphan girl who has a fairy godmother. "My father would get me a new edition of the book wherever he was travelling. It used to be different every time: a different publisher, illustrations, layout and design. So I ended up having some 15-odd versions of the book. I remember I had one version where Cinderella goes to not one but three balls, and it is at the third one that she loses her glass slipper…there were these illustrations…her dresses were beautiful in shades of gold, silver and blue…" she reminisces.
While these characters from fairy tales were a major part of her childhood, she moved on to reading books like The Famous Five and Archie comics over time. "He hated that I had moved on from books to comics, but the deal was that I would get to buy an Archie comic only when I buy a membership of a Tinkle too, and then read both of them," she says. Eventually, she moved from fiction to non-fiction — a shift that is quite apparent in her journey in films too. "I did read fiction like the books by Jeffrey Archer, Robert Ludlum etc. But now if you ask me, I gravitate towards non-fiction. Out of the four films (excluding the short film Dus Kahaaniya), two are fiction (Filhaal... [2002] and Just Married [2007]) while the other two (Talvar and Raazi) are non-fiction. In the fiction films, the realism comes from my personality; my creative inclination is towards keeping it simple and real instead of over-dramatising things. So even if there is a lot of inherent drama in my content, the acting in my film is not dramatised; it is the situation that is dramatic."
"Bosky learnt to write at a very early age. All children imitate their parents – popping out her lower lip and holding her thinking pen, she would imitate me and scribble on a piece of paper. Chewing an end of her spectacles, she would pose over her book, like me..." — writes Gulzar in the opening note of the book.
Growing up in the shadow of a celebrated film personality would have been a huge pressure itself, owing to people's expectations. While striving to carve out a niche for themselves, children of artists and celebrities often find themselves battling the question: 'Do you match up to your parent?'
Meghna's book doesn't delve into this at all, however, Gulzar does mention a number of times that his daughter has surpassed him. Has there been an unconscious passing-over of traits and talent across generations? Meghna explains, "It is difficult to know whether it is genetics or you are imbibing things as part of your upbringing because a lot of what shapes a child's personality happens through mere observation. In my case, I don't know how much of it was imbibed by consciously reading his writing, which I have not done very much because his writing was translated into English much later and I can't read Urdu. So my initiation into his writing happened quite late, around the late 1980s, by which time I was about 16-17; my personality was quite formed anyway. I think it has a lot to do with his personality and him raising me, and it was more of a genetics-cum-upbringing kind of a thing that has perhaps shaped my creative intellect rather than consciously trying to imbibe his writing style. But what I have learnt consciously is his brevity and simplicity, which I really love. I try to imbibe them in my scripts, in my writing, in my storytelling."
From writing songs for films such as Bimal Roy's Bandini (1963) at the start of his career to directing memorable films of his own, like Parichay (1972), Aandhi (1975), Maachis (1996), Hu Tu Tu (1999), Gulzar has worked in the capacity of a filmmaker, a screenwriter, a dialogue writer, and a lyricist. Having observed her father so closely, Meghna finds it difficult to choose between Gulzar the filmmaker, and the writer.
"It is because his filmmaking also went through stages. It went from films which were making a social comment to films about very sensitive relationships that still made a comment. Then the relationship bit took a backseat and social commentary became the focus. And then, there is a film like Lekin (1990) which I think is one of the most beautiful ghost stories that I have ever seen. I think Ijaazat (1986) is one of the most dignified films as far as the subject of adultery is concerned, while Maachis is such an angry film — you can see the anger simmering through the story, and it is so tragic as well. I think Kusum (played by Hema Malini) from Khushboo (1974), at the time it was made, was one of the strongest female characters we've had in Hindi cinema. Because he writes his own material, none of this could have been possible without Gulzar the writer. So I think, one is incomplete without the other," says Meghna.
Despite having different approaches and producing different work, this father-daughter duo has very similar sensibilities when it comes to filmmaking. Meghna says that this insight comes from their personalities. "We are both very sensitive people. For me as a creative person, I feel that a film which is indifferent or irrelevant to the extent that it would have made no difference if it weren't made at all, is a colossal waste of so many people's time and money. For me, as a filmmaker, the attempt is to make something that will touch somebody, somewhere. We must have that approach in our films, otherwise what's the point!" she says.
"Another treasure that Papi gifted me was the book he wrote each year for my birthday, till I was thirteen. They were published and distributed among my friends, my classmates and at my birthday parties. It fills me with pride to know that not many daughters have this privilege. And that so many other children have grown up reading and enjoying these books... Papi's first book for me chronicles Ma's pregnancy. He felt that the excitement of a newborn child often overshadows the experiences that the mother goes through. So he decided to write about Ma's pregnancy and the book was written in 'baby-speak' or tutli zabaan, which made it even more enjoyable. The first poem Papi wrote for me was when I was about four days old:
bittoo rani Bosky
boond giri hai os ki
os ka daana moti hai
Bosky jisme soti hai"
There are, as Meghna says, numerous poems that Gulzar has penned exclusively for his daughter. There's one that he wrote for her after Talvar; one which he wrote when she was getting married; another which he wrote when she was giving birth to Samay, his grandson. All of these poems and many others make their way to this edition of Because He Is... which was first published in 2004. This edition is also filled with a number of pictures that not only give a sneak-peek into the life of Gulzar but also the relationships he shared with a wide variety of people over the years — his wife Rakhee, his mentor Bimal Roy, his actor-friend Sanjeev Kumar and his favourite music director, Rahul Dev Burman (who he refers to as 'Pancham'), among many others.
"After reading it, they will have that 'aha' moment when they would say, 'Oh! Now that explains it.' And for many people from the younger generations who know his work but don't know much about him, because a lot of people know him as a writer and a poet and not as a filmmaker, the book will be a revelation," concludes Meghna.
Arts & Culture
Amitav Ghosh's new book is set in a valley where indigenous people from warring villages live off the abundant riches from a sacred mountain. Their lives are disrupted by outsiders who force their way into the valley and treat the mountain as nothing but a resource.
Arts & Culture
The women of After Sappho aren't just some of the best people in the writing business; they're also trailblazers.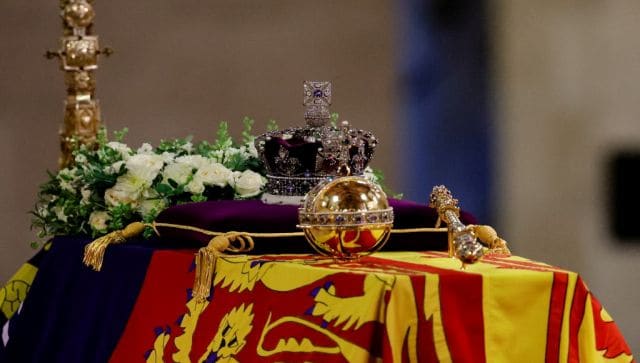 World
When Biden spoke to the BBC, the only outlet broadcasting live as he signed the condolence book, the network kept up a split screen with Sir David Manning, a former British ambassador to the US, and did not air Biden's comments live