Grihalakshmi magazine faces legal case for featuring breastfeeding model on its cover
A Kerala advocate has filed a case against Grihalakshmi, calling the photograph on its cover 'lascivious' | #FirstCulture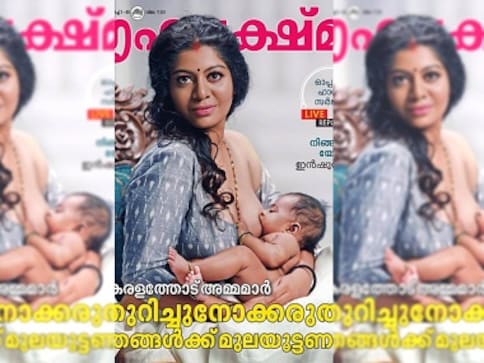 Kerala advocate Vinod Mathew Wilson has filed a case against Malayalam magazine Grihalakshmi for featuring actress and writer Gilu Joseph breastfeeding a child on the cover of its latest edition, reports ANI. Live Law mentions that the complaint alleges the picture is 'lascivious' in nature, and that it appeals "to prurient interests and tends to degrade the dignity of womanhood."
The complaint further alleges that offences under Sections 3 and 4 of the Indecent Representation of Women (Prohibition) Act, 1986 have been committed.
The filing of this complaint comes as a contrast to the praise people have heaped on the actress and the publication for this choice of cover, with some even calling it a historic first in the context of India, and even the beginning of a revolution to de-sexualise the act.
The text below Joseph's picture reads: "Mothers tell Kerala, 'please don't stare, we need to breastfeed'".
Speaking to Indian Express Malayalam, Gilu Joseph says that she was not apprehensive about appearing on the cover, and that she considers breastfeeding a mother's privilege. "It is a problem to interpret this sexually. Isn't it a beautiful thing, friends? Why do you think it is wrong? Which god will be angry if you feed your child?" she asks, questioning society's tendencies to shame women. She says that she agreed to the campaign without paying heed to what people may think because she believes only she has a right over her body, and that only she can decide what she must do with it.
Joseph told the news website that her family did not approve of her decision to feature on the cover in this manner. Her mother and two sisters — one of whom is a nun — disapproved and criticised her, and though she says she respects their opinion, she remained undeterred from doing what she thought was right. This is indicative of how deep-seated patriarchal notions about women's bodies can be, such that even women subscribe to them.
The cover has received mix responses on social media. Users have criticised the magazine for trying to titillate audiences by presenting the model in such an 'exposed manner'. "It is a cheap publicity stunt," wrote one Facebook user. One male user asserted that he could not find any difference between this cover and "a seducing photo of an indian woman". Another male user insisted that mothers should "cover themselves up" while feeding their children. A third insisted that 'kaliyug' has descended upon humanity, because she chose to pose like this. A fourth insisted that this is not how mothers breastfeed their children.
But a majority have lauded the magazine for normalising and de-stigmatising the act of breastfeeding.
People may criticise the way she has been styled for the cover; she can be seen wearing a streak of sindoor and a mangalsutra, both traditional markers of marriage which when forced upon women is considered patriarchal. However, Joseph says that the photograph is a message to wives and mothers in India, to tell them that they can choose to feed their children without the fear of what people will say or do.
Women breastfeeding their children have been the subject of many magazine covers in the past, such as TIME and Babytalk. Readers called Babytalk's cover "gross" because it featured an exposed breast, even though the focus was on the infant's face and expression. TIME, on the other hand, drew flak because the child in question was significantly old — 4-years-old, to be exact. It led to a larger discussion on Jamie Lynne Grumet, the woman who was featured, attachment parenting, and a parent's decision to raise their child in the way they see fit. In the past, brands such Gap have also featured models breastfeeding children in their ads.
Social media users have been terming Gilu Joseph and Grihalakshmi's move as being 'bold'. That such a natural process which follows motherhood and which is considered essential to raising a healthy child is still considered 'bold' shows that the decision to breastfeed one's child in public is still viewed as being radical and political.
World
The resort is on the site of the former Stardust, an iconic Las Vegas landmark.
World
Both countries have managed to keep out the virus by putting up barriers to the outside world, including strict quarantine requirements for travelers returning from other countries where the virus is rampant.
Lifestyle
Shakuntala Bharvani used the lockdown to re-ignite a much deeper connect — that with her lost homeland, which has resulted in a book marked by nostalgia and occasional touches of humour.