Glenmorangie's Spios: Bill Lumsden on whiskey maker's limited-edition series this year
This year, for its ninth outing, the private edition, which as Bill Lumsden says, "is an opportunity to experiment, to try and do something different," sees the malt maker age their whiskey in American casks that once held spicier rye whiskey.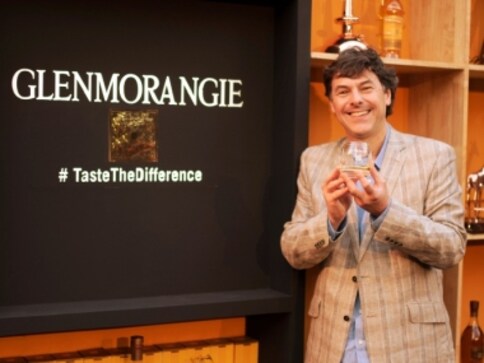 "For this one, the idea came from a conversation I had when I was distillery manager in 1997, with Michael Jackson — not the pop star but the whiskey writer — who sadly passed away 10 years ago. Michael had a sample of rye whiskey for me and it all came from that," says Bill Lumsden, the Director of Distilling and Whiskey Creation for Glenmorangie.
The bottle he is referring to is part Glenmorangie's Private Edition, a yearly limited-edition series that sees Lumsden create an unusual dram, which differs from Glenmorangie Original's honeyed sweetness and warming qualities. The original incidentally is matured for 10 years in casks that once held bourbon.
This year, for its ninth outing, the private edition, which as Lumsden says, "is an opportunity to experiment, to try and do something different," sees the malt maker age their whiskey in American casks that once held spicier rye whiskey. Hence the name Spios, which is Scots Gaelic for 'spice'.
In the past, Lumsden has aged whiskey in casks used by the Italian "Super Tuscan" wine, Sassicaia, which he describes as a "cult wine." Using the barrel as a medium, he's also recreated a "candy sweet that I used to eat as a young man." The next year, for the 10-year anniversaries of the private edition, he leaves us guessing what it is. All he'll say is, "the 10th anniversary is a big celebration, so obviously it will be something that's never been done before."
Lumsden has a shock of hair that gives him a youthful appearance and speaks with a crisp accent that sees him harden his r's. He is dressed in a thick coat, not at all suited to the Mumbai humidity, but he doesn't seem to mind. Speaking about his career so far he explains that got his PhD in Microbial Physiology and Fermentation Science in Edinburgh admits that this applied science which looked at fermentation is what allowed him to get a job with a spirits company. His first degree, a bachelor's, "Was in biochemistry and cell biology, so that's obviously much more leaning towards medical science." While studying for that degree though, Lumsden says, "I discovered single malt scotch in my student, and I loved it. Being a scientist and a geek, I didn't just want to enjoy the taste, I wanted to learn everything there was to learn about it," and that's how he ended up in the industry.
After getting started at United Distiller (what is now Diageo) he moved to Glenmorangie, where's he stayed for the last 24 years. When asked about how he sees his role at the company Lumsden says, "my main work is to maintain the consistency and quality of our core range of whiskeys."
Asked if his science background helps in the day-to-day job, and Lumsden says, "whiskey making is much more of an art than a science. The science basically helps you understand things, and I think if people approach it only looking at the science they would be doomed to failure, they won't make the best product they can." Instead, he recommends looking at distilling through one's senses, "its all about the taste, the texture and the feeling you have when you make it."
These whiskeys are now available to buy all over the world, and during his tenure at the company, Lumsden has had the chance to see how the drink is being consumed all over the world. While he's not the kind to prescribe ways of drinking he does say he's seen it all, from neat drinking in Scandinavia and Germany to highballs in Japan.
As for the future, he admits that he has started training his protégé but cautions, "its not easy to train him up," because it's the intangibles that ultimately need to be imbibed over time. "Its all about feeling the brand, making an emotional attachment with it, understanding what your consumers want, so there's only so many things I can do to train him up," says Lumsden.
Find latest and upcoming tech gadgets online on Tech2 Gadgets. Get technology news, gadgets reviews & ratings. Popular gadgets including laptop, tablet and mobile specifications, features, prices, comparison.
Life
BRANDS which inspire fierce passion should ideally be led by it. At least in a perfect world. But as we know now, with the recent elections, the world is far from perfect.
Entertainment
Actor-comedian Vir Das has been signed for the new comedy drama series Whiskey Cavalier, which will be produced by Warner Bros.
Success Quotient
It takes time for people to accept wines made in non-traditional wine producing countries and regions. So for the first few years there were a lot of mental barriers to overcome with regard to consumers.