From Radical Dharma to All About Love, a look at queer Black Buddhist perspectives on spiritual practice in contemporary texts
Several queer Black Buddhist authors have showed me how spiritual practice can be a liberating force in the face of challenges as huge as racism, sexism and queerphobia.
The Queer Bookshelf is your fortnightly date with books about queer lives and loves from India and elsewhere
***
I am completely baffled by the groundswell of social media support in India for the Black Lives Matter movement in the United States. It is difficult to imagine that people, who are obsessed with fair skin and ready to grovel at the feet of white supremacy, have suddenly become conscientious. Perhaps the more logical explanation is that they are always looking for a new cause to raise hell about, so they have now latched on to this one without realising the full import of their own collusion in anti-Blackness.
What is important to remember is that this decentralised movement against institutional racism, police brutality and racial violence is not a random occurrence. It is a response to the long history of slavery that the United States has been built upon. When Indians chase the shiny American dream, or consume Netflix shows that centre whiteness, we often end up getting dazzled by a vision of affluence that excludes Black Americans. They face hate crimes on a daily basis in the same country that many Indians idealise as a land of opportunity.
I have been thinking of the Black people in my life over the last couple of months, ever since the news of George Floyd's murder catalysed protests all over the United States. These are queer Black Buddhist teachers who have made a difference to my life by speaking of their journeys, and showing me how spiritual practice can be a liberating force in the face of challenges as huge as racism, sexism and queerphobia. Their teachings are no less important to me than the teachings of Gautama Buddha, also known as Siddhartha or Shakyamuni.
This column is dedicated to them. I want to highlight the quiet, powerful and life-changing work they have been doing, especially for readers who are hearing about them for the first time. If you are wondering why I would want to learn about Buddhist practice from people who were not born in Buddhist communities, here's my answer: I am prepared to learn from anyone who offers teachings that are beneficial to me. The queer Black Buddhists I write about remind me that spiritual practice is not about severing ties from the world; it's about engaging more authentically with our own embodiment.
Radical Dharma: Talking Race, Love and Liberation (2016) is a book that has grown very dear to me. Written by Rev angel Kyodo williams, Lama Rod Owens, and Jasmine Syedullah, it unveils how white supremacy and racial injustice shape Buddhist communities in the United States. They declare, "If you have ever wondered how you would have shown up in the face of the challenge put before White America when Rosa Parks refused to give up her seat, upending the accepted social order, now is the time you will find out. For Western-convert Buddhist America, this is the time when we will actually embody our practice and teachings, or not."
Jasmine Syedullah shares how she was disheartened when she walked into several Zen and Vipassana centres where she saw nobody who looked like herself. It did not matter how nice people were to her. What stayed with her was the feeling that she could not relate to anyone. She wanted to be in an environment where her fury and her grief were welcome, where she did not have to be charming to belong, where people would not see her presence as an imposition.
Finding Rev angel Kyodo williams was a big moment for her. She writes, "Her dharma was not all Namaste Namaste. Her practice was fiery, full-on gangster compassion, unapologetically Black. It queered the calm of the sitting sensibility I had seen elsewhere, and it was not a practice afraid of sound, of sorrow or song, of people catching the spirit and making joyful noises even in the stillness of the zendo. Rev. angel's practice evolved a lot over the years I sat with her but the feeling of belonging in a deep sense was always there—welcoming my Blackness."
I find this excerpt particularly moving because it cares about what the seeker needs rather than preserving some abstract notion of purity. The same idea comes up when Lama Rod Owens talks about the place of writer-activist James Baldwin in his own life because that man helped him realise that there was more to being gay than sexual desire or having great sex; it was about the intimate connection to other men. Lama Rod Owens is not dismissive of sexual pleasure. He is merely truthful about his changing needs, and this is partly reflective of a shift from identifying as gay to identifying as queer.
Lama Rama Owens says, "It is important for me to honour the teachers that I had before the Buddha and before the Dharma came along. James Baldwin was my teacher; Audre Lorde was my teacher. Essex Hemphill was my teacher. These are the writers that first helped me to eventually find the Dharma through leaning into myself as a sexual being, and these are the teachers that helped me love my sexuality and my sexual expression." I like the idea of being able to celebrate both—our queer ancestors and our spiritual teachers. We don't have to give up either.
This personal relationship with practice can be joyous if one is willing to craft one's own path, and take responsibility for one's learning. It can also be scary because others may not understand this path. One does find others to journey with but sometimes the wait can be so long that it might seem never-ending. I have benefited greatly from meditation retreats and chanting groups, and I have also seen signs of cultish behaviour. I tend to quit groups when they insist that their practice is superior to other practices. Not my jam. Is this a wise thing to do? Should I not stay on? Why do I run away from discomfort?
Rev angel Kyodo williams says, "Meditation is not the primary practice for most Buddhists in the world. The thick number of people who practise meditation would be here in the States and in the UK. I think it's not an accident that white convert sanghas are putting such a strong emphasis on non-relational ways of developing their sanghas." We can pick any form of practice. The purpose remains the same: to learn humility, to recognise interconnectedness, to alleviate suffering. This is my current understanding.
I believe that it is difficult to learn about impermanence without examining interconnectedness. If we do not recognise that the self exists only in relation to the other and not as an independent entity, we end up believing that we do not need others. That attitude is a breeding ground for arrogance and violence. Cultivating the awareness that we are impermanent helps us loosen our grip on the labels we identify with. I have been asking myself these questions: Why do I say that my preferred pronouns are 'he' and 'they'? Does this indicate a shift from male-identified to non-binary in some way that I need others to understand? What if someone wants to address me as 'she'? Can I accept all pronouns if I see the chosen pronoun as merely an indicator of someone's perception of me? Why do I need to obsess about how they perceive me?
A book that has become a dependable friend of mine and has helped me think through these questions is Zenju Earthlyn Manuel's The Way of Tenderness: Awakening Through Race, Sexuality and Gender (2015). The author is a lesbian Black woman ordained as a Zen Buddhist priest. She says, "Hatred remains potent whether directed at a construct, an illusion, or at the reality of others. Therefore, identity should not be dismissed in our efforts towards spiritual awakening. On the contrary, identity is to be explored on the path of awakening." She discourages spiritual bypassing, and urges us to acknowledge that we are embodied creatures.
How will the teachings be relevant to us in the here and now if we do not engage honestly with our own lived experience? We are not being asked to fetishise our pain, and wallow in victimhood. She says, "We can allow that which we have suffered to be a moment of our lives but not our whole lives...Our experiences of rage and well-being exist alongside each other. On the path of awakening we attend to both." This insight comes from having worked with her own fear of whiteness and from telling herself: "I was not willing to act as a barometer for oppression while others walked away with the teachings."
Both these books acknowledge their debt to a Black feminist author whose work I absolutely love. Her given name is Gloria Watkins but she prefers to be addressed as bell hooks (spelled in lowercase). Reading her book Teaching to Transgress: Education as the Practice of Freedom (1994) made me realise that spiritual practice and social justice work could nourish each other. We do not need to abandon one in order to pursue the other. She introduced me to Vietnamese Buddhist monk Thich Nhat Hanh's philosophy of Engaged Buddhism, which applies dharma teachings to issues of social, environmental and political injustice.
I admire the fact that bell hooks, unlike many other academics, is unafraid to talk about spirituality and love. I recently finished reading her classic All About Love: New Visions (2000). In this book, she investigates how the "imperialist white supremacist capitalist patriarchy" stands in the way of love, by using examples from her own childhood and adult relationships with men. She clarifies that, for her, affection is only one ingredient of love. The others are care, commitment, knowledge, responsibility, respect and trust. She lists these to emphasise the point that love and abuse cannot coexist.
"For most folks it is just too threatening to embrace a definition of love that would no longer enable us to see love as present in our families. Too many of us need to cling to a notion of love that either makes abuse acceptable or at least makes it seem that whatever happened was not that bad," she writes. This observation comes from her own family of origin, where "aggressive shaming and verbal humiliation coexisted with lots of affection and care."
Confused by this seeming dichotomy, hooks struggled to accept that her family was 'dysfunctional'—a term that would have meant she was disparaging of her parents, and not proud of anything she shared with her siblings. Therapy helped her work through these contradictions that seemed challenging to reconcile, and she was able to view the term 'dysfunctional' as simply "a useful description and not as an absolute negative judgement." This is such a mature approach, especially at a time when it has become fashionable to call others 'toxic' at the drop of a hat.
It was in her mid-20s that hooks first learnt to understand love "as the will to extend one's self for the purpose of nurturing one's own or another's spiritual growth"—a definition she picked from M Scott Peck's book The Road Less Travelled (1978) when she began to see value in appreciating love as an act of will determined by intention, choice and action. She did not want to "stay stuck in simply describing, telling one's story over and over again, which can be a way of holding on to grief about the past or holding on to a narrative that places blame on others". That is when self-love became a priority.
Loving herself does not mean hating men, White people, her family or her childhood church. She speaks of the trauma they have caused her but there is no thirst for revenge in her words.
"We cannot know love if we remain unable to surrender our attachment to power, if any feeling of vulnerability strikes terror in our hearts." bell hooks maintains a daily practice of prayer, has multiple images of the Buddha in her house, and devours books by Buddhist teachers such as Pema Chodron, Sharon Salzberg, and Jack Kornfield. This helps her heal. I hope we get to hang out sometime, share a meal, chant, meditate together.
Chintan Girish Modi is a writer-researcher working at the intersection of peace education, gender equality and queer rights
World
A three-count indictment unsealed Friday names Derek Chauvin, Thomas Lane, J Kueng and Tou Thao in the case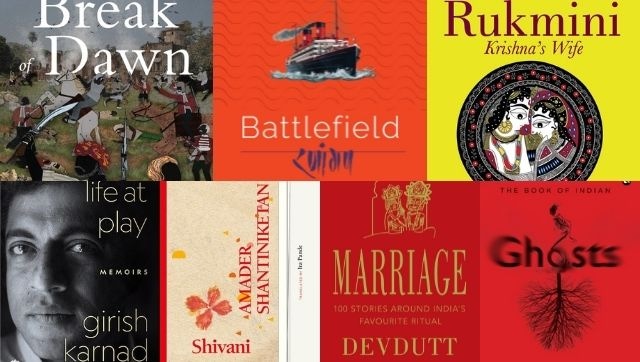 Lifestyle
Our weekly roundup of books that should be on your radar.
Arts & Culture
Sy Montgomery fans may have already read it as a chapter in the 2010 Birdology, but if you're coming to it cold, the rescue and rehabilitation of Maya and Zuni will warm your heart while making you an armchair ornithologist.