From India's slums to a Scottish stadium: How playing football changed their lives
Disadvantaged young men and women changed their lives playing football with Slum Soccer teams.
For Homkant Surandase, football is life.
Homkant grew up in Yavatmal, with the grim reality of drought looming over his family of farmers. Pressure to go out and earn a living was a constant one. His family managed to eat sometimes, but often, they did not have enough money to do so. Money and jobs never stayed constant. The only constant in his life was his love for football.
"Even as a kid I loved playing football with other kids in my free time," he reminisces. One day, his enthusiasm for football led him to participate in a football camp called Slum Soccer. He was shortlisted to play in Slum Soccer's national team — and that became the turning point in his life. Homkant went on to play football internationally with other disadvantaged teens who escaped unemployment and poverty and found solace in this sport.
Slum Soccer, as the name suggests, is an organisation that uses the power of football to empower young men and women who otherwise don't have much of a chance in leading a normal life. So far, it has helped 8,000 young men and women participate in this programme and play the sport. It uses the discipline of the sport to push their energies in a positive direction where they can develop themselves.
With strong players like Homkant, Slum Soccer formed national teams of boys and girls to participate in a tournament called Homeless World Cup (HWC). Started in 2001 by Mel Young and Harald Schmied, the annual football tournament brings together players from across the world. It advocates a positive life change through the discipline and hardwork the sport teaches. More than 70 countries participate in this world cup tournament. The competition touches the lives of more than 10,000 homeless people every year as they share their experiences with each other, leading to an infusion of respect and importance that their lives lacked so far. India's Slum Soccer team ranks 31 out of 64 in men and five out of 18 in women.
For Homkant, Slum Soccer took him to international destinations like Australia — and a look into the lives of how other people lived was a revelation in itself. "I didn't even know English when I first came, so I used to communicate with people through gestures over there," he says. Now with a proper educational backing and language skills in place, he is as passionate about changing other people's lives through football the way football changed his.  As assistant coach, he wants to make sure the team he is training for this year's Homeless World Cup will reach its full potential in the game. He says, "But the goal is not to win the game, the goal is to make a difference in these people's lives through football. This is their chance to escape their circumstances and make something of their lives."
Similarly, Reena Panchal, full time college student and part-time coach has had a long journey from home. Her struggle was three pronged — to get better at football, to fight her family to let her play it and to study further. Dealing with impoverished circumstances, Reena's family didn't want her to play football because it is "not for girls". Only after intense persuasion was she allowed to be a part of the Slum Soccer national women's team. Soon, her passion for the game shone through, and she was captain. "Playing football has helped me in studies too. I took up Slum Soccer's other programmes to learn English and score good marks."  While Reena doesn't want to coach the team full-time, her affiliation with the game has led her to pursue a masters degree in physical education.  She took a break from college to help coach the women's team for this year's tournament."My family now lets me do what I want. In fact, they have sent me to Chennai alone to coach the girls team," she says.
Akansha Shelare, one of the players on the women's team, also had to persuade her family to let her play the sport. Homkant discovered her talent for football and encouraged her to be a part of the team. Though her extended family of uncles and aunts does not support her sporting ambitions, her mother encouraged her decision to play football. "My mother has been taking care of my four sisters and me after our father passed away a few years ago. My mother was the one who always pushed me to play even though she is the breadwinner of our family." Akansha is extremely excited about playing at the tournament this year, and equally excited about her trip to the venue in Glasgow, Scotland, as it will be her first international trip.
When asked whether she wants to continue playing the sport throughout her life, she says she hopes to do so. But that's not all. "I want to get a degree in physical education, and help change the lives of girls in the way football has changed mine."
Find latest and upcoming tech gadgets online on Tech2 Gadgets. Get technology news, gadgets reviews & ratings. Popular gadgets including laptop, tablet and mobile specifications, features, prices, comparison.
Sports
In the complaint, Mohammedan Sporting has alleged that Yan Law had "circulated important information about team XI and strategies" to outsider Ranjit Bajaj of Minerva Academy.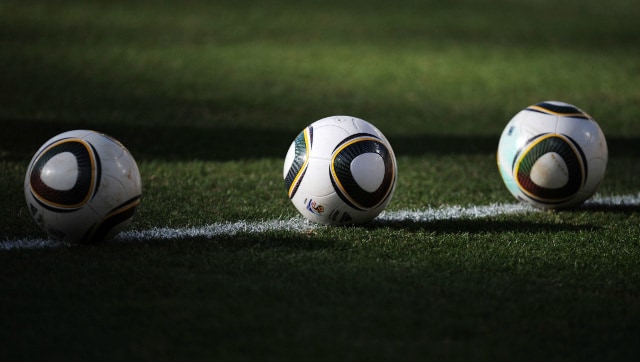 Sports
Bahader is a grandfather of six, all of whom were present at the Olympic Stadium in Maadi, Cairo, to cheer him up, reported news agency Reuters . He turns 75 on 3 November.
Sports
Sessegnon signed for Tottenham from Fulham last year but made only 12 appearances, none of them after the coronavirus pandemic interrupted the season.