From bloomers to Golden Globes red carpet, a brief look at the history of protest fashion
Fashion, and clothes in general, have had a longstanding relationship with protests and revolutions
You may be forgiven for mistaking it for an elitist gesture. Or, on the other hand, for being completely on board with it. The all-black dress code at Sunday night's (7 January 2018) Golden Globe Awards had many detractors. After all, how much of an impact would a room full of rich people wearing expensive black dresses while dripping with million-dollar jewellery make, for the everyday women outside Hollywood? It's honestly okay to be on either side of the debate, as long as we acknowledge and fight for the cause — which in this case, is fighting against gender inequality, oppression, abuse, harassment, and injustice. And while some people couldn't reconcile the thought of the actresses and the media discussing fashion at all, when there's the larger and much graver #MeToo movement building around us, there were those that took heart in the overwhelming display of solidarity between the women and some men while also keeping the glitz, glamour, beauty, and (let's be honest) frivolousness of the fashion intact. Once again, it's okay to feel either way.
Fashion, and clothes in general, have had a longstanding relationship with protests and revolutions, and while the red carpet or the runway are obvious showcases for protest fashion, there are plenty of everyday men and women, over the decades (even centuries), who've used the clothing they wore and other sartorial choices to make protest statements. How many of them have been truly effective is a good question, and one that's a little bit harder to quantify. But one thing's for certain: human history is peppered with instances of clothing (fashionable and the regular conventional kind) being used as a form of protest, and it makes for a pretty interesting look at the way our history has shaped the culture of protest fashion and the way protest fashion, in turn, has made a mark on our collective consciousness.
Nineteenth Century Protest Fashion
What the Suffragists wore:
Know why a certain type of women's clothing worn as sleepwear, lingerie or loungewear is called "bloomers?" Long before French women used hats and accessories as a way to stand against Nazi occupation during WWII, there was a suffragist named Amelia Bloomer, who in the 1850s urged women to ditch their long skirts and dresses, and instead wear the loose and baggy "divided" skirts that were later referred to as bloomers. It's a bit surreal to imagine such a simple piece of clothing acting as protest fashion, taking on the patriarchal society of the times and the confining and oppressive garments of that period. But it did exactly that. "Bloomers" were named after Amelia Bloomer, and are pretty much the progenitor of modern jeans!
Twentieth Century Protest Fashion
Sandwich boards worn by humans:
If you thought sandwich boards were something that minimum-wage restaurant employees have to wear on a rotational basis, think again! The humble sandwich board has been used as protest clothing for ages. What began in 19th century London as a "human billboard" used for advertising, subsequently evolved into something that was worn at protests (most notably in British labor protests of the 1930s, where workers used sandwich board signs to express their discontent about subpar working conditions) and is still used at protests to this day.
American photographer Charles Harris' archive of of photos that he captured at various US protests using sandwich boards (including anti-segregation protests) is a remarkable chronicle of this rather peculiar-but-popular type of protest fashion.
Slogan t-shirts:
As the pioneer of t-shirts with political slogans, designer Katharine Hamnett's oversized t-shirts have became the focal point of her entire career, and while many of her designs/slogans created quite a stir (including the one that Naomi Campbell wore in 1993, that said "USE A CONDOM" across a sheer top or the "WORLDWIDE NUCLEAR BAN NOW" shirt that Roger Taylor of Queen wore at a music festival in Brazil), it's been her "CHOOSE LIFE" t-shirt (the one that George Michael famously wore in his video for 'Wake Me Up Before You Go Go') that's made the most controversial political statement. This slogan was, predictably, used by pro-life activists in the US, even though Hamnett herself supports women's right to choose and believes that "the US anti-abortion lobby attempted to appropriate her slogan, which was inspired by a Buddhist exhibit, and is meant to be a comment against war, death and destruction."
In 1984, she took her fashion statement beyond the runway and celebrity news stories by wearing her "58% DON'T WANT PERSHING" t-shirt to meet then-Prime Minister Margaret Thatcher at Downing Street, in reference to "polls showing public opposition in the United Kingdom against the basing of Pershing missiles (a US short-range surface-to-surface ballistic missile, capable of carrying a nuclear or conventional warhead) in the country", and in 2003, models at her show in London wore t-shirts with the slogan "STOP WAR, BLAIR OUT", a reference to the UK's support of the US in the upcoming Iraq invasion and subsequent war.
Vivienne Westwood, who has always used her fashion to be an active political commentator and an avid campaigner for climate change, introduced a rather-gruesomely-pointed t-shirt that read "I AM NOT A TERRORIST - PLEASE DON'T ARREST ME", in 2005.
As recently as last year, Maria Grazia Chiuri's first collection for Dior featured t-shirts with the now-made-famous-by-Jennifer-Lawrence-and-Natalie-Portman-and-Rihanna slogan "We Should All Be Feminists" (originally the title of an essay by Chimamanda Ngozi Adichie).
Going naked, to make a statement:
Even a lack of clothing can make a point, sometimes a bigger statement than clothes do. Besides designers like Vivienne Westwood, Stella McCartney and a few others, PETA has probably made the deepest dent in the anti-fur fashion market. Especially back in the early '90s, when they revolutionised this space by releasing an ad that featured some of the biggest supermodels of the time (including Naomi Campbell) naked and stating that "they'd rather go naked than wear fur", an ongoing campaign starring Alicia Silverstone, Pamela Anderson and many others and that has, according to PETA, brought down the use of fur to its lowest point in history.
The 20th also century had many other celebrated designers using their clothes to make massive political statements, including Alexander McQueen who, for his AW'95 show, created the Highland Rape collection, protesting against domestic abuse in the UK (his sister had suffered abuse in her marriage, and hence the cause was close to McQueen's heart). This collection was also meant to illustrate England's "rape" of Scotland, referring to the ethnic cleansing committed by the British army in the Scottish Highlands during the 18th and 19th centuries. It was a protest that was unfortunately misunderstood when it was first made, but which seems very poignant and necessary in hindsight.
Twenty-first Century Protest Fashion
In a lot of ways, protest fashion and clothing in the 21st century has followed in the footsteps of the earlier century, for e.g. the protest t-shirts made famous by designers at Dior and by Prabal Gurung, or even mass market ones like the "BLACK LIVES MATTER" t-shirts worn across the US or the handmade and homemade plain white t-shirts that said "MUSLIMS UNITED AGAINST TRUMP" written in permanent marker that were worn by pro-Muslim protesters who showed up to a Donald Trump rally in Chicago. Or even the the Occupy Wall Street slogan t-shirts that protesters wore at various protests in 2011 and 2012, with slogans highlighting the corruption of the top 1% of the nation's wealthiest people.
Nudity too is still often used as means of protest fashion, like at the SlutWalk, where massive groups of women took to the streets fully clothed, wearing underwear, or wearing nothing at all. The message of the SlutWalk stood out, possibly because of the completely non-gratuitous nudity involved: women own their own bodies and deserve to be respected despite what they wear, or don't wear. Protest slogans like "Never without my permission" or "Still not asking for it" were written across bare or almost-bare bodies of women of all sizes, shapes, and colour.
Protesting with a certain colour:
This year's Golden Globes may have been all-black, but black isn't necessarily the only colour of protest. The suffragists wore white to emphasise purity back in the 19th century, and in 2004-05, Ukraine experienced the Orange Revolution, "a series of protests and political events that took place in Ukraine in the immediate aftermath of the run-off vote of the 2004 Ukrainian presidential election, which was claimed to be marred by massive corruption, voter intimidation and direct electoral fraud." The protests were between two groups, each supporting either one of the two leading candidates, Viktor Yushchenko and Viktor Yanukovych, and in a way, turned "orange versus blue, with orange being the color of the media-savvy Yushchenko protesters, blue the color of the pro-Yanukovych government supporters" because "apparently, in the post-Soviet era, nobody wants to be red!"
Feminism and protest clothing:
Whether it's balaclava-clad models showing solidarity with Pussy Riot (and therefore LGBT issues, feminism, and opposition to the near-dictatorship of Vladimir Putin) or female actors wearing pussybow blouses in support of Hillary Clinton (after Donald Trump's, erm, tape was released, ugh!) or women's rights activists wearing the red robes and white bonnets from The Handmaid's Tale "to protest the gender discrimination and the infringement of reproductive and civil rights of women" and appearing at demonstrations or at a Roy Moore campaign rally, feminist protest fashion in the 21st century is going pretty strong! It's impressive in a way, but also disheartening because, well, it's 2018 and we're still...where exactly in the grand scheme of things?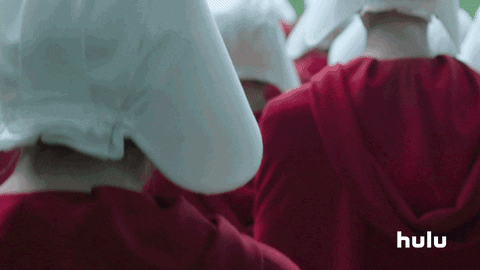 There's always some doubt about protest fashion, especially when it's rather fashionable, because it can come dangerously close to being meaningless as more number of people jump onto the ethical bandwagon (a risk that seems high in the social-media-saturated age of millennials). But that's a risk we must take, because the injustice, inequality, oppression, racism, sexism, bigotry, and ignorance that these protests address, are much more harmful and toxic compared to a few not-quite-sure-why-they're-doing/wearing-something folks. Almost always, protest fashion and clothing are a mark of the liberal and progressive, who find themselves thrown in the midst of oppressive and unjust times. There's some beauty in it, at times. But protest fashion is meant to ignite and incite, and eviscerate bigotry and hatred, so it's okay if it's not always the most fashionable or the most aesthetically pleasing.
The more uncomfortable the opposition feels, the more successful that particular protest fashion is!
Find latest and upcoming tech gadgets online on Tech2 Gadgets. Get technology news, gadgets reviews & ratings. Popular gadgets including laptop, tablet and mobile specifications, features, prices, comparison.
World
The California senator warned that Trump wants to "turn 20 percent of Black men in favour of him," a mark that could tilt a range of battleground states in the South and Upper Midwest to the president
First Cricket News
Mumbai Indians all-rounder Hardik Pandya has become the first player in the ongoing Indian Premier League to take a knee in support of the 'Black Lives Matter' movement.
First Cricket News
During the home side's series against the West Indies and Ireland, players from both teams took a knee but the move was abandoned during subsequent campaigns against Pakistan and Australia.