For migrant labourers in Mumbai, mobile downloads are as close as they can get to their favourite movie stars
From action to romance, Pawan Singh's punches to Kesari Lal's humour, dubbed versions of Telugu blockbusters to recorded orchestra music — migrant workers get their weekly dose of 70 mm entertainment on their phone screens, all for Rs 20 at their neighbourhood mobile phone shop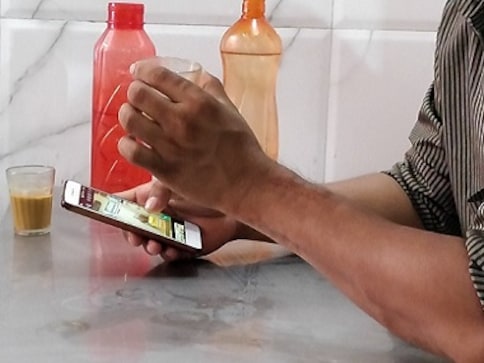 In 2014, when Aamir Khan — a migrant worker from Jounpur, Uttar Pradesh — first set foot in Mumbai, he was certain that he would be able to meet actor Salman Khan. "Back home, we think that Mumbai is all about glamour and movies, and actors can be easily spotted on the streets," explains the 23-year-old furniture maker-turned-mobile phone dealer. "The reality is very different from what is shown in the movies. It is so expensive to just watch a movie in the cinema hall here," he adds.
Even as Khan's early dream to meet his Bollywood superhero remains unfulfilled, it is the love for cinema and the "glamour industry" that he shares with his labourer friends, which has shaped his career choices. Kurla's 90-feet road is dotted with industrial units that employ migrant workers clocking in 14-hour shifts and Khan's mobile phone shop is usually packed on late weekday evenings and Sundays. When Khan's uncle returned to their village, he called upon his nephew to manage and scale up the business in 2015. The gathering at the shop includes construction workers from Kerala, hotel helpers from Nepal and unit workers and auto rickshaw drivers from Uttar Pradesh and Jharkhand among others.
From action to romance, Pawan Singh's kicks and punches to Kesari Lal's tongue-in-cheek humour, and the dubbed versions of Telugu blockbusters to recorded orchestra music — workers get their weekly dose of 70 mm entertainment on their five inch-wide phone screens. In exchange for Rs 20, Khan uploads high-definition versions of the latest movies, old classics and musical performances on the workers' mobile phones. A regular version with a few cuts and lower quality is set at Rs 10. And for those purchasing a new smart phone, he generously downloads 8GB worth of movies and songs for free.
Nearly 47 percent of the city's population comprises migrants (as per Migration Census of India, 2001), with a large percentage employed as labourers in the manufacturing and recycling industries in areas such as Govandi, Kurla and Dharavi. "For the longest time, areas that have had large migrant labour populations used to have mini theatres catering to their needs. The tickets were cheap," says Riyaz Qureshi, 34, a mobile movie downloader based out of Govandi, adding, "Now, with people beginning to use smartphones, we have had to keep pace with the changing times." On an average, Qureshi says, each street in these labour-dominated neighbourhoods would have anywhere close to 15 to 20 shops selling movies.
"Watching a movie in a cinema hall in Mumbai would mean spending an entire day's wage — Rs 200 for the ticket, Rs 100 for popcorn and another Rs 50 for cold drinks," says Rahul Singh, 24, who also runs a similar business in Kurla. "Here, one can watch a movie for Rs 20 and buy chips and drinks for less than Rs 50. You don't even have to worry about missing the show because of working overtime. The phone is your cinema screen."
With phone clutched in his hands and earphones plugged in, 24-year-old Shanmukhan Murthy, a construction worker from Tirunalveli, Tamil Nadu, boasts about having watched all of superstar Rajinikanth's films "at least a hundred times". It is the nearly two-hour-long bus journey from the Dharavi naka to the construction work site in Malad that has proved to be the most exciting part of Murthy's day. "Thanks to the download, I don't even have to use internet. I end up watching at least one movie every day," says Murthy. "Some of the latest Tamil films are available two days after they release. I don't find any other time to relax." Murthy claims that he restocks his collection every weekend in a shop in Matunga Labour Market along with a "fixed 30 percent discount".
Even as the downloadable torrent files of the latest Bollywood films are available a day after the release, they are not as much in demand as the movies from the hinterlands, claims Qureshi. "In most Bollywood films, the hero and the heroine fall in love and end up in very expensive foreign locations," says Qureshi. "At least in the Bhojpuri films, we get to see actors romance in familiar locations — near the lake, the mountains and the paddy fields. Even if the actor spends most part of the movie in a big city, ultimately he will return to his village and live happily there," he says. The fact that the main hero is often a "migrant, a common man" makes him "special and relatable", adds Mohammed Ismail, 27, Qureshi's younger brother-cum-business partner. "It is almost like seeing our own stories on screen, in our own tongue."
A few old Bollywood hits continue to remain in high demand. "Even today, people want to watch movies such as Baghban (2003) and Hum Saath Saath Hain (1999)," says Anwar Khan, a Saki Naka-based mobile phone downloader. "Since most of the workers stay away from home, it is the family that remains important on screen and off it," he adds.
With a dozen-odd such shops thriving in the labour markets, how is it that the young entrepreneurs are assured of profits? According to Khan, who has been in the business for nearly three years, the fact that smart phones are available cheaply is a huge boost. "The craze for a good mobile phone is greater than fashion and make up for the migrant labourers. Some of them exchange their phones every six months," says Khan, adding, "In fact, just before they return to their villages for a break, they buy the latest model and load it fully with movies to show off to their families."
In addition, movie downloaders like Qureshi also say that it was important to offer discounts and packages to the workers, who already earned too little. "For every three movies downloaded, I give either 10 songs or an extra movie for free. The workers can choose their own preferred movies," say Qureshi. In the case of Singh, who also works as a committee member of Mumbai Kamgaar Sahayta Samiti, a migrant workers' collective in Kurla supported by Aajeevika Bureau, the job is far from easy. "I regularly check fan sites, speak to my friends from the film industry back home, and keep myself up-to-date with news about latest releases," says Singh. "I end up watching a movie nearly every day myself."
However, the scaling down of the screen has consequently signaled a death knell for local mini theatres, which had footfalls of several hundreds until three years ago. "Previously, we used to screen five shows every day. The hall used to be full until 11 pm. Even the CDs were easily available in the local market," said the ticket collector at a mini hall in Saki Naka's labour market. "Now, we have no more than 15-20 people on a good day. The mobile downloaders have completely ruined our business," he says.
Even popular cinema halls that screened leading Bhojpuri films have been receiving a lukewarm response over the past two years. "People have started watching movies more often on their mobile phones. It is an easier way out for them," says Surendra Gamre, manager, Natraj Cinema in Chembur, which has been exclusively screening Bhojpuri films since 2000. With four shows screened every day, the balcony tickets are priced at Rs 70 and the stall seats cost Rs 60. "The hall used to be full previously, especially on festival days and the weekends. But that has become quite a rare sight these days," says Gamre, as he stamps tickets for the few migrant workers queuing up for the evening show of the 2018 Bhojpuri blockbuster, Muqaddar.
TOP FIVE FILMS:
Mehendi Laga ke Rakhna (2017, Bhojpuri)
Mein Sehra Bandh Ke Aaunga (2018, Bhojpuri)
Spyder (2017, Telugu)
Nirahua Hindustani (2014, Bhojpuri)
Jai Lava Kusa (2017, Telugu; dubbed into Hindi in May 2018 as The Power of 3 — Jai Luv Kush)
Reetika Revathy Subramanian is a senior research consultant with Aajeevika Bureau and a former journalist
also read
World
Despite the sanctions imposed on Russia, and the fact that most US and EU based tech companies have withdrawn from Russia, Apple products, especially iPhones are flooding the market, and being sold for dirt cheap rates, about 10-15% cheaper than the EU.
Explainers
The French government plans to move homeless people out of Paris ahead of the 2024 Olympic Games in the capital, sparking criticism from some mayors of regional towns and villages which are expected to house them
Explainers
A global study by US-based Sapien Labs has found that kids using a smartphone or tablet at an early age are more likely to have mental health issues as young adults, with women being more severely affected