For Carnatic and Hindustani classical music worlds, mutual appreciation remains elusive, but isn't impossible
How can we build meaningful links between the worlds of Carnatic and Hindustani classical music?
There is great variety of music in India. Folk music, religious music, pop music that includes film music, ghazals, and other regional genres like Bhaav Geet, lavani, Rabindra Sangeet, and, of course, "Classical Music".
It seems there is enough music for everyone's taste and it should matter little to anyone if another does not like her kind of film song or ghazal. Banter, arguments about Mohammad Rafi or Kishore Kumar were common between us cousins and friends, sometimes becoming heated, but never a big deal. However, when it comes to classical music, it is unacceptable to all concerned that Carnatic music is dismissed by North Indians, and Hindustani classical music by the South. Each demands to be appreciated by the other.
Undeniably, Southerners have done better with Hindustani classical music (HCM), as listeners, and even performers. "We are smarter," quipped a young Carnatic performer rather flippantly, "and so we 'get' HCM". Now that is acknowledged — the fact that the Tam Brahm, the typical practitioner and consumer of Carnatic music, is rather intelligent.  In fact, one of the most diplomatic answers I have heard about Carnatic music from a performer of khayal is, "It is practiced and loved by a community of intelligent people. So there must be something to it." This was Sruti Sdolikar, herself a very intelligent performer of khayal.
My own guru, Pt. Vasantrao Kulkarni, a man of few words, said wonderingly of Carnatic Music (which he did not appreciate at all): "They say it is very deep."
The profusion of words, sounds and gestures that characterise a typical Carnatic concert, not to mention its unseemly haste and disregard for the tanpura is off putting to those who love the quieter — too quiet, the Carnatic worldling would say — Hindustani raga elaboration.
As for Hindustani music, the earliest criticism I heard about it was from my friend, a Carnatic violinist: "Certainly Carnatic music has more variety". Though HCM is not dismissed by the Carnatic music worldlings, there are interesting misconceptions about it. The most galling of them is the idea that it is easy. If you just played Kalyani in a leisurely way, caressing each note, you would have Yaman. I know Carnatic violinists who claim to be able to accompany Hindustani musicians without any training in HCM. A few veteran performers of the last generation gave Hindustani music concerts after just a few months of training. HCM is seen as being all about widely spaced notes against the soothing background of the tanpuras. Most puzzling of all for the Carnatic listener is the role of the tala in HCM. Where is it? The subtle but critical role of the tala in HCM is quite a contrast to the dominating role of tala as manifest in the percussive accompaniment in Carnatic music.
Though mutual appreciation remains elusive, status quo is not an option for most people. This is possibly because classical music is seen as the pinnacle of achievement of a culture and it is not allowed that it is a matter of subjective preference, whether one likes it or not.
We have had North-South dialogues towards this end; we have appreciation workshops, lecdems and what have you. And, we have jugalbandis. Possibly every celebrity, with some exceptions like the unshakeably "no-gimmick" Sanjay Subrahmanyan, has played or sung a jugalbandi. Balamuralikrishna and Bhimsen Joshi singing Yaman and Kalyani with Joshi looking pointedly at his peer while singing the word "murali" that occurred in the bandish — all unforgettable moments. It was heart warming and one felt a lovely glow, but there was a sneaking suspicion that the Yaman would have been better off without Kalyani butting in every now and then. Ditto for the Kalyani.
Jugalbandis are challenged on many fronts — aesthetic, technical, artistic. They only score on the entertainment factor — celebrities, beautiful people, coming together amicably to present the two great and ancient traditions of music: it does not get much better.  The actual quality of music does not always justify the fanfare. Musicians rarely rehearse with any seriousness before such jugalbandis. Each does his or her own bit and then they jam together to provide an, at best, forgettable experience. Choice of ragas is limited because one needs ragas that are common to both, expansive enough for presentation, and the Hindustani musician also insists on the raga-time association. But most of all, the jugalbandi is inadequate because it is difficult to pay heed to the individual demands and scope of the styles and explore the possibilities satisfactorily — for both the performers and listeners.
The only way to appreciate a music really, is to learn it. This is unbeatable. Even a short stint at learning can open up that music in ways not possible after extensive reading or talking about it or jugalbandi attendance!
The next best way is simply listening to it — give yourself that exposure. It may surprise how quickly a different genre of music can grow on you if only you listen to it seriously.
That is what First Edition Arts, Mumbai sets out to do this weekend with "Crossroads", a two-day Festival of Hindustani and Carnatic music in Chennai. By putting a Carnatic and a Hindustani concert back-to-back, and inviting the audience to savour both in their own right, FEA have got it right!
Devina Dutt, co founder and curator at FEA, says: "If our goal is to build meaningful links between the worlds of Hindustani and Carnatic music, it has to begin with a culture of close listening to both forms and a gradual building up of interest and knowledge of both form of music. The Crossroads festival presents solid musicians from both traditions and offers a first-hand and real experience of each form in all its artistic brilliance without privileging or undermining any one form".
First Edition Arts have carved a niche for themselves as painstaking curators of quality music, predominantly Hindustani but also with a significant representation of Carnatic music. Consciously avoiding the dictates of the market, FEA seeks out the finest musicians, and presents them with scrupulous care for ambience and sound. Choice of venue is driven by the aim to expand into areas less exposed to classical music. Pre-concert publicity and dissemination of the concerts via You Tube videos are also taken care of assiduously.
In the hands of the "Honorary Secretaries" of typical sabhas, little thought and imagination go into presentation of classical music. Both artists and the audience are used to appalling conditions; FEA and other such organsiers bring in a much needed grace and sophistication to the act of presenting concerts.
Rasika Ranjani Sabha is one of the oldest sabhas in Chennai near the ancient Kapaleeshwarar temple in historic Mylapore, whose air is permeated with the fragrance of jasmine, filter coffee and Carnatic music. The festival will be held in their newly renovated auditorium.
Crossroads by First Edition Arts
On 17, 18 November 2018, at 5.30 pm
At Rasika Ranjani Sabha, Mylapore, Chennai
Call 7338733190 for more information
Life
I can say with confidence that my brother Ramakant Gundecha's biggest dream and singular passion — of training professional Dhrupad artists and enthusiasts — has come to fruition and will continue to grow beyond his wildest dreams | Akhilesh Gundecha writes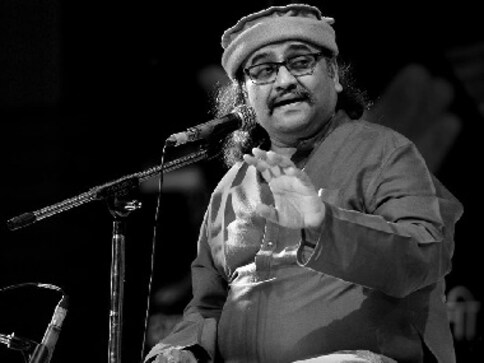 Life
Pt Raghunandan Panshikar talks about what it was to be trained by the legendary Kishori Amonkar for more than 20 years
Life
Classical singer Jayateerth Mevundi explains the nuances of Kirana gharana and how some of its doyens like Ustad Amir Khan and Pt Bhimsen Joshi have had an indelible impact