Food for thought: Every item on your plate has probably travelled a lot more than you
The food on your plate has probably travelled a lot more than you. Consider this, when you tuck into a 'vada pav', the pav is a legacy of the Portuguese, the potato has come all the way from South America!
Amidst the flurry of cookbooks and books on food that are now regularly being published, the recent book Cooking Cultures: Convergent Histories of Food and Feeling edited by Ishita Banerjee-Dube definitely warrants a read by every food enthusiast worth his/her salt.
Cooking Cultures is essentially a collection of 11 essays on food and cuisine in various cultures at different times in history. The essays cover a gamut of subjects pertaining to food and its various implications, written by social scientists, food and cultural anthropologists and food historians. In this book Banerjee-Dube presents convergent histories of the globe, kneaded together by food and cooking, "offering a tale strewn together from a variety of smells and tastes, peoples and places and their multiple mixtures".
Early in the book, Banerjee-Dube writes about the volume being "a mosaic of many meanings of food and cooking through fragments of smells and tastes, markets and kitchens, restaurants and menus, sharing and competition, and food taboos, to chart distinct cartographies of love and affect, being and belonging, and identity and power". It intends to probe why people eat what they do, how they relate to food practices that define what cooking is, and the many ways cuisine relates to society and social relations, to see if one can glean a 'culinary philosophy'. At the same time, it also wishes to unravel the construction of food and cooking as blends and confection — of ingredients, innovation, spices, trans-regional and cross-cultural interaction, power and ideology, adaptation and creativity, and feeling and sentiment — that constitute cuisine as a vital element in social life. The common thread that runs through the chapters is a consideration of how food and cuisine enable people to articulate not just who they are but what they want to be; and the interplay of interesting processes and sentiments that go into the making of people as persons and of groups and communities as 'cultures'.
Ever since man settled down to farm food from his existence of a hunter-gather, and then later began to migrate in search of greener pastures, food has been an integral part of the human narrative. This saga continues to the present day with boatloads of immigrants landing on the shores of Europe while closer home, India is no less a melting pot which continues to bubble with not only local but 'foreign' ingredients making it a hot plate of art, culture and politics. Likewise this book argues, food, cooking and cuisines are vital ingredients that form part of delectable recipes feeding ideas and ideologies shaping and reshaping 'national cultures'.
How else can one explain butter chicken and curry being nominated as national dishes of England while a Saravana Bhavan, serving south Indian vegetarian food finds a spot in Canada. Likewise a country already diverse as India feeds Tex-Mex to its new generation at the same time accommodates Sushi in its palate.
It is probably difficult to think of a city you would want to travel to and not realise a lot of the food you would eat there originally isn't native to the place. Imagine a city like Mumbai, previously a Portuguese foothold in the 17th century. The city would be depleted of its iconic staple street food with its harried inhabitants surely going on a hunger strike in the present day had the Portuguese never introduced their rustic pao all those years ago. It is a similar story with the evergreen Irani cafes that still sustain not only its labour force but also sees a steady clientele of college youngsters and famous Bollywood film stars.
What would Kannadiga households do of their sambar and rasam had they not known of the tomato? Or how impoverished would Punjabi homes be if the aloo in the paratha had never travelled from its original home in South America?
One could draw a cartograph of various foods and easily realise that it is as well travelled as any member of the swish jetsetting class. It will also throw up a fascinating map as old and long back in time as nations and ideas.
However, Cooking Cultures looks to paint a broader canvas of food and its multiple ramifications for individuals, societies and the ingredients themselves. The book is like a quattro formaggi topped with powerful themes like power, gender, identity, myth and nostalgia, with food forming a crisp base.
The opening essay of the book is an intrinsically complex question of indigeneity of a species, specially if the species has been introduced many generations ago such that it has ingrained itself on people's minds and tables. The species in question in the essay are the brown and rainbow trout. The author of the essay presents his case by recollecting a harmless letter published in 2002 in The Complete Flyfisherman, a South African fly-fishing magazine about the presence of trout in South African rivers and series of responses to the letter which in this case open a can of trout! When the magazine editor PJ Jacobs suggested that trout should be reclassified as "indigenous" species as they had swam and bred in the rivers for more than 100 years, hardlined conservationists had taken a rather hard view of the matter forcing the editor to partially backtrack his suggestion. This leads the author to look deeply at the terms "alien", "indigenous" and "indigenised". Although the debate on trout has not fully settled, for the near future they will continue to be "on the menu" for South Africans.
The essays that follow are as fascinating. The Hummus Wars that were raged for the appropriation of the food between Israel and Palestine have the potential "to turn foes into enemies" and give peace a delectable chance in the Middle East. Another one that is unusual is on the brief history of sweets in Japan. The author of the essay presents a wondrous account of how the Japanese almost zealously guard and follow the lesser known traditions of wagashi — which are sweets made from Japanese ingredients and form an important part of their tea ceremonies.
Such hidden and popular tidbits of information are stuffed in this hearty compilation that would take the reader from Africa to Mexico to Bengal to China and other interesting places where food, cooking and cuisine binds and defines people.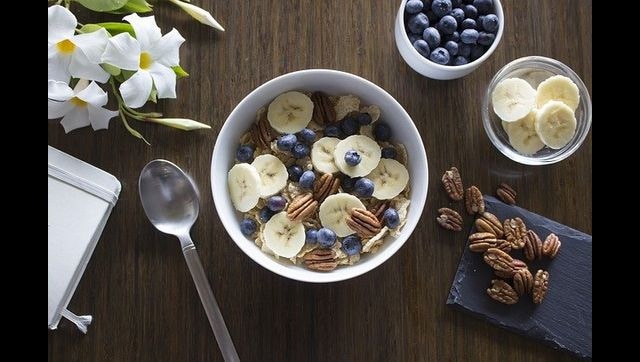 Lifestyle
With increased intake of fruits, salads, and oats, and willingness to go healthier, 71 percent urban millennials have opted for fad diets during the pandemic
World
Drier conditions can affect the quality of fruit and vegetables at a cellular level, making them harder to process into dried foods
Sports
In the latest video, mango ice cream is mixed with chaat, finishing off the dish by sprinkling cheese on it. The video of the recipe went viral and left several social media users feeling disgusted.