Finding Radha: An anthology of selected works explores Krishna's companion, her everlasting love
Art depicts Radha and Krishna cross dressing in each other's clothes as well as Krishna bowing his head at the feet of Radha. Lal says, "Our book foregrounds the contemporary reading of gender equality by highlighting such aspects of the story."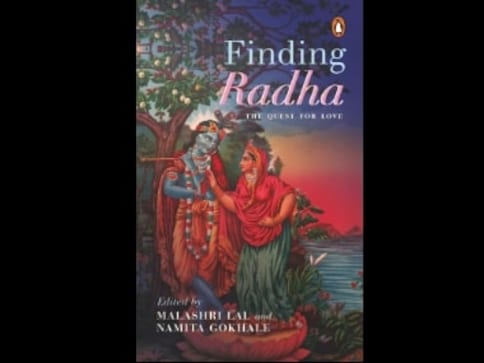 Writers Namita Gokhale and Malashri Lal are engaged in a search for Radha in their latest work.

Radha, the milkmaid, the devotee, the lover does not appear in popular narrative until the 12th century.

Krishna's relationship with Radha, Lal explains is a segment of his long, complex and varied life as a God in several roles.
For centuries, much has been written about Radha and Krishna. Their love transcends the frailties of human life, its boundaries and preset norms, and is to be discovered in the spiritual realm, where the two entities unite to become one universal soul, the paramatman. When they are conceived and written about in the world of mere mortals, Radha outranks all of Krishna's 16,108 paramours. In the human form, she is the one that he returns to, and the raas-leela of these divine beings on earth is portrayed as a passionate unification of dance, music and love.
But who is Radha? Is she a figment of our imagination or a consciousness rooted within, that resonates with unconditional worship of the Lord?
Writers Namita Gokhale and Malashri Lal are engaged in a search for Radha in their latest work. In Finding Radha: The Quest for Love, the duo has compiled an anthology of text, verse, art and song that attempts to explore the identity of Krishna's beloved companion.
Radha, the milkmaid, the devotee, the lover does not appear in popular narrative until the 12th century. It was then, that for the first time, the noted poet Jayadev scribed in the Geeta Govinda the one particular gopi that stood out from all others: Radha. The 12 chapters of the text divided into 24 prabhandh, each complete with its own ashtapadi explore Krishna's trysts with the gopis of Vrindavan. Radha is discovered here, somewhere in the colours of Vrindavan's holi, along the banks of the Yamuna and in the silhouette walking towards her beloved in the dead of the night.
The Geeta Govinda inspired countless poets, writers and artists to pen compositions of Radha and Krishna's everlasting bond, writings scattered through the ages across the length and breadth of this country, and beyond. One of the reasons that Radha has endured the passage of time, Gokhale explains, is because Radha and Krishna are symbols of the universal human search for love. Two souls in communion with each other, not bound by convention nor burdened by the hierarchies of society, she says, theirs is an eternal quest, true for all times.
Krishna, the eighth avatar of Lord Vishnu, descended on earth from his heavenly abode, Vaikunth to give the world The Song. But Krishna was more than a statesman, a counselor and a friend. His relationship with Radha, Lal explains is thus a segment of his long, complex and varied life as a God in several roles.
Often referred to as his ardhangini, "Radha represents his other half in a somewhat limited way, perhaps signified through his flute," she continues. Passages in Ramakanth Rath's poem Sri Radha that are a part of this collection go on to say that Krishna makes music only during his romantic attachment to Radha. Lore has it that when Krishna left Vrindavan to fulfill his destiny, he also left behind his flute, adds Lal, indicating that the alluring dalliance had no place in the life of a statesman and king, and the wise enunciator of the Geeta.
Radha and Krishna Lal suggests "have over time become emblems of unconditional love."
A member of the English Advisory Board at the Sahitya Akademi who primarily focuses on literature, women and gender studies, Lal concurs that Radha, the daughter of King Vrishabh represents all that is joyous, playful, sexual and enchanting in a man-woman relationship. Art depicts Radha and Krishna cross-dressing in each other's clothes as well as Krishna bowing his head at the feet of Radha. Lal says, "Our book foregrounds the contemporary reading of gender equality by highlighting such aspects of the story."
Radha is confident, demanding and whimsical, always assuming a parity with Krishna and therefore, expecting a reciprocal commitment from him, she notes and "their romance is enacted within the equilibrium of nature where none is superior to the other."
"It is also important to remember that although Radha and Krishna partake of the raas-leela, where Krishna enters the body and soul of each of the gopis, there is no ascendancy given to the male."
Furthermore, Radha does love Krishna but she is not without pride. Gokhale explains that she maintains her proud autonomy in all that she does. "Even her utter and unconditional surrender to Krishna is of her own will, not dictated by social or patriarchal power structures."
In the collection, Bulbul Sharma writes in Radha: Beloved of the Blue God that once Krishna returns to her with 'vermilion streaks [on his body], his lips red and swollen,' and in a jealous rage, she asks him to leave. But the trickster comes back dressed as a sadhu, to demand from Radha the one thing that could keep them apart, her pride.
Yet, in the human world, the spiritual and ecstatic love between the two cannot be devoid of transgressions. While Krishna boasts of 16,108 consorts, Radha too is the wife of Ayana. However, Gokhale explains, "The spiritual and sensual love evoked in literary texts like the Gita Govinda of Jayadeva is interpreted as outside the constraints of society and its moral codes."
While some texts imply that Ayana reconciled to his wife's devotion to Krishna, she adds, others also suggest that she married after he left for Dwarka. "Erotic and devotional love are both allegorised, with the sexual union also taken as an analogy for spiritual union."
Gokhale, a prolific writer, better known among many as one of the organisers of the Jaipur Literature Festival, previously paired with Lal to compile in a similar vein In Search of Sita. According to her, Radha is "the most subversive and inspiring figure in any religion."
In their quest to find Krishna's companion, the two editors have incorporated essays by authors such as Sharma and Debotri Dhar in this collection that depict Radha's idyllic life in the village amidst her family and friends. Krishna, appears, albeit briefly but it is Radha, who sneaks out into the night braving the prying eyes of her mother-in-law and her neighbours to meet him at their bower. Her emotion becomes the connect to her life beyond Krishna. Radha's moods are often reflected, just as they appear in the Geeta Govinda through the ashtanayikas (the eight moods of the woman) in all art. A connoisseur of many a variety of dance and music would find Radha to be omnipresent in art as a symbol of the bhakti and shringara rasa.
Her many attributes along with her complete love, devotion and surrender to the universal entity has made Radha a Goddess in her own right, an object of worship across the country. Gokhale mentions that she is the presiding deity at the Radha Rani temple, atop the Bhanugarh hills in her birthplace Barsana. Often addressed lovingly as 'Laadli ji,' the temple is also known as the Laadli Sarkar Mandir.
The romance of the gopi and Krishna has penetrated the tides of change, it continues to occupy a prominent place in popular culture to this day. The contemporary relevance, Lal says, is reposited in the idea of ecological balance. She says, every element of nature coheres to build a balance in social relationships.
Radha and Krishna's romance is complete and sanguine, the lilting tunes of his flute lingering long after their bower lies empty, waiting for the two lovers to return to its comforting embrace.
Finding Radha is a compilation of essays by authors who re-interpret mythology such as Devdutt Pattnaik and Meghnad Desai along with verses composed through centuries by Rabindranath Tagore, Surdas, Vidyapati and Jayadev. It is published by Penguin Random House.