Femina Miss India embraces its Bollywood connections... at the expense of the contestants
To give the devil his due, one has to compliment the Femina Miss India organisers for deciding to be honest about what the competition was 'really' about.
Death to beauty with brains. At least that's what the Femina Miss India 2015 pageant seemed to say.
To give the devil his due, one has to compliment the Femina Miss India organisers for deciding to be honest about what the competition was 'really' about. So quite apart from the lobotomisation of the competition which saw it shortened to a duration of 90 minutes or so, they also dispensed with the charade that the pageant was only 'incidentally' associated with the beauty and film industry.
What we now have under the guise of the Femina Miss India competition is the 'Filmfare awards-meets-Radio Mirchi awards'.
Gone are the judges from outside Bollywood and the fashion industry. There are no athletes, social workers, writers or business leaders. So no Parmeshwar Godrej, Chetan Bhagat, Vijender Singh etc. I never realised how much I'd miss them. Until I saw the contest, that is.
What I saw instead was a line-up of judges which included has-been actors, aging designers and not the most popular of stars. The only saving grace was Manisha Koirala, who looked a little perturbed by what she was witnessing.
Who else was there? Anil Kapoor in shiny blue dark glasses, film producer Firoz Nadiadwala, actor and producer John Abraham, Sonali Bendre, Shilpa Shetty, Sonu Nigam, Shiamak Davar, Chitrangadha Singh and designers Abu-Jani.
The judges more than made it clear that there was no requirement for the contestants to seem cerebral. There was also no pretence that this was a doorway to a life beyond the beauty industry. So full points for managing the expectations of both the contestants and the viewers.
The show – I really cannot call it a contest anymore – began with a performance by the Meet Brothers (a step down from last year's Yo Yo Honey Singh) and Kanika Kapoor who sang while the contestants walked on-stage. The Meet Brothers fittingly sang "Hangover".
This was followed by Dadi and Palak from Comedy Nights coming on stage and making John Abraham wear a saree, because what can possibly be funnier than watching two men dressed as women, dress another man as a woman? Sigh.
Then, just in case you thought it was time for the contestants to come back on - we got Kareena Kapoor Khan to perform a few dance numbers instead. And then of course, it was her turn to speak some nonsense with Palak and Dadi. I have no comment on her segment because it was just bizarre.
Then, realising that maybe the contestants of the Femina Miss India pageant should get a few minutes stage time, something called the FBB round was announced. Presented by singer Benny Dayal, this seemed to be the second segment of the Radio Mirchi-meets-Miss India show.
What did Dayal do? He sang while the contestants walked on to the stage in white, blue and pink dresses. Then, just to cure us of the misperception that the pageant was about the contestants, someone called Shalmali Kholgade came on stage to sing some more.
If you hadn't watched the show from the beginning, you wouldn't have been faulted for thinking that this was a poor man's version of Coke Studio. What was even more disturbing than the singing, was that the sashaying of the contestants to the songs seemed to be the sole criterion on which the FBB Miss Beauty With A Purpose title was decided. Why she was a beauty with a purpose was not explained – either to her or to us. Maybe her purpose was to not walk off the pageant.
The next "challenge" for the contestants was that they would have to do something "alag se" to a Bollywood song. To her credit, even  Shilpa Shetty looked shocked. And to make Sonu Nigam feel useful, he got to sing the songs while four contestants "performed". There really is no other word for what they were expected to do.
To give the girls full credit, they didn't cringe. The "alag se" angle was that Sonu Nigam would sing a fast-paced song and the chosen girls would have to do a slow dance to the song. Because of course that requires talent. Then he'd sing a slow-paced song to which they'd have to dance fast. After all, what could be more wonderful than a man singing songs, while an audience full of people watch strange women dance for them?
Just as I was recovering from this segment, Palak and Dadi appeared once more– this time to serve margaritas that looked like Cola. There was a spot of molestation where Dadi forcefully kissed John, because - in case you didn't get it the first time around - you see, it's so hilarious that a man is dressed as a woman and is forcefully kissing another man.
After the mini-sexual assault, we were told that the fake margaritas were being given as a promo for Kalki Koechlin's film Margarita With A Straw. Which was followed by Kalki prancing on to stage, giggling, announcing her film and prancing off. The things you bring yourself to do when you need to promote your film. The only saving grace is that they didn't make her dance while Abu Jani sang.
Speaking of dancing, since the contestants had now spent a grand total of 10 minutes on stage for the 30 minutes that the show was on, there was no need to call them on again. Instead, we got to see a dance performance by Jaqueline Fernandes wearing boxing gloves – "because we are fearless" as her voiceover told us.
The next guest was former Miss India Neha Dhupia, who was there to introduce Round Number 3 where the contestants walked in gowns. This also turned out to be the elimination round to choose the semi-finalists. No wastage of time here. Full points for that.
Then again it was time for – you'll never guess it – yet another performance, this time by Shahid Kapoor.
The top 5 finalists were finally accompanied on-stage by various stars of the Colors shows. Each of them was asked to do something totally irrelevant to the competition or the title (not that anything in this show seemed relevant to Miss India). Each Colors star was asked to romance the finalist he was accompanying. One danced with her. Another spouted SRK's dialogues from Jab Tak Hai Jaan. Another one danced as well. Another recited a shayri. This was like something out of a Truth Or Dare game in a very shady middle school party.
And just in case the judges were feeling left out of the bacchanalia, Anil Kapoor and Manisha Koirala were asked to recreate the romantic moments of their films together. So Kapoor mouthed lyrics while Koirala danced in front of him. At least she looked suitably embarrassed while doing so. Kapoor seemed unperturbed.
Then came the best part of any beauty competition –the Q&A round, aka the reason I had sat through this torture. But nothing had prepared me for this travesty to the world of pageants.
The Q&A round had been reduced to ONE question by ONE judge, which would be answered by all 5 finalists. The Femina Miss India organisers obviously believe in the adage that nobody likes a woman with too many opinions or grey cells, and it seems they really don't want the contestants to spend more than 15 minutes on stage in total.
So what was this one great question which would decide the fate of the contestants, and who would ask it? Chitrangadha Singh was the lucky questioner and her question was very Yoda-esque. "At what age do most people become old and what is the secret to staying young?" The answer to which should have been – "well, answering a stupid question and enduring this entire crappy excuse for a pageant will make anyone old".
But the contestants were made of firmer and more polite stuff than I, so she got quite sensible albeit expected answers – about age being how you feel inside and living for your dreams and some such.
And ta-dah, that was it. The winners were announced before you could say "Strike a pose, there's nothing to it".
Why even have a competition? The only reason I can think of is that it was an excuse to air out the "celebrities" who were called on as judges, because this time's Femina Miss India definitely had nothing to do with the contestants.
Going by how little time was spent on them, they may as well have Skyped in their participation. Never did I think I'd miss the horror that used to be the Femina Miss India pageant, but this year's Beauty (Please Don't Display Your Brains) Pageant has made sure that the impossible has finally happened.
Disclaimer: The Femina Miss India awards was aired on Colors owned by Network 18, which also owns Firstpost
Find latest and upcoming tech gadgets online on Tech2 Gadgets. Get technology news, gadgets reviews & ratings. Popular gadgets including laptop, tablet and mobile specifications, features, prices, comparison.
India
Wishes have poured in for Prime Minister Narendra Modi on his birthday as he turned 70 on Thursday. Several prominent world leaders greeted the prime minister on his special day. Russian President Vladimir Putin, German Chancellor Angela Merkel, Nepal Prime Minister KP Oli, the Dalai Lama, among others were some of the prominent names who wished Modi.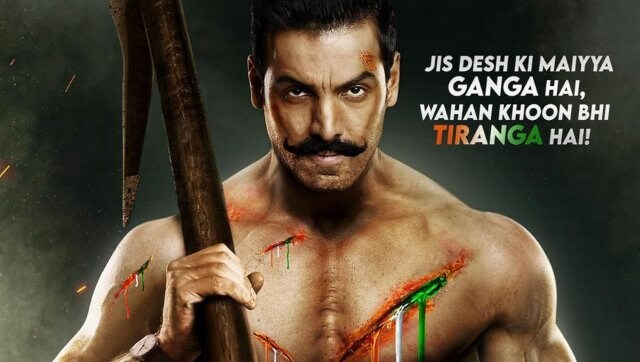 Entertainment
Producer Nikkhil Advani, in a statement, said the success of Satyameva Jayate has encouraged them to make the sequel bigger and better
Entertainment
On Ranbir Kapoor's 38th birthday, his sister Riddhima Kapoor Sahni shared a collage of throwback pictures to wish him.