Eunice de Souza: Finding myself in her elegiac poetry
Who writes poetry, you ask? Eunice De Souza, does. She did. She 'really' did. But sadly, won't anymore.
I never got to meet her. Now I never will. For at least a decade I have read poetry, like an outsider, not through syllabi or prescribed courses, but simply by looking at who had written what and gobbling whatever the free Internet or friends cared to share. Reputations meant little. To me, a boy living in the hills, there was no distinguishing the city poets from those who wrote from farther away. These were homogenised voices, and within them I looked for what inspired, or touched me the most. In a way, it was thoroughly organic. I did not find Eunice de Souza, she found me. A decade on, last year, I happened to have the privilege of reading and writing about her latest, and now last, book. It has been quite a journey, and she has been there all along.
At least five years into reading her scattered poems (her books were not available in my hometown Shimla) I identified de Souza's work as detached from her academic pedigree. This was poetry that was both urgent and ahead of its time. There was lightness in the language, and an unsparing light cast on the otherness in people and in life, that de Souza always seemed to focus on. To someone like me, reading these poems during the breaks of a backbreaking IT job and the monotony of making-a-life echoed a question most people I knew wanted the answer to: Why does one read poetry? Or why does one write poetry?
When I arrived in Pune, a few hours' journey from where De Souza lived, I began learning about the people behind the voices. The socio-cultural histories and whatever politics shaped poetry in our country. She taught. I had never learned. At times I felt it was unfair. At other times, it felt like she was right there, in her poems. In Otherness/Wise she wrote:
You're poems are no longer
messages for me
and mine have become
an epitaph
When you learn, as I did about her through countless articles, essays and reviews, usually a piece of work dramatically changes in the next reading. You are sort of asked to walk the rope of gratitude, of humble admiration, before your aesthetic even arrives at what the poet is trying to say and the way they do it. In the case of de Souza, though, that never happened. Her poetry has always had this elegiac quality, as if she always writes pre-prestige but post-event. She has always retained the urgency of utterance, of unforgiving, blithe observations. And while her ability to draw ironies will remain unmatched, her greatest accomplishment, at least for me personally, lay in the way she dealt with feminism. In One Man's Poetry she writes:
Chances are
my father himself
didn't wish to die.
My mother watched by his bedside
and never forgave herself
for being asleep
the night he died.
He left a desk, a chair,
a typewriter, and a notebook.
At family gatherings
my mother smiled
in her best faded chiffon
and travelled third with her in-laws travelling first
in the same train.  
The break after 'gatherings' is where my heart has sunk several times. Eunice de Souza — seamless yet jarring. It is a bit discomforting to dissect her poetry on the day of her passing. She was, of course, a friend to many, a guardian to some, a hope to others and an inspiration to someone like me. More than inspiration, her poems helped me feel at home and simplify my own diction. Whether I did justice to those lessons, I may never know. But when a poet passes away, where else does one look to find what they have left behind? In a review of her last book Learn from the Almond Leaf, I said that poetry was perhaps literature written in the wrong season. de Souza thrived through them all. Along the way she was brave, direct and crucially self-critical. In Don't Look For My Life in these Poems she wrote:
Poems can have order, sanity,
aesthetic distance from debris.
Along the stretch of that distance the world now exists, but barely distinguishable from debris. Poetry, perhaps, still assigns it its humanity, its design, its capacity to be home, to someone — anyone. Poetry perhaps is the only thing that is not debris. Everything else now moves at shutter-speeds and crumbles even faster. So why shouldn't one read poetry?
During my years in Pune, I somehow kept writing and reading. I told myself I'd write to her someday, maybe tell her how, for some inexplicable reason I found myself in her verse. But I'd have to worthy. I'd have to be good enough for Eunice to consider me a student she had unknowingly taught all along. Maybe she could help me understand why we did what we did. But de Souza's poems rarely addressed fabled meetings. Anyway, we met last October, in her last book, on some random page that I will keep open in memory. Because her poetry was about and for others; someone like you, someone like me. Who writes poetry, you ask? Eunice De Souza, does. She did. She 'really' did. But sadly, won't anymore.
long reads
Aditi Angiras and Akhil Katyal are poets and editors of an upcoming anthology of South Asian queer poetry
Life
Ranjit Hoskote talks to Firstpost about the childhood memories he drew from to arrive at the title of Jonahwhale, and the process of writing it | #FirstCulture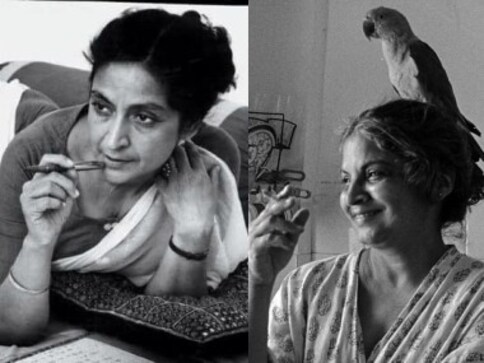 Life
At a recent meet of the Asiatic Society of Mumbai, poets reflected on the paucity of translators for regional languages and the representation of women in Indian writing | #FirstCulture