Equal music: The Six Pack Band, India's transgender music group, on breaking barriers
India's only transgender music group, The Six Pack Band, tells us about their incredible journey since their debut in January
The women wear colourful lehenga-cholis, tasteful jewellery and their hair in loose curls. They pout, preen, even twerk. And of course, they sing. It could be a rendition of Pharrell Williams' global hit Happy or the desi Jabra Fan. What sets them apart from any other girl band out there? That the members are all from the transgender community.
The Six Pack Band has been scoring millions of YouTube hits and fame ever since they debuted in January this year. Starting with Hum Hain Happy to Sab Rab De Bande and their May release — Ae Raju, which features Hrithik Roshan — the Six Packers have had quite the journey.
Their story is now well-known. The brainchild of Y-Films (the youth content wing of Yash Raj Films) and Shameer Tandon, the members of the band were brought together by auditions, and with the intention of challenging social barriers. At first skeptical, the transgender community finally did come to believe that the initiative was meant to genuinely support them. And after extensive auditions and grueling rehearsals, Komal Jagtap, Bhavika Patil, Fida Khan, Chandni Suvarnakar, Asha Jagtap and Ravina Jagtap were finally presented to the world in January as the Brooke Bond Red Label Six Pack Band.
Speaking with us a week after their music video with Hrithik was unveiled, the band members say the months since January have been exhilarating.
"It has been a wonderful journey. So much has happened and so quickly. To be honest we never expected it. We still get a little surprised when people recognise us on trains or when walking by roads," says Komal Jagtap.
Despite all the songs they've recorded since their debut, Hum Hain Happy still holds a special place in the band's heart. "The best moment was undoubtedly when we first recorded the song Happy in the studio. We had never been inside a recording studio, and most of us haven't been in front of the camera. And doing it with professionals, we had never even thought of it… But they were really supportive and showed us the right way," says Bhavika. (Incidentally, none of the Six Packers had heard Pharrell's Happy before they stepped into the studio for that recording.)
Their celebrity collaborations include Sonu Nigam, Arjun Kapoor and Shah Rukh Khan, in addition to Hrithik, and for the Six-Packers, each experience has been one to cherish. "Everyone has been so nice to us," says Komal. "Shah Rukh sir asked us to teach him a dance step too! Jabra Fan ka step unhi ko sikhaya phir. Hrithik sir ko pav mein chot bhi lagi thi, but he still danced with us… So many years of being neglected by everyone, and then to (experience) such warm feelings, it felt good."
But the Six-Packers are unanimous in saying that their best moment was when they met Sonu Nigam and got to perform with him (Nigam is the band's mentor). They say his humility is endearing, and he's wonderful to work with.
Fida was working with the Humsafar Trust when she first heard about the auditions for the Brooke Bond Red Label Six Pack Band. "My friends and I went and sang our hearts out. I never even thought then that I would get selected," she says.
Ravina, Asha and Chandni say they used to go for badhais and the other rituals practiced by the community. It was a coordinator who approached them and asked them to audition for the band.
Bhavika, on the other hand, was a junior artiste in TV serials, and didn't think the band was legit when she was first approached to audition. "But then it was a dream come true to be selected by Y-Films and Shameer Tandon!" she enthuses.
As for Komal, she tells us being chosen for the Six Pack Band marked a turning point in her life. "I used to go for badhais, shop openings, functions for people's good luck — as our community does. Life was simple, as it has been for so many years, and then, there was this…" she says.
"The ones who used to ignore us, now often come and talk to us — neighbours, friends and family. They even say they are proud of what we do. We feel welcomed by society. It feels like the world has become more inclusive and accepting of us. It finally feels like we have accomplished something, not just for ourselves, but for our whole community. Something is changing, and it's changing for the good," Komal adds.
All of the band's members have so many hopes and dreams for the future. Fida wants to meet and work with Aishwarya Rai Bachchan someday; for Chandni, meeting Asha Bhosle when they recorded Hil Pori Hila, counted as the best day of her life.
Changing the mindset and perspective of people, through their songs, is what the Six Packers consider their biggest achievement. "Somehow our music has made our surroundings a warmer and welcoming place for our community," says Fida. "For now we just hope we create history and will always be remembered as the world's first transgender band from India!"
Watch the Brooke Bond Red Label Six Pack Band's latest song, Ae Raju, here:
Fashion & Trends
There have been many instances of titles being taken away from former beauty pageant winners when their actions did not fall in line with the beliefs of the organisation that felicitated them.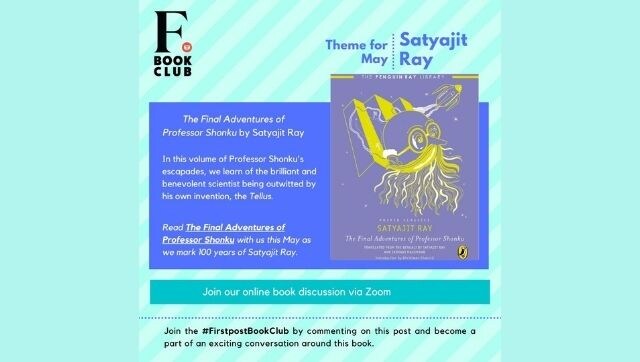 Arts & Culture
The Firstpost Book Club read Satyajit Ray's The Final Adventures of Professor Shonku in May.
Arts & Culture
These include six bronze or stone sculptures, a painted scroll, a brass processional stand, and six photographs. The entire collection is worth around $2.2 million (approximately Rs 16.34 crore).