Environment in 2017: Questionable policies, climate change apathy are no longer options
2017 has taught us several things about escalating carbon emissions, the real impact of global warming and the responsibility that rests on the shoulders of our elected representatives #YearInReview
Editor's note: From May 2017, Firstpost is featuring a fortnightly column by Mridula Ramesh, titled 'Climate Conversations'. In this column, we take a look at pressing issues pertaining to climate change — in an accessible way.
As 2017 draws to a close, I will borrow from Confucius: There are three ways to learn wisdom; first, by reflection, which is noblest; second, by imitation, which is easiest; third, by experience, which is bitterest.
What happened in 2017?
A cataclysmic start
The year began dramatically with the swearing in of Donald Trump as the 45th President of the United States of America. Trump, in his own words, believes that "The concept of global warming was created by and for the Chinese in order to make US manufacturing non-competitive."
Trump's scepticism about climate change is well known – one journalist has found that Trump has tweeted sceptically about climate change more than 115 times!
Scepticism can be healthy, but animosity isn't. Trump's apparent animosity towards science in general, and climate change in particular, has taken many forms.
The changing sands
The first is erasing the evidence.
The New York Times reported in October that the EPA had scrubbed off several links which talked about climate change. The EPA, or the Environmental Protection Agency, is America's environment ministry. When I searched the EPA landing page in early December, there was not a single mention of the phrase "climate change". Compare this to the content of landing page of the same EPA on the day before Trump was sworn in – there were three mentions of "climate change", including a full section devoted to the subject.
The censorship goes deeper.
For some of the research in my book on climate change, I had used information from the official website of The White House. In the process of reviewing and rechecking my references this year, I found that those pages had disappeared, replaced by "An America First Energy Plan" which proudly stated: "President Trump is committed to eliminating harmful and unnecessary policies such as the Climate Action Plan."
I have many friends who sit proudly on the right end of the political spectrum (including being sceptical about climate change). But our discussions (and disagreements) revolve around a wonderful combination of data and logic –which strengthens conclusions on both ends. No one resorts to denial.
Denial is the last refuge of the insecure – it doesn't care about solutions.
The second manifestation of Trump's animosity is a change of leadership. In February 2017, Trump appointed Scott Pruitt as the head of the Environment Protection Agency. The irony would be hilarious if it were not so tragic; Pruitt is an outright climate change denialist and has sued the agency (that he now runs) 14 times!
It's like giving the fox the keys to the henhouse.
Naturally, this has led to funding and job cuts of a very serious nature. Even the American senate balked when faced with approving 30 percent cuts.
The third manifestation was more symbolic — withdrawing from the world stage. On 2 June, Trump caused America to formally withdraw from the Paris agreement on climate change. America could have done more harm by staying and undermining the agreement from within, so this symbol may yet offer some blessings. Indeed, many within the fossil fuel industry have urged their President publicly to stay within the agreement.
But the symbolism is clear: you, the rest of the world, are unimportant to me.
So what?
America, despite some dissenting voices, is, to use an American phrase, not going to "play ball" on climate change action.
For the world's largest historical emitter of greenhouse gases to do this means climate change action is severely compromised. There is no way to sugar coat this. As Bill McKibben, a noted American environmentalist recently wrote, "Climate change... is a negotiation between people on the one hand and physics on the other. And physics doesn't do compromise."
Cutting India's emissions will not stem the tide, which means the world will continue to shift to a profoundly different place – climatically.
Atmospheric carbon dioxide levels are at the highest level they have been in several million years. The Keeling Curve, which graphs carbon dioxide concentrations in our air, shows we have crossed the psychological 400 ppm of mark emphatically.
The last time atmospheric carbon dioxide levels were this high was about three million years ago, when temperatures were 1-2 degrees Celsius warmer and the sea levels were 15-25 metres higher than they are now.
The thought of losing Mumbai and New York to the sea in the next 100 years should make us, at the very least, pause. Yet, we're not.
Carbon emissions are still climbing. After a couple of years of pausing, global carbon dioxide emissions were projected to rise by 2 percent in 2017, mainly due to a growing Chinese economy.
There is no place to hide
Why should India care?
Because our country will be hit very very hard by climate change. An IMF report from September 2017 stated that India is among the worst hit countries, losing about 1.3 percent of its per capita output for a 1 degree Celsius temperature increase. That's undeniably believable given the events of the past year.
The first half of the year saw south India reeling under the worst drought in the last 140 years! Every section of society – rich and poor, farmer and city-dweller – was affected.
Farmers suffered; they did not have enough water to flood their fields in order to grow their paddy. They protested in an attention-provoking style – naked in front of the Prime Minister's office, with shaven heads, holding the skulls of diseased comrades.
City-dwellers paid private parties handsomely to get dubious-quality drinking-water.
Industries faced a backlash. A power plant in southern Tamil Nadu had to shut down when free water was unavailable. Embedded in this closure was the message that the plant is profitable only
if water is free — a dangerous assumption to make as the climate changes. Public anger against Coca-Cola and Pepsi for tapping into the already scarce ground water levels resulted in a trade organisation boycotting the products, a vivid lesson that sustainability needs to take centrestage while formulating corporate strategies.
There were the heat waves in May in several parts of the country, as temperatures reached levels that are fatal to the human body.
Then as the monsoons — thankfully normal this year — cooled the country, the problem of plenty began to surface. The fractures in our urban management and in our farms began to be exposed. Fires burned in the fields of Madhya Pradesh, which is one of the best managed states as far as agriculture is concerned. As yields soared, the shortcomings in market dynamics and storage manifested themselves.
The link between climate change and farmer's lives is well understood. In a hot country, increases in temperature can cause yields to plummet, and in dry states, that problem is worsened by the lack of water. One study estimated that when temperatures are above 20 degrees Celsius, a one-degree Celsius temperature increase on one day in the growing period lead to as many as 70 farmer suicides across the country.
Floods overtook one city after the next in India – Gujarat, Mumbai, Bangalore, Chennai. City life was predictably paralysed. With warmer temperatures accelerating virus multiplication in mosquitoes and the supportive waste-created nurseries for mosquito larvae, dengue incidence soared. The dengue epidemic that came in the aftermath of the rains has been one of the worst ever.
The message is coming through, loud and clear: there is no place to hide from a warming climate, and we cannot expect the emissions to slow down fast enough.
This is the wisdom we have learned from the bitterest of teachers – experience.
Easier lessons
But there are easier lessons we can learn from others. There are countries in the world thriving during drought. There are farmers in the world who have made their fields "weather independent"  and are able to cope with drought economically. There are cities which are resilient to floods, springing back with minimal loss to life or property. There are countries which have seen the incidence of dengue fall dramatically, even in a warmer, stormier climate.
Reflection teaches that our choices, urban and rural, have a big role in how we experience the ravages of a warmer climate. How we manage our waste, how we use our water, how we decide upon our transport system, how we subsidise our farmers, and most importantly, how we choose and engage with our elected leaders – all these (and more) determine our resilience. To that extent, the warmer climate has a silver lining – it is exposing the cracks within our social contract.
What do our reflections and our experiences tell us of what we should do in the new year?
They tell us that the climate is going to warm the planet and increasingly take centrestage in our lives. And in the backdrop of a Trump-led America, we need to adapt.
They tell us to be mindful of choices we make as a society and how we elect and engage with our leaders – not just during elections, but continually.
They tell us to adopt a solutions mindset – to consider good-quality data and consider the economic consequences of actions.
They tell us, there have been successes, so not to lose hope.
The writer is the founder of the Sundaram Climate Institute, cleantech angel investor, teacher and author of a forthcoming book on Climate Change and India. Follow her work on her website; on Twitter; or write to her at cc@climaction.net
Find latest and upcoming tech gadgets online on Tech2 Gadgets. Get technology news, gadgets reviews & ratings. Popular gadgets including laptop, tablet and mobile specifications, features, prices, comparison.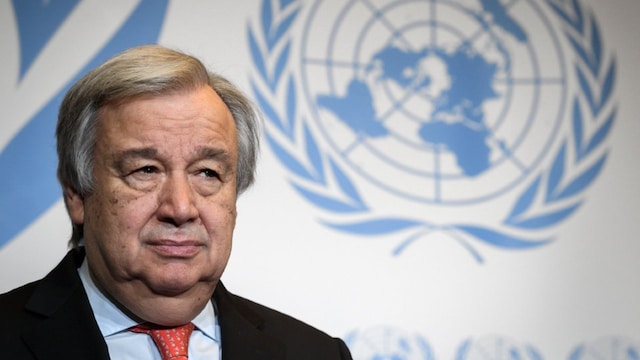 World
This summit is intended to increase momentum ahead of the United Nations Climate Change COP 26 to be held in Glasgow in November 2021.
World
Xi has previously pledged to increase government support for new technologies while doing more to fight pollution, protect natural resources and expand the country's national park networks.
science
It is a vicious circle where these fires made worse by climate change release gases that in turn exacerbate climate change.