Don't question the lawyer: From AP Singh to Jethmalani
AP Singh, the Delhi gang rape convicts' lawyer, says he'd burn his daughter alive if she dared go out late at night with a man. Ram Jethmalani bites a reporter's head off for questioning his charge that the Asaram Bapu accuser has mental problems.
AP Singh and Ram Jethmalani have a lot in common. Both are lawyers. Both are defending the accused in high profile rape cases.
And both are quick to point fingers at the media for their problems.
Singh landed himself in hot water (make that boiling hot water) with his comments after his clients, Vinay Sharma and Akshay Kumar Singh, were convicted in the Delhi gang rape case.
He told the media that he would burn his daughter if she had premarital sex or was out late at night with a boyfriend. And all parents should adopt that attitude.
Now that the Bar Council wants to know why he should not be punished, Mr. Singh is singing a different tune.
He says he only made that statement to get rid of an overly persistent journalist.
"I was so agitated, upset and stressed after the sentence and this person kept egging me on for a response," Mr. Singh said in an interview with India Real Time. "I said I would make her lovingly understand that this is not suited for Indian culture. But this person wasn't satisfied with my response."
God save us from the love of the likes of Mr. Singh.
He added, "In the spur of the moment, I said that I would burn my daughter or sister if she indulges in premarital sex despite my many attempts to try and dissuade her."
It does not speak highly of Mr. Singh's capabilities as a lawyer, if spur-of-the-moment pyromania is the best defence he can muster for his completely outrageous statement.
Contrary to the heat of that moment argument, in an interview with Radio Mirchi, Mr. Singh was quite happy to hypothesise about what it would be like if the victim was his own daughter or sister, holding forth on how his daughter would not be wandering out late on a cold night with a boyfriend and blaming blue films, nudity, Western culture, even the doctors, everyone but the rapists, for the young woman's fate that December night.
Despite his protestations now, Mr. Singh was happy to share his rape-prevention wisdom for the aam aadmi.
The eminent Mr. Jethmalani, on the other hand, decided on a very different but equally irascible tack.
A Headlines Today reporter dared to ask him about the argument he had made in court about the teenager accusing Asaram Bapu about rape. (Watch the video here.)
Mr. Jethmalani went apoplectic.
"Please don't ask a lawyer what he argued," he lectured the reporter saying she should have been in court. Then he blamed the media for creating "prejudice against the girl" and "now against the lawyer."
The journalist's almost timid persistence drove him into greater heights of fury.
"Will you please shut up?" he thundered as if the black lawyer robes he was drawing around him was turning him into he-who-cannot-be-questioned. "Why are you so shameless?"
The problem was not the reporter had not done her homework. She clearly had. Unlike Mr. Singh, Mr. Jethmalani probably did not want to repeat his court arguments for the TV camera because he was afraid he would be the one called "shameless."
As a lawyer, he is entitled to mount the best defence possible for his client.That does not mean everyone else has to "shut up" while he accuses, according to media reports, the teenager in the Asaram case of a "disease that draws her to men". Mr. Jethmalani is a great favourite of our talk shows and happy to offer his opinion on them as the blunt éminence grise of Indian politics. And the next time Mr. Jethmalani pops up on one of those shows he should be grilled about his arguments in the courtroom. And also about why he decided to add his considerable weight as a lawyer to this case. There is no magical cloak of lawyerly immunity he can draw around himself while he pronounces judgement on everyone else.
Character assassination of rape victims is a favourite ploy of defense lawyers. The lawyers in the Delhi gang rape also gave it their best shot by trying to bring the young woman's make-up and what she was doing out alone with the young man part of the case. The judge in that case shot down that line of argument.
Now that Mr. Jethmalani is bringing up mental disease as a way to blame and discredit the accuser in the Asaram Bapu case, questions about why his client chose to closet himself in the room alone with such a person are perfectly legitimate.
This is certainly not about whether the gang rape accused or Asaram Bapu or even Ajmal Kasab deserve a lawyer or not. They all do. That's the way the law works and should work. But it does not mean the lawyer is above all questioning especially when he decides to take the low road in the courtroom.
Neither Mr. Singh nor Mr. Jethmalani are bound to answer the media's questions. Nobody held a gun to Mr. Singh's head and made him talk to Radio Mirchi. Mr. Jethmalani could have told Headlines Today he did not wish to comment and walked away. "I will argue the case in front of the court, not in front of the media," Mr. Jethmalani has said. But people like them also love the media spotlight. So they have no business complaining when it gets a little too hot for their taste.
Mr. Bumble famously said the law is an ass. That does not mean the lawyer can just get away with making an ass of the public by getting on a high horse. A lawyer is not the only one who gets to ask questions.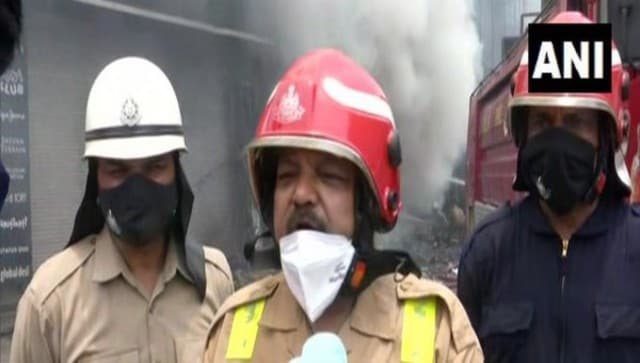 India
Lajpat Nagar fire: Delhi Fire Service Director Atul Garg said that a call about the blaze was received around 10.20 am, following which 16 fire tenders were rushed to the spot
World
Andrea Ferrero and her partner David Ayala turned to baking to stave off boredom and bankruptcy during quarantine. They now have almost 38,000 followers on Instagram.
News & Analysis
Prime Matter joins the previous four publishers by Koch Media Group namely Vertigo, Ravenscourt, Deep Silver, and Milestone.