DIY Diwali: Cut the costs, not the cheer
Down this Diwali? Money is tight. Inflation is up. And the Festival of Lights is never light on the pocket. But it doesn't have to burn a hole in them. Here are some handy tips about how you can have a Do It Yourself Diwali and still have tons of fun.
A survey conducted by The Associated Chambers of Commerce and Industry of India (Assocham) has found that soaring prices have dampened Diwali spirits. Hardly surprising. But there's hope. We don't know how to make a dent in the double digit inflation but here are some cutbacks that can make the Festival of Lights a little lighter on the pocket without compromising on the festive cheer.
Here are some ideas for how you can have a happy do-it-yourself Diwali.
Kandil (hanging lantern) craft: Tamaso Ma Jyotirgamaya (lead me from darkness to light).
Most start Diwali shopping by picking diyas, lanterns, or candles. However, with a little time and effort invested in making your own Diwali props, Diwali could have a whole new meaning for you and your family. For making a conventional Kandil you will need paper, glue, scissors, and a stapler.
Fold a rectangular sheet of paper in half, making a long thin rectangle. Now make a series of about a dozen cuts along the fold line. When you cut the paper, ensure you leave about an inch of space from the edge and don't make cuts too close to the edge of the paper. Unfold the paper, and using glue or stapler (whichever holds it together) put the short edges of the paper together. Take a needle and thread to make the handle of the lantern.
In case you want to take the eco-friendly route, dig out pickle, jam, olive jars and uniquely shaped bottles you've got stashed.
You will need steel or copper wire, needle-nosed pliers, wire snips, assorted jars, assorted candles or tealight and beads or any other decorative ornaments.
Start by cutting the length of a thick wire, four times the height of your jar and place the jar over the center of the wire while bending the wire around the bottom and sides so that it takes the shape of the jar. Take a thin piece of wire a few inches longer than the mouth of the jar. Using the pliers make a spiral on one end and secure it to one side wrapping it tightly. Cut another piece of thin wire for the hanger and bend in half while putting one end through each spiral at the top. Once it looks stable enough to be hanged, add beads on the jar with some glue and put in a candle or a tealight through the mouth of the open jar.
Lakshmi feet: Legend has it that if you leave your doors and windows open on Diwali night goddess Lakshmi might come for a visit ensuring that you are blessed with the constant flow of greens. As a child my mother made sure I was of some use around festivities and made me the designated Lakshmi feet and rangoli maker around the house. These days you can buy Lakshmi feet stickies from the market. But you can do it yourself just like your mother did. Take two cups of rice and soak  in water for one or two hours. Put the soaked rice in the mixer and make a paste. Draw super-clever Lakshmi feet by making a fist and dipping the side of your fist in the paste and plastering it back on the floor. You'll see tiny Lakshmi feet impressions which you can give the finishing touches by adding dots for toes on top of the impression.
Rangoli: As for rangoli, you can stay away from colour additives by raiding your kitchen. Take a pick from lentils from the kitchen shelf for various colours. The easiest to make rangoli is the swastik shape, with flower patterns as the other routine favourite in households. Ratna Bhatnagar, 45, school teacher, says, "I usually make the tulsi vrindavan to brighten up my home. You can find a picture online. It's a pretty easy pattern to make, and is supposed to be really auspicipous."
Savoury note: While you probably already have the usual array of Indian sweets in your refrigerator by now, you can add pick-me-up munchies called namak para as added accompaniment to your tray of yummies. Fairly simple and quick to make, you will need three cups of purpose flour, three tablespoons of ghee, three tablespoons of plain yoghurt, 1 teaspoon of thymol (ajwain) seeds, 1 teaspoon of crushed black pepper, salt to taste, water to knead the dough and oil. Add all of the above into a bowl and knead it to make a medium stiff dough. Leave it aside for ten to fifteen minutes. Take a rolling pin to make a thick roti. With a knife make parallel horizontal and vertical lines which cut your roti into miniscule pieces. When the oil is of medium heat, add the finger-size strips and fry them until they are golden in colour. Store them in sealed containers and enjoy the taste of quick, inexpensive treats for Diwali, long after Diwali is over!
Subscribe to Moneycontrol Pro at ₹499 for the first year. Use code PRO499. Limited period offer. *T&C apply
News & Analysis
As of now, Instagram has rolled out the Reels viewing capability only for Instagram Lite users in India.
India
What started on 4 March, 1972, as a single day awareness campaign has now turned into an entire week of raising awareness about safety, health and environment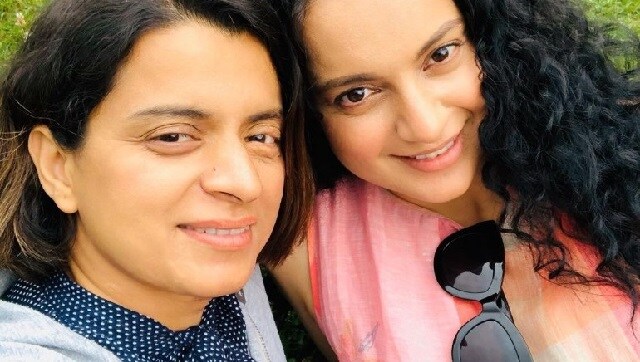 Entertainment
The plea comes a day after a Mumbai court issued a bailable warrant against Kangana Ranaut after she failed to appear before it in connection with a defamation case filed against her by lyricist Javed Akhtar