Diaspora hip hop: After Heems, a look at the new league of desi artists making waves
More voices from the diaspora have emerged, as the global music industry is finally opening its eyes to the existence of the Indian identity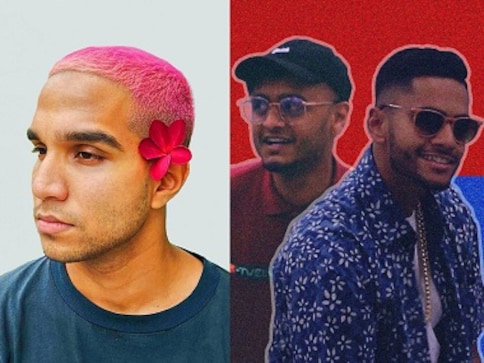 While desi hip hop – in all its multilingual hues and varied moods, from political to self-portraiture – has arguably thrown a lot of artists' names in the spotlight, there was also another very important name that made a mark starting 2012. Himanshu Suri, also known as Heems, was just breaking out and away from his popular hip-hop group Das Racist to launch his solo career.
After mixtapes such as Nehru Jackets, Wild Water Kingdom (2012) and his debut album Eat Pray Thug in 2015, Suri teamed up with Brit-Pakistani rapper Riz MC to create Swet Shop Boys. Their 2016 album Cashmere was hailed by many a critic as the brown identity registering its voice – sometimes in protest ('T5', 'No Fly List') and in romance ('Aaja') and celebration ('Zayn Malik').
Perhaps influenced or encouraged by the success of Heems and the global music industry finally opening its eyes to the existence of the Indian identity, many more voices from the diaspora (who aren't generic Punjabi rappers) have emerged, craftily using hip hop to talk about their lives, even if they are not entirely influenced by their roots in India. Here are a few names we can bet will blow up.
Yung Raja (Singapore)
Sure, it's probably not the first remix or take on Lil Pump's infamously succinct 'Gucci Gang', but Singaporean 22-year-old Rajid Ahamed aka Yung Raja probably garnered thousands of fire emojis simply for the way he worked in references to pooris, Tamil culture and then some. Starting off as an actor in his adolescence, Yung Raja's already playing to packed houses in Singapore and Malaysia. With a debut single 'Mustafa' in the works, we hope he's not too far from taking a flight to India.
Keralanka (Canada)
Comprising Rohan Raj and Apiram Kamalakantham from Toronto, there's a bit of Kerala and a bit of Sri Lanka but mostly just hilarious takedowns of Indian stereotypes on one of their latest singles 'Kumar'. Part of a steady release of songs since last year, Keralanka tip their snapbacks to comedians such as Aziz Ansari and Hasan Minhaj in a video that parodies spelling bees and call centres, as Rohan raps at light-speed over an icy beat.
Keshavara (Germany)
Every now and then, the same artist turns up as a discovery to different people. Cologne-based Keshav Purushotham's pop project Keshavara has showed up on my news feed a couple of times over the last few years, specifically the groovy, funky, nostalgia-steeped video for his song 'It's Raw!', released in 2016. Turns out he has plenty more in terms of background – including veteran drummer and percussionist dad Ramesh Shotham, singing for electro-hip hop band Timid Tiger and occasionally coming by to Chennai to record musicians. There's nothing overtly tied into talking about Indian experiences, but Keshavara has an overall sense of paying homage to his roots in his productions.
Akhil Sesh (US)
​
He's established his territory in the American hip-hop scene right now, teaming up with the A$AP Mob as creative director and earning photography praise, but Akhil Sesh's story began way before Detroit. Born to a Telugu-speaking musically-inclined family in Chennai, Sesh's debut album Free My Shooter is a somewhat dark commentary on the streets he grew up in and the people who surround him. He tells me he started with theatre, then went on to singing bhajans and turned to hip hop in school. It might not be overtly influenced by India, but he says he's "trying to reconnect with the Motherland now".
also read
World
PM Modi emphasised 'Mutual Trust and Mutual Respect' as the cornerstone of India and Australia's longstanding historical relations during a significant address to the Indian diaspora at a community gathering during his Sydney visit
Explainers
PM Narendra Modi is in Australia's Sydney where he will address a huge crowd of Indian diaspora at an event on Tuesday (23 May). The Indian leader will also hold a bilateral meeting with his Australian counterpart where they are likely to discuss efforts to boost trade between the two nations
India
During PM Modi Australian visit, the Prime Ministers of both countries will attend a community event in Sydney to celebrate Australia's dynamic and diverse Indian diaspora, "a core part of our multicultural community.