Delhi's Kathputli Colony demolition: Residents protest the loss of homes, and a way of life
As approximately 2800 families to be relocated from Delhi's well known Kathputli Colony in Shadipur await their new homes, and lose their old ones, photographer Sanjukta Basu is on hand to document the transition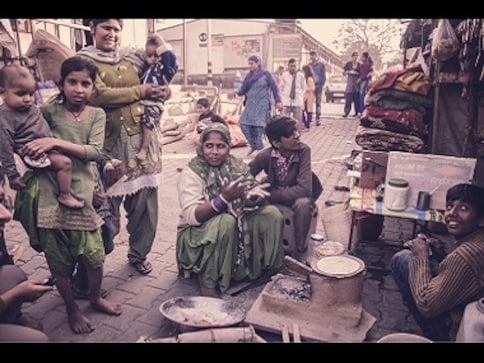 Gali No. 10, Anand Parbat industrial area leads to the Transit Camp, a temporary settlement camp set up by Raheja Builders to accommodate approximately 2,800 families to be relocated from Delhi's well known Kathputli Colony in Shadipur. Dotted with industrial workshops on both sides, dealing with metal wielding, scraps, electricals etc., the road seems dark, cold and creepy in a noir-ish sort of way. This journalist stood on that road for over 20 minutes waiting for a three-wheeler and observed a complete absence of women in the public space, making it potentially unsafe, particularly after dark.
Built on a secluded piece of land adjacent to the Anand Parbat Police Station, the camp itself is akin to a concentration camp or a prison. A large iron gate displaying promises of a shining future for the slum dwellers takes you inside. CCTV cameras abound, in addition to heavy police deployment. The rooms are lined in rows, like prison cells with no kitchen or toilets. Women are cooking on clay ovens outside the cells. Raheja Builders claim the water tank provides more than enough water but reports of water crisis are not unheard of. Entry to the camp is heavily guarded, and media and other citizens are actively dissuaded from entering. The few who are allowed entry are slyly followed by one of 'their men', a code word for goons who intimidate camp dwellers and prevent them from revealing anything uncomfortable to the media. When I entered the camp, a woman volunteered an interview expressing how amazing life inside the camp is. A different story unfolded as I went deeper.
For the few families who have already relocated from Shadipur, it has been difficult to cover the long stretch from the main road to the camp; children's commute to school now comes with additional costs, women have quit working as they feel unsafe after dark, for every small errand like groceries and rations people have to commute to Shadipur, bearing the extra cost of a three-wheeler or E-rickshaw, in absence of proper public transport. Moreover, the displacement has caused loss of work and opportunities for artistic collaborations. Displacement causes disorientation.
However, these are 'minor inconveniences'  for their 'own greater good' 'in the long run.' "See, the Transit Camp is only meant to be a temporary residence," said Sanjay Sachdev, AGM, Raheja Builders to explain the minor glitches. According to DDA's In-Situ Slum Rehabilitation Scheme, a public-private partnership (PPP) launched as part of a larger plan called the Delhi Master Plan 2021, the slum dwellers are to be relocated to a Transit Camp for two years, during which period, Raheja Builders would construct 1 BHK houses with modern facilities and on completion, they will be located back to their original residence.
But the families who already moved at the launch of the scheme are still at the camp even after two to three years. Being unable to go back to Shadipur and living in the camp as refugees, their lives are stuck in limbo. The shiny new houses are still a distant dream. "Unless we get the land at Shadipur vacated we cannot construct new houses," said Sachdev to explain the delay.
The PPP was meant to benefit all stake holders: Government builds a slum free Delhi, Kathputli Colony residents get shiny new houses and the developer gains land. (As part of the PPP the land left over after building 2,800 flats maybe used by the developer for their own commercial purposes). It's a win-win situation for all except, that is not how the Colony dwellers view it because they were never involved in this planning in the first place. The lack of community participation is now turning out to be a colossal roadblock.
On 19 December 2016, at one end of the Kathputli Colony, bulldozers arrived along with workmen carrying sledgehammers, the Colony's electricity supply was cut off, over 500 police and para military forces in riot gear were deployed and some people started distributing photocopied notice informing the residents about evacuation process. At the other end, DDA set up a camp for residents to follow instructions on the notice, get their documents verified, obtain a 'parchi' and 'agreement' and shift to Transit Camp. "Parchi katao aur Transit Camp jao," they have been told by police.
People read these as signs of an impending forced demolition. Soon massive protests broke out in the colony with fiercely brave and vocal women at the forefront. They gathered in the narrow lanes expressing their fear, anger and doubts in choicest words, often raising slogans, "Hum nahi jayenge, hum nahi jayenge (We will not go, we will not go)." They have absolutely no faith in DDA's claim that after two years they will get a new house. "What if two years become 10? What happens then?" they asked. "We don't believe in their parchi, give our flats in our hands and we will go," said one of the women. Many expressed disappointment with living conditions in the Transit Camp. "Those are made of thermocol and plywood, we have pucca houses here, which we have built brick by brick, why should we leave all that?" The level of anger and panic was so high that several of the protesters repeatedly said, "Tell them to drop a bomb on us, give us all poison, let us all die."
A sad reminder of how citizens feel when the government, in the name of development, forces in grandstanding schemes with no credibility, transparency and accountability, the scheme cuts no ice with the residents for a number of reasons.
Firstly, they are asked to vacate their homes without any proper documents. There is a tripartite agreement between the builder, residents and DDA, but it is ambiguous and tilted in favour of the benefactor rather than the beneficiaries. The parchi (eviction slip) and agreement both merely state the liabilities of the residents without clearly stating their rights. "There is no penalty or compensation clause, it is not clear as to who will be held accountable in case new houses are not built in two years, or never built at all, what is the grievance redressal mechanism — these questions are not clear at all," said advocate Sarim Naved who has previously represented the Kathputli Colony residents in Delhi High Court.
Secondly, the list prepared by DDA, of families to be relocated, is based upon 4 June 2009 as the cut-off date of eligibility for rehabilitation and relocation, whereas Delhi Urban Slum Improvement Board (DUSIB) has given 14 February 2015 as the new cut-off date. As a result, the list does not include several families. "The Delhi High Court has passed an interim order in the Shakur Basti case that any slum resettlement plan must be done with DUSIB's involvement and that DUSIB shall be primarily responsible for conducting slum survey, but DDA still sticking to its own survey," said Naved.
Thirdly, the quality of the Transit Camp is not suitable for living, regarding which a petition was filed in High Court in 2014. The High Court has ordered that a team of residents should visit the camp and submit their demands to improve the quality to DDA. The same was done, but DDA has not acted upon the demands.
Fourthly, the residents claim that the PPP is not in accordance with Delhi Masterplan 2021 in terms of technical details, like how many floors to be built, how much area available for creative activities like performances, workshops, rehearsals etc.
Finally, the residents feel that the DDA's actions are extremely secretive and hurried and people are not given time to understand the situation. On Monday (19 December), the DDA brought in the police force which induced panic and distrust. "One of the first fears is of the military. They just came and we thought, my God what will happen now? Will they ask us politely, or will they throw out?" said Arjun, a resident.
When the city had no infrastructure and lands were lying vacant these artists inhabited the areas, made it their own and lived for three generations. From here they traveled across the globe spreading Indian culture, making India proud. Now suddenly the city needs 'development', so they have to move. They do not understand the math. "There was nothing here, it was all jungle, no facilities, no food, we ate insects and survived, no doctors also, that time nobody came. Now they have come to take our lands," said one of the women protesters. And nobody cares to explain to them either. A working paper by Center For Policy Research states that while the best of minds from fields of urban development, planning and architecture were involved, DDA made little effort to involve the community and civil society in the process.
Kathputli Colony has the legacy of being world's largest artist's colony where three generations of artists and performers live. The early inhabitants were puppeteers who came from Rajasthan, followed by street jugglers, magicians, snake charmers, rope walkers and others from various parts of India. They are the preservers of some of the most ancient folk art and performances reminiscent of the village fairs. These are creative people whose hearts and minds are made differently. Their idea of development often does not match with that of the Establishment's. They do not want to live in a swanky sky scrapper amidst a concrete jungle. The slum maybe chaotic and filthy but they have a sense of nostalgia attached to it and they just don't want to move.
So who gets to decide what is good for them? Is this about their good at all? Or is it about making the upper class feel comfortable by removing the dirt and filth away to fit the consumerist capitalist idea of urban development?
All photos by Sanjukta Basu Photography. All rights reserved.
long reads
Kargil has a lot more to offer than war tourism.
long reads
Dhanushkodi, lying just 20 km west of the pilgrimage town of Rameswaram, is a long strip of land at the southern tip of India. Flanked by the Bay of Bengal on one side and the Indian Ocean on the other, it is one of the most beautiful coastal stretches of India.
India
According to DDA officials, around 2,800 flats are to be built in 14-storey towers under the in-situ rehabilitation project in Kathputli Colony, and these 700 flats will be the first lot of flats to be completed by the end of September this year