Decoding Budget 2018: The mirage of Minimum Support Price and the small farmer
Budget 2018 aims to empower farmers, but would it have been more prudent to ensure that credit, price-realisation or subsidy benefits reached them directly? | #FirstCulture
Editor's note: From May 2017, Firstpost is featuring a fortnightly column by Mridula Ramesh, titled 'Climate Conversations'. In this column, we take a look at pressing issues pertaining to climate change — in an accessible way.
Climate change finds a place in headlines
The Economic Survey of 2018 placed climate change front-and-centre in policy makers' minds. Farm incomes, the survey said, would fall by 15 to 18 percent because of climate change effects in the future and, more distressingly, by 20 to 25 percent in unirrigated areas.
So much for the government's desire to double farm incomes.
The deadly combination of extreme temperature and deficient or erratic rainfall will chip away at slender farm earnings; the farmer will be left believing that the government schemes are a mirage.
We are in February. In the cool of winter, the harsh realities of summer, drought and farmer suicides seem far away. Not so for politicians. Three big, agricultural states are due for elections this year – Karnataka, Chhattisgarh and Madhya Pradesh, not to mention the Lok Sabha elections of 2019. Agricultural distress is high, and nearly a third of farmer suicides have taken place in these three states alone.
Budget is the most credible avenue to show farmers that the government indeed cares. Has it delivered?
Let us consider a few of the agricultural announcements in the budget.
Minimum support price (MSP) over cost – Access, not cost, matters
As many others have said, this sounds fabulous, if a little vague.
First, which costs are considered by the government while fixing the MSP? Is it paid out costs, that is, fertiliser, pesticides, hired labour, seeds etc – called A2 cost, that the government is working on? Or, is it A2 + FL costs, which is paid out costs plus an imputed cost for family labour engaged, or is it the more comprehensive C2 costs, which accounts for rent foregone on land, etc?
There is a hint in the finance minister's speech (underlining by author): "It has declared Minimum support price (MSP) for the majority of rabi crops at least at one and a half times the cost involved. Now, we have decided to implement this resolution as a principle for the rest of crops. I am pleased to announce that as per pre-determined principle, Government has decided to keep MSP for the all unannounced crops of kharif at least at one and half times of their production cost."
This speech implies the MSP is already at or above 1.5 times costs for most rabi crops. Data from the Commission for Agricultural Costs and Prices shows us the "cost" the finance minister is talking about is A2+FL not C2. (Side note: using the A2+FL will hike the MSP for paddy, which is a tangible step.)
If MSP is already substantially above costs for many crops – why the suicides, why the distress, why is this "news-worthy"?
Because, MSP is a theoretical concept for many, if not most, small and marginal farmers in the country. An overwhelming majority of farmers – especially in states like Rajasthan or Jharkhand –are unaware of the MSP and its importance.
Think about it: if you could not access working capital from formal channels, you would turn to local money lenders. In many villages, money lenders often double up as the petty merchant who dispenses seeds and pesticides, and procures your crop from your doorstep at prices of his choosing. He is your (only) lifeline – how can you argue? The smallest farmers, holding less than 2 hectares of land, sell the majority of their crop to a local private party, not even at the mandi, let alone to the government.
Hiking the MSP, whether on C2 or A2 +FL basis, will not help them.
Moreover, this blanket formula does not account for the tremendous yield variation, nor the procurement efficiencies across states. For example, farmers from Punjab, with its high yield and superb procurement efficiencies (for paddy and wheat), will benefit from the scheme. But what about rice farmers from Uttar Pradesh whose state combines low yields with pitiful procurement? Will the MSP based on an average cost help them?
Broadening access is more important
The government acknowledges the shortcomings of the MSP-only approach. Understanding and catering to the dynamics of the last mile of farming is critical in ensuring a fair price reaches the farmer.
This is where the initiative to develop 22000 rural haats into Gramin Agricultural Markets is important, as is connecting local agricultural markets electronically to a national market. All of these serve to improve access and information flow, which strengthens the hand of the small farmer against the monopolies who currently dominate mandis. (Aside: We will need to fix the grading issues of produce to get this working – which is possible.)
But the smallest farmers can't get their produce to the markets. They sell to the private trader, not because they want to, but because they have no other choice.
Having more customers will help. Support in the budget for Farmer Producer Organisations and food processing industries are both directed at this. Farmer Produce Organisations are essentially companies set up by farmers to help them negotiate better terms from input suppliers, credit providers and importantly, buyers. The performance of FPOs in India has been patchy – problems range from lack of working capital, access to professional talent to taxation. But experiences from around the country and the world show that FPOs often outperform cooperatives and other forms of farmer organisations in getting small farmers real benefits.
The "small" amount sanctioned by the government for this Operation has been criticised as being insufficient. This columnist disagrees. Well-designed pilots across the country, with clearly defined metrics, and rigorous monitoring are essential to ensure this scheme is a success, and for "small amounts" are often more than adequate.
As an end-note to this, the hike in agricultural credit will only help if access is improved – especially to the smallest farmers.
Hike in MNREGA allocation
The hike in allocation to MNREGA from Rs 48215 crores in 2016-17 to Rs 55,000 crores in 2018-19 is an expensive, credible sign that the government means to improve rural incomes. The proportion of wages paid on time has increased sharply from ~27 percent in 2014-15 to >84 percent in 2017-18, meaning more of the money actually reaches the person than not.
But is this good for the farmer? Maybe not.
In many states, lack of labour is a big reason behind lower productivity and profitability, so farmers (especially larger farmers) in those chronically labour-deprived states (Punjab, Tamil Nadu, Gujarat) will not thank the government for this.
Maybe it is a good thing that elections are over in these states.
Pradhan Mantri Krishi Sinchai Yojana
Irrigation can make the farmer more resilient in the face of a wayward climate says the Economic Survey's analysis. I couldn't agree more. In keeping with this philosophy, there has been a large hike in this budget allocation to this scheme.
But consider this: Without a price on water, farmers in wealthier places will merely buy and resell the irrigation pipes; why expend precious labour (which will be harder to come by, given the MNREGA hikes) to maintain the drip lines to save something that is free?
But by making this scheme more directed — restricting it those districts that are drought-prone, for instance — can we achieve what we want more efficiently? That is, really get more crop per drop per rupee budget spent?
Waste and farms
The Gobar Dhan scheme – a capacity building scheme to help farmers use the dung and solid waste on farms – is interesting. This columnist has always believed that waste is one of the most promising resources of India. When poorly managed, it gives rise to events like the Delhi pollution crisis. Managed well, it can easily become an important arrow in the arsenal of solutions to double farm incomes. An allied, exciting announcement is the subsidy on machinery for in-situ management of crop waste makes sense. A suggestion would be to make the subsidy a use-based or rental subsidy, rather than a capital subsidy, so as to benefit the smaller farmers.
The art of the possible
The Economic Survey after outlining the risks and potential solutions to Indian agriculture, says "It is easy to say what needs to be done. How this will happen given that agriculture is a state subject is an open political economy question."
The Budget following the Survey is one answer to that question.
Consider a potential alternative: The total allocation – to agriculture, animal husbandry, food and fertiliser, is a shade under Rs 3,00,000 crores. There were 90.2 million agricultural households in India in 2012, which translates to an allocation per household of Rs 32,603. But 87 percent of agricultural households own less than 2 hectares of land and have an average annual income from cultivation and animal husbandry of Rs 31,601. As shown in other schemes, direct transfer of benefits leads to tremendous efficiency and savings. Given the very real barriers to reaching the last mile – in credit, price-realisation or subsidy – should more of these benefits go directly? Of course, it's going to be hard – data in the last mile of farming is murky at best.
But the reward for overcoming that challenge, is building resilience of the smallest and most vulnerable of farmers, whose gratitude will translate into votes.
The writer is the founder of the Sundaram Climate Institute, cleantech angel investor, teacher and author of a forthcoming book on Climate Change and India. Follow her work on her website; on Twitter; or write to her at cc@climaction.net
Explainers
The combination has resulted in some of the US' most destructive and costly floods, including the 1996 Midwest floods and the 2017 flood that damaged California's Oroville Dam
World
Environmental litigation against governments and fossil fuel firms has surged in recent years -- but this is the first case filed by Indonesians against a foreign company for climate-related damage. It is also the first instance of a Swiss company being sued for its alleged role in climate change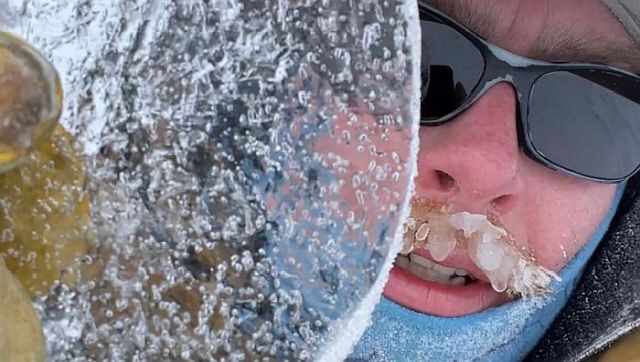 Explainers
A growing number of scientists are using the short-form video app TikTok to increase climate change literacy, campaign for action, and combat online misinformation. Some of them have gone viral