Creative touch: Urban Indians are seeking art, dance and movement therapy for improving mental health
Urban India seems to be warming up to creative therapies with the goal of seeking mental well-being.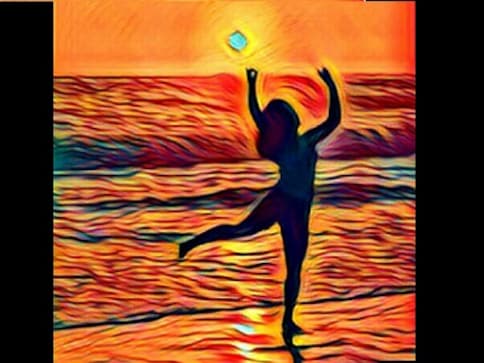 For 13 long years, Chetna Mehrotra, now 40, lived in an abusive marriage, coped with the stress of her hectic corporate job and parenting her little boy.
Finally shaking off what might be called a case of the Stockholm Syndrome (where a person develops a psychological alliance with their oppressor, as a survival strategy), Mehrotra left her husband's house six years ago. Emotionally and physically scarred and alone in the city of Mumbai, Mehrotra desperately searched for a space to talk, share and most importantly, grieve.
She travelled to Bengaluru for a workshop on 'Theater of the Oppressed', a form of creative arts therapy, which uses theatre techniques and games to heal and empower people in a group setting. An exercise of image theatre freed her from the overwhelming emotion that had her in its grip. "I realised that I had so much anger and sadness all pent up. I realised that my mind and body were both oppressed," says Chetna. "I grieved in the process, discusses and shared my problems and felt a sense of release."
She thus embarked on a journey to self-discovery and empowerment and later also attended workshops on psychodrama and dance and movement therapy, other emerging expressive arts therapies in the country.
Growing awareness
With a dedicated institute of psychodrama in Chennai, a diploma course in dance and movement therapy at Tata Institute of Social Sciences, Mumbai and Kolkata, and visual arts courses in Pune and Delhi, urban India seems to be warming up to creative therapies with the goal of seeking mental well-being.
It's no longer a taboo to seek help if you are disturbed or going through a tough, challenging time — thanks in some part to Bollywood and media. "So many of my clients now tell me that they experience the same symptoms that actor Deepika Padukone did when she was depressed," says clinical psychologist Nipa Shah. Movies like Dear Zindagi and Tare Zameen Par have also changed people's perception of mental health.
Creative therapies and Indian culture
Expressive therapies such as theatre, dance and movement, music, story-telling and visual arts are effective and powerful tools for overall mental well-being, usually practised in a group setup, enabling people to establish the crucial face-to-face social connection — lacking in the time of Facebook, Twitter and Instagram.
Moreover, these interactive, non-judgmental and non-threatening practices are also culturally imbibed in the country that has had a tradition of mixing different arts with everyday life, says Eric Miller, assistant director, Indian Institute of Psychodrama, and East West Center for Counselling, Chennai.
A puja could be a classic example. It combines music, visual art in the form of rangoli and even devotional dances. Or, telling grandmother's tales or stories from the Panhatantra, to offer people guidance and advice.
"These ancient examples were pre-cursor for modern psychotherapies," says Eric.
People have realised that the body is an important tool for therapy. "In most centres, the mind is given lot of importance and the body is ignored. But the creative therapies — especially dance and movement — give importance to the physical and the psyche," says Tripura Kashyap, dance and movement therapy pioneer in India, teaching in Delhi, Bengaluru and Pune.
Reaching out
Schools, colleges, corporate houses, community centres and NGOs across metros are using these to empower their clients/employees/students.
NGO Kolkata Sanved has reached out to 65,000 sex-trafficking victims and sexual-abuse survivors through dance and movement therapy. It has trained over 100 students to become practitioners in its year-long course at Tata Institute of Social Sciences, Mumbai and at its centre in Kolkata, since 2013. "As the need for holistic well-being grows rapidly in this complex world, the demand for expressive therapies grows as well. In India, these are at an emerging stage, but would definitely grow more in the future," says Sohini Chakraborty, founder and director of Kolkata Sanved.
At Toral Vithalani's Shamanic Music Therapy workshops, in Mumbai, the numbers are constantly rising and so is the interest in experiencing and learning theatre-related and story-telling therapies in Chennai.
Western psychotherapy v/s Eastern healing practices
People are also questioning the practice of traditional psychotherapy, which labels people and only focuses on one's behaviour and behaviour modification. In eastern philosophy, mental well-being is part of the overall health and spirituality of a human being and looks at a person as a whole. "Creative arts therapies help nourish a person completely and work much better in the long run," says Mona Doctor, founder of Integral Space, a holistic wellness centre in Mumbai. "These do not categorise people as normal or abnormal or stigmatise them in any other way. In a group session of these therapies all are treated as equals and the exercises help people accept and love themselves," says Mona.
Hence many psychiatrists and other doctors prescribe these. Dr Gargi Goel, a pediatrician from Jaipur, is a student of dance and movement therapy. "I work in rural and urban setups and find that many stress-related or psychosomatic problems such as lower back pain in most patients could be resolved through these therapies rather than popping pills," says Goel. "The therapy helped me love and accept myself and has centred and balanced me. I can now deal with most of my emotions much better and that of course promotes better physical health."
Clinical psychologist Nipa also prescribes these therapies to her patients. "I have been using visual arts therapy to help a 13-year-old client with borderline depression to communicate and express better. And the results are better than the traditional talk therapy which I attempted earlier," says Nipa.
These therapies untie the knot of confusion and depression and encourage healthy living. As famous dancer and choreographer Agnes de Milleous once said, 'The truest expression of a people is in its dance and in its music. Bodies never lie.'