Could UN's global corporate standards make Indian workplaces more inclusive for LGBTI individuals?
Influential personalities from the corporate world and a UN spokesperson came together to discuss the newly-framed standards to prevent discrimination against the LGBTI community. They shared insights on how the current Indian law impacts this issue, how to sensitise employees, the role that the private sector can play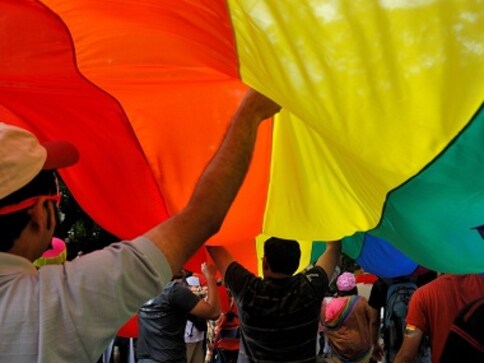 Being rejected after an interview, being denied a promotion, and feeling out-of-place at the workplace may seem like normal occurrences to many of us who are part of India's workforce. They may seem like roadblocks that one simply needs to get over, or we may view them as challenges which make us want to become better at our jobs — both of which seem achievable and possible.
But what if you found that you weren't making progress in your career because of something you cannot change or do not wish to hide, such as your sexual orientation? What if your company, which is supposed to protect your interests, passes judgement? This, unfortunately, is a reality that scores of people live with every day, especially those who work in companies that are not accepting of LGBTI persons. But a set of global corporate standards launched by the United Nations to support businesses when it comes to tackling discrimination might prove to be a game-changer.
On 12 October, Fabrice Houdart, Human Rights Officer at the UN, presented these standards which are seemingly easy to comprehend — respecting rights, eliminating discrimination, supporting colleagues — but they can go a long way. The presentation took place at the Godrej India Culture Lab in Mumbai. In order to understand why these standards are necessary, we need to take stock of the ramifications of not being LGBTI-inclusive.
Houdart said that not including LGBTI persons in a country's workforce can negatively impact its growth. He also mentioned that when an LGBTI employee feels safe and welcome in any workplace, they are far more productive than they would be in an environment that is hostile. The most surprising of these facts is that according to the UN's findings, the youth in India is not accepting of people from this community.
The problems that people face at the workplace and in the county, in general, are ones a cis-hetero candidate is not even likely to consider. Gauri Sawant, who is one of the most vocal voices on transgender rights and the face of a popular, touching Vicks ad, said that it is a matter of identity and of survival. "It is a shame that I need to knock on the doors of the Supreme Court to ask for basic rights. Honestly, I don't want to, but I will have to, so that we are treated with dignity," she said.
She also spoke about how trans parents are perceived by society as being heroes, when in actuality, they do not want to be treated as a marginalised or special community. Echoing this sentiment, Radhika Piramal, who is the executive director of VIP Industries, spoke about how there is no need to frame 'special' or 'extra' rules for people who are LGBTI, just that existing ones need to be framed such that they can prevent discrimination.
Meenakshi Ganguly, who is the South Asia director of the Human Rights Watch, said that talking about rights and claiming them makes people feel uncomfortable. "We claim to be 'okay' with gay and lesbian people. I have heard so many people say,'Why do they need to display it [their sexuality] in public, that is our only problem.'" She highlighted the fact that discrimination also manifests itself in the more subtle ways — the joke one may forward, the snide remark one may pass, or the judgments we pass. Nandita Das, too, spoke about how challenging the norm is unheard of India, a country where "there is no word for many people's sexual orientations".
She also shed light on how these standards fare when it comes to Indian law and the perception of the country internationally. "When I talk about India, I have to tell people that my country lives in many centuries. First we decriminalised Section 377, then we recriminalised it. We seem like a country that is confused about the issue," she says. But she emphasises that this law and India's stance on it is motivated by many factors, one of which is the need to have a permanent place on the Security Counsel of the UN.
Piramal stressed on the role that the private sector can play to ensure that these standards are followed, and that more people who identify as LGBTI can avail of opportunities. She credited this to the reputation of the private sector — built on its efficiency and ability to adapt — and said that it can lead the way and set the example. "I'm not a socialist. I'm an unapologetic capitalist," said Keshav, who added that one can think of profit and socially aware and sensitive policies as being mutually inclusive.
Radhika Piramal's advice to the LGBTI community and allies is that they must be optimistic. She says that apart from higher growth rates and productivity, being inclusive and accepting of LGBTI individuals at the workplace sets an example of how the company will handles an employee during their most vulnerable time.
Piramal also clarified that there is a misconception that one can be arrested for being gay or lesbian. She says that mere knowledge of one's sexual orientation cannot prompt an arrest, because the law clearly mentions that it is 'unnatural sex' that is illegal. "This means that HR companies and departments can safely have non-discriminative policies," she said.
Changing rules and setting up a new, non-discriminative system is far from being easy. Piramal says that she is the only one in VIP who has come out, despite setting up an inclusive system. Keshav Suri, Executive Director of the Lalit Suri Hospitality Group, spoke about how MNCs who have an LGBTI-inclusive policy in general can tend to alter it in country's where homosexuality is criminalised. He also mentioned that the voices in the community who are speaking out are doing so despite the fear of what the consequences may be. Still, these panelists have a strong resolve, and so far, they have not faced any backlash from the public sector or authorities or even allied businesses for being inclusive.
Suri recounted the experience of meeting Narendra Modi at a Niti Ayog event and asking him what the public and private sectors can do for the welfare of the LGBTI community. "My point was to talk to the other private players on the table and to get them to share points. In the end, I helped them draft policies based on the one we follow in my own company," he narrates.
All panelists said that leading by example and sharing personal stories can be very effective in ensuring that the organisation is effective. Parmesh Shahani, who heads the Godrej Culture Lab, said that by inviting the heads of departments and brands within Godrej for programmes on the LGBTI community, the company manages to set an example for the rest of the employees, who will look up to their heads and value such conversations as being important.
Suri is of the opinion that change trickles from top-down. He has strived towards ensuring that his chain of hotels become gender-agnostic; people are no longer forced to put down their gender when filling up forms to check in, and they are asked how they would like to be addressed. Apart from hiring people from the community, he has also created an environment where anyone who feels that they are being discriminated against can come and personally talk to him.
The most striking point made during this panel discussion was when Piramal said that engaging with people who are against LGBTI rights. "Talking to the resistance is my priority. I believe that we need to change impressions of the mainstream," she said.
World
Video of the incident showed men, at least one in police uniform and another in army uniform, advancing towards the immobilised UN convoy behind a closed barrier in Kasindi. The town is in eastern DR Congo's Beni territory on the border with Uganda
World
This year, the theme for the International Day of the World's Indigenous Peoples 2022 is 'The Role of Indigenous Women in the Preservation and Transmission of Traditional Knowledge.' 
Explainers
To understand leaders' motives – and therefore effectively negotiate the elimination of nuclear weapons – we must acknowledge that policymakers express underlying moral concerns as strategic concerns