Christmas musings: Of festival-induced homesickness, and food that reminds you of family
In this post that is equal parts food journal and memoir, Edlyn G D'souza mulls over Christmas spent at home in Goa, and in a faraway country
It happens like clockwork every year that I'm not in Goa for Christmas: I suffer from a sudden outburst of festival homesickness. It's different from the normal homesickness and I can tell because I find myself gagging at families being close and photos of Christmas-related things on social media. I called my mother this week and we talked like we normally do. I asked her about their plans and I already knew what she was going to say.
My family likes to wait for things to unfold. What the world calls procrastination, we call adventure. The sweets always got made a few days before and my memories of gift- and outfit-shopping for my sisters are all tied to a boutique called The Wow Shoppe a couple of kilometers away from my house. We always had Christmas day lunch with my uncle Edgar who lived alone and also not very far from our house. Last year, we had our very last traditional lunch and sweet exchange with him. This was the same man we joked about having nine lives. He died earlier this year, after a series of medical complications that started right after Christmas. My mother reminded me that they would need to figure out what they were going to do for lunch this year. "Uncle Edgar is not there," she said.
I didn't forget about that. Being so far away from my family in India for the past five years, I feel like I've had to jump through a few hoops of my own to figure out what "tradition" really means come December. I live in the the Pacific Northwest in the US and my first year here, I told my husband, "Let's go to midnight mass". Sounds normal except my family back home never did that. So off we went and because this is immigrant America, the mass was in Vietnamese (I love it) and for the first time in my life I felt like my friend Nikhil who went to church with me when I still went to church ("You can stop kneeling now, Nikhil.") I should have known. Apart from my sister Jane, we are morning people. We came home, opened presents with Goa over Skype and went to bed. There were no special meals or sweets the next day. It was the usual and I'm sorry, but I really had no idea I had to be prepared.
This year is my third Christmas away from my people in India. The two prior/alternate Decembers I spent with them, I watched my mother make marzipan and fudge. I photographed her hands shaping dough and took mental notes. I sent her a WhatsApp message a few weeks ago to ask her more marzipan questions. Even if I never made it — which I did — I like knowing that she's there on the other side of the world ready with an answer for me.
Today, right now as you read this, is around the time we sat at our dining table to roll out dough to make neuris, kulkuls and marzipan. It's how we've always done it — last minute. This is the Christmas I grew up accustomed to and try as I do, it never truly feels whole without the warm air and fake cottonball snow on our fake tree. But I try anyway, in the hope that I can carry forward small parts of what it means to be connected to this group of people I happen to share some genes with. My grandmother did it with my mother, standing in the kitchen instructing her on the ratio of flour and ghee, her timid personality put away: "Too thick", she would say when we rolled dough, "it should be thinner" and "stop eating raw dough." I'm trying to do the same thing.
This year, I made a few cookies for a neighbour and colleagues, bought lots of hot chocolate mix (for me), and comforted myself with glasses of rich rum-spike eggnog. This is what works for me right now in a foreign land and each year I spend away from India is another I get to improvise a new way to celebrate. This year we don't have a Christmas tree but I strung a few lights indoors because I want my dad to be proud of me. Next year? We'll be there — and I can hardly wait.
Bring in Christmas with these chamomile marshmallows, Indian-style hot chocolate and marzipan (recipe here).
Chamomile marshmallows
This recipe was the first one I saw when I did my how-to-marshmallow research on the Internet. It's by food science genius Alton Brown so of course I trust it and adapted it to make it match my hot chocolate. It requires the use of a sugar thermometer (also called a candy or jam thermometer) which you can find at specialty baking shops. If you make lots of sugary sweets, caramels or deep fry a lot at home, it's a good investment.
Special equipment: Candy thermometer, 11 x 7 baking dish
Ingredients:
Adapted from Alton Brown
1 cup water
1/2 cup dried chamomile flowers or 4 tea bags of your favourite tea
Vegetable oil or butter, to grease a baking pan
35 gms (1/4 cup) corn starch
30 gms (1/4 cup) powdered sugar
23 gms (2 tbsp + 1/2 tsp) gelatin
340 gms (1 3/4 cups) granulated sugar
250 ml (1 cup) light corn syrup or liquid glucose
1/4 tsp pinch of salt
1 tsp vanilla extract
Method:
Boil the water and take it off the stove. Steep the chamomile flowers or tea bags in it for 10 minutes and strain. Pour the tea into a glass and refrigerate until it is cold.
While the tea is cooling, grease a baking dish with the vegetable oil or butter and dab off if you see an excess of it. Whisk together the corn starch and powdered sugar in a small bowl and add about 1/4 cup of the mixture to the baking dish. Dust the baking dish with the powdered mixture, tapping the sides and moving it around to help it form an even coating. Set the baking dish aside.
Add 1/2 cup of the cold chamomile tea to the bowl of a stand-in mixer with the whisk attachment or to a large mixing bowl. Sprinkle the gelatin over tea and whisk it well so that no lumps remain. Let the gelatin bloom while you make the syrup mixture.
To a medium-sized saucepan, add the remaining 1/2 cup of chamomile tea, granulated sugar, light corn syrup and a pinch of salt. Place the saucepan over medium-high heat and stick the candy thermometer into the liquid. When the liquid starts to come to a rolling boil in 5- 7 minutes, watch the thermometer until it reaches a temperature of 115 - 116 degrees C. As soon as it reaches that temperature, pull the saucepan off the heat and if using a stand-in mixer, turn it on to the lowest setting as your carefully pour in the syrupy liquid. Once all the liquid is in, turn it on to high and let it whisk the mixture for about 10-12 minutes, until the mixture doubles in volume and seems to pull away from the sides of the bowl. If whisking by hand, do so vigorously (take quick breaks, if needed) until you get the same "marshmallow cloud" texture and appearance.
Using a greased spatula, scoop the marshmallow fluff out of the bowl and into the baking dish you dusted earlier. Spread the marshmallow candy into an even layer as best you can (it's sticky so it doesn't move as easily as it would appear). Through a strainer, dust the top with some more of the powdered sugar+ corn starch mixture. Cover the baking dish and let it set for 1 hour. Cut it into geometrically pleasing shapes, preferably squares. Dust the (sticky) cut sides with the powdered sugar mixture and store in an air-tight container at room temperature or wrap it up and gift to all your friends.
Indian-style hot chocolate
The addition of chilli powder in this recipe is inspiration I took from Mexican hot chocolate, a country whose food and love of smoky and spicy heat makes me feel not too far from home. If you're planning to give this hot chocolate mix away as a gift, chop the chocolate, freeze the bits and then grind it to a powder in a mixer or food processor. Use the "pulse" setting so that you don't melt it while processing. Add the remaining ingredients to it and you can gift away. You can change up the spices or add dried herbs too. I love nutmeg, clove, hibiscus and mint. Co-incidentally, this drink goes well with a marshmallow. If you're old enough to drink, you can also add brandy, Irish cream or crème de menthe.
Ingredients:
1 litre (4 cups) milk
2 tsp fresh ground elaichi (cardamom)
1/2 tsp ground cinnamon
210 gms (1 1/4 cup) semi-sweet or dark chocolate, finely chopped
130 gms (3/4 cup) milk chocolate, finely chopped
1/4 tsp chilli powder
1/2 tsp salt
Long cinnamon stick, marshmallow and a tiny pinch of chilli powder, to serve
Method:
Heat the milk in a small saucepan over medium heat until it comes to a simmer. Add the cardamom and cinnamon to the milk. Whisk constantly until the spices get fragrant, making sure the milk does not come to a boil. Once to help the spices release their flavours, add the chocolate to it along with the chilli powder and salt. Whisk for about 5 minutes to melt and froth the chocolate. Remove the saucepan from the heat and pour the hot chocolate into mugs. Serve warm with a marshmallow, cinnamon stick and pinch of chilli powder.
The writer blogs about food at egeedee.com
India
On Tuesday, Margao municipal police randomly checked a hotel's guest list along the old station road during routine checks and found an Aadhar number through which they found Deepak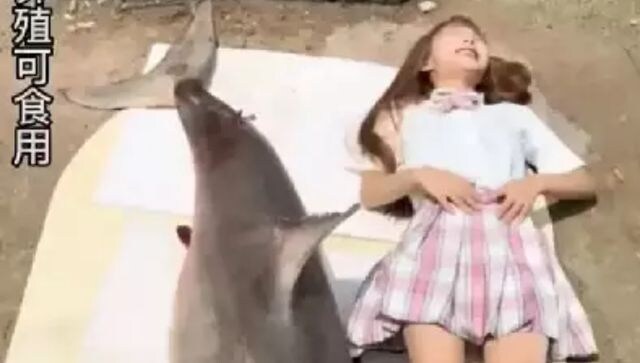 World
The great white shark was reportedly bought for 7,700 yuan ($1,141) on the shopping website Taobao, which is owned by Alibaba