Celebrating Ganesh Pyne: A new exhibition uncovers artist's early animation work
A new exhibition throws light on the rare early works of Ganesh Pyne, when he worked on animation films at Mandar Studio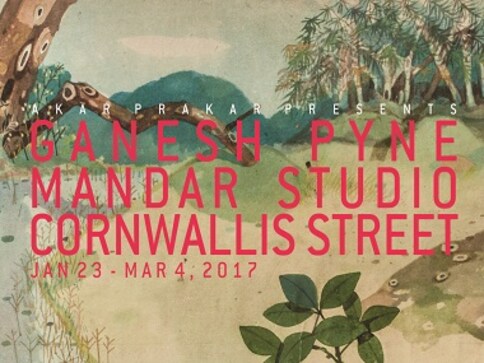 Editor's note: Established in 2004 by Reena and Abhijit Lath, Akar Prakar is one of the leading galleries and promoters of Indian art today. Akar Prakar works with various government agencies such as the NGMA, Ministry of Culture, Lalit Kala Akademi, ICCR and Indian and International museums in promoting Indian modern and contemporary art. This year, the focus is on Ganesh Pyne's rare early works (in addition to Ganesh Haloi and Jayashree Chakravarty), with an exhibition and book. The following piece on Ganesh Pyne was written by art historian Pranabranjan Ray as part of the curatorial note for the upcoming exhibition — 'Ganesh Pyne/ Mandar Studio, Cornwalis Street'; from 23 January to 4 March 2017, Akar Prakar, Kolkata. 
**
Ganesh Pyne (1937-2013), the painter, was born and brought up in a crumbling ancestral mansion in an ethnically divided older part of Kolkata. As he grew up listening to his grandmother's narration of folk tales and puranik myths in twilight, the shy and curious youngster increasingly visualised the fantasies he would weave around what he listened to, through doodling. But not until he himself had started reading Abanindranath's tales for children, and still later, drooling over the reproductions of his darkness-illuminating drawings and paintings — published in contemporary periodicals — did Ganesh feel the urge of visualising imagination.
But before gaining that kind of mental angle, a traumatic worldly experience left a permanent effect on the future of his creative personality. The Great Calcutta Killing of 1946, one of the main events that ultimately led to the partition of India, even though temporarily, uprooted the family from its century-old home and made the not-yet teen-aged boy face violence, destruction and death. Later, it would not so much be the facts of violence, destruction and death, but apprehension and premonition of these, that would condition his creative gaze into events and happenings.However, all these were to be revealed slowly later, through his creative career.
After completing his secondary education, Ganesh Pyne took admission to Calcutta's Government Art College, from where he graduated in 1959. He utilised his stint at the art school not only in honing his skill in standardised art practice and widening the horizon of visual study of past art, but also in research into ways and means of choosing and adapting art technology for his personal idiom. Mature Pyne's art amply demonstrates his success in this score. After the completion of his institutional art education, Pyne got engaged in making of animation films for a living. Alongside, he also got deeply involved in print-media publications designing, especially in book illustration, wherein also he left his mark of individuality.
Although apparently shy and introvert, Ganesh Pyne's mental involvement with human affairs never let him be a recluse or an outsider. In fact, his interest in on-going art activities led him to get associated with the Society of Contemporary Artists, then Kolkata's most happening artists' group. However, the basically lone sojourner could never march with a regiment.
The recent chance discovery of some artwork, presumably made as components of an animation film (of pre-digital software age), by Mandar Mullik's studio where Ganesh Pyne worked between the mid-sixties and mid-eighties brings to the fore a so-far-unknown aspect of the artist's creative engagement. Although in a quantitatively major segment of Ganesh Pyne's oeuvre representations of nature's physical features, normally recognised as landscape elements, are verily present, their conglomerations hardly ever appear as natural backgrounds or as sites of painted situations or events. The landscape images of Pyne's paintings are much more integrated into the totalities or the gestalts of the visual presentations.
The recent discoveries in discussion (as seen in the accompanying reproductions) are an exception to Ganesh Pyne's so far known usual use of landscape imagery in painting. These are more genre-specific landscapes — landscapes without images of living, moving beings and man-made objects, landscapes of horizontally extended barren expanses of arid undulating land, land with rocky outcrops separated from each other. Furthermost in the painting are clusters of big trees in forest-like formations; while in the middle ground, sparsely foliaged shrubs stay lonely. Small waterbodies reflecting plants are occasionally found in the foreground. With emphasis on the massy, dark shapes of the rocks, the undulated contours of the ground, the directional linearity of the plant trunks and branches, and, above all, on the spatial configuration of images (leaving lots of negative spaces in between), it becomes apparent that it is not simply a description of a landscape but an evocation of a feeling of desolation;
that is the intention of the artist.
Apart from the chromatic use of dark and sombre to cool tones in masses, sparing linear touches of bright oranges and yellows in tree trunks, the branches electrify sensation with their unexpected suddenness. The viewer's perception reaches further depth with the cognisance of morphological affinity between conglomerations of tree trunks, branches, twigs, and skeletal remains of living beings shining bright in the dusky dimness.
Besides this, the other visual-linguistic strategy that Ganesh Pyne adopted to divest these landscapes of descriptiveness is rendering of the images as shade and shadowless forms. Yet, the landscapes do have shadow forms and reflection forms. What distinguishes the two forms is their weightless insubstantiality, due to use of transparent watercolour tints as against the use of opaque watercolour for object images. Apart from this techno-linguistic tactics, the other visual-linguistic strategy that makes these Pyne landscapes enigmatic is his keeping of the shadow and reflection sources indeterminate. One looks in vain for the object correlates of the shadows, and the reflections one notices as images in these landscapes.
These landscapes thus merit being categorised as imagined landscapes, rather than as experienced locations, as if these are sites awaiting some happening rather than where things have happened already. It is quite possible that a set of real-life geographic experiences in and around the Bengal–Bihar–Orissa border region have acted as triggers to their creation.
As has already been noted, these landscapes were made as components of an animation film. The other major component comprised narratives with anthropomorphised animals, birds, and serpentine characters. The narratives were illustrative ofcfables from Hitopodesh and Panchatantra. The stylisation of the characters and the visual narration would inevitably follow Walt Disney's charted course. Pyne, it seems, wanted to package Indian fables in Disney's format. Transparent strips with characters painted in opaque watercolours in a narrative sequence would be manoeuvred by hand over backgrounds of landscape for registration on celluloid film-strips, though stop-gate camera for getting the animation films.
Firstpost is the online partner for 'Ganesh Pyne/ Mandar Studio, Cornwalis Street'; from 23 January to 4 March 2017, Akar Prakar, Kolkata
World
A new study has found that New York City rats can be infected by the virus that causes COVID-19. Can they transmit it to people? There's no evidence yet, but it's one more reason to stay away from the rodents
Photos
Nature is beautiful yet haunting. These 15 images, the winners of the World Nature Photography Awards, are proof
Explainers
Conservationists in southern Africa are outraged by a proposal to outlaw the import of hunting trophies to Britain, with some claiming that it is counterproductive and smacks of colonialism