Celebrating Carnatic music's pluralism: A playlist of artistes, songs fighting hegemony with creativity
Following trouble in the world of Carnatic music over who can sing and perform the art form, and which religion can lay claim to it, it becomes pertinent to go back to the basics. To listen to music. To recognise the little acts of resistance and solidarity, of pushing the envelope further, that may have seemed natural when they were done, but feel revolutionary today.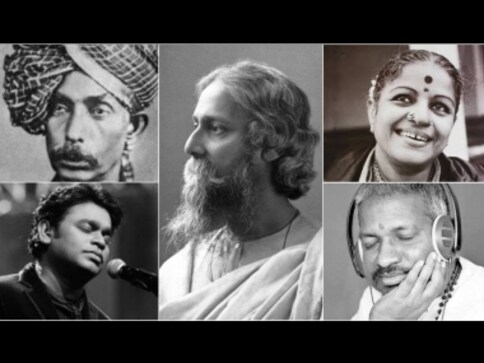 Editor's note: This article was originally published on 18 August 2018. It is being republished in light of TM Krishna's concert in Delhi being cancelled by the Airports Authority of India (AAI), reportedly due to threats issued by certain right-wing trolls deeming the noted musician "anti-national". 
Following trouble in the world of music in South India — in particular in the capital of Carnatic music, Chennai — over who can sing and perform the art form, and which religion must lay claim to it, it becomes pertinent to step away and go back to the basics. To listen to music. To recognise the little acts of resistance and solidarity, of pushing the envelope further, that may have seemed natural when they were done, but feel revolutionary today.
What is the purpose of art if not to act as a balm to soothe the cracks that begin to appear when our social fabric is being broken?
Having: 1. documented the dangers of the hatred that is creeping up on people who claim to love music; 2. been at the receiving end of an endless barrage of hateful messages while trying to outshout the mob; 3. talked about the long line of Christians involved in Carnatic music for centuries now; 4. and also discussed how Carnatic music does not belong to the Hindus of India alone (but is the shared heritage of a secular south India with roots in ancient Tamil music) — all with little success — I now turn to the music itself for some answers.
Join me as I take a break from Whatsapp University and stories of "inculturation" [sic] that I have been bombarded with from "thinkers" furthering the divide among people, while I go in search of those who chose to embrace plurality instead of hegemony.
Also read — Carnatic artistes targeted for choosing Christian songs: On the difference between art and devotional music
'Nee Samanamevaro'
One of the songs caught in the cross-fire of ignorance over the last few days has been a composition titled 'Samaanulevaru Prabho'. Carnatic musicians from across Tamil Nadu have observed that this song has nothing to do with 'Rama Nee Samanamevaro', neither in form nor lyrics or of course the raga.
For those scarred by the eruption on the internet in the name of music and culture here is Ustad Abdul Karim Khan performing 'Rama Nee Samanameveru? (Rama, Who Is Equal To You?)'. The Hindustani performer is said to have learned this song from the legendary Veena Dhanammal and was introduced to Carnatic music while at the court of Krishnarajendra Wodeyar of Mysore.
Multi-lingual invocation
MS Subbulakshmi, who has posthumously been subjected to controversies over her identity, is perhaps the best example of this plurality. Everything that seems radical today in the sphere of traditional music, she has already done — and she did it all without any fuss. Madurai Shanmukhavadivu Subbulakshmi, who hailed from a matrilineal hereditary musical family withstood an era most tumultuous for hereditary musicians and dancers in Tamil Nadu and emerged on top, despite the odds being stacked against her. Along the way she also casually experimented with language, form, content, etc. Here's one such that might send today's listeners into a tizzy, where she sings Islamic verses as well as Biblical ones alongside Japanese and Sanskrit ones in 1976.
The King of Cool
It is an undisputed fact that music composer Ilaiyaraaja has melded the various indigenous musical forms of the subcontinent with that of Western music to produce compositions that will leave musicologists writing paeans to him for years to come. From reinterpreting Carnatic songs to giving life to new ones in the genre, his contribution to the secularisation of music must not be taken lightly, particularly in the Tamil world.
His use of Carnatic instruments in films songs (like the mild but sensual presence of the mridangam in a song like 'Andhi Mazhai Pozhigiradhu' in Raja Parvai) and the fact that many Carnatic musicians — instrumentalists particularly — have played in his troupe and call him an influence on their own musicianship, shows just how large his influence looms. It wouldn't be an understatement to say that Ilaiyaraaja's presence in the Carnatic music world and generations of musicians who cross-pollinate between the many genres of music, will remain untainted for a while to come. Ilaiyaraaja's own journey from a village to the hearts of millions who hum his music across the Tamil speaking world is nothing short of awe-inspiring.
All those screaming blasphemy, today, will have to set aside all differences to groove to one of Raja's (as he's called by all who love him) stylish compositions. It was the anthem of cool for a generation of kids, and for many who came after. Even today, the song starring the Kalakshetra-trained Amala, stands out, unmatched. And yes, it too uses words usually reserved for Carnatic songs.
And then there's this song from Geethanjali that today might never even see the light of day:
And here, Anil Srinivasan and Guitar Prasanna — both artistes known for bringing something exciting into the Carnatic genre — play an hour of Ilaiyaraja:
The nadaswaram-AR Rahman combination
Even as Carnatic sabhas (save a few like the Krishna Gana Sabha) continue to sideline nadaswaram artistes, film music composers (AR Rahman especially) have produced some of the most popular nadaswaram compositions in recent times. Rahman's ability to blend the nadaswaram's distinct sounds to terrific effect is seen in many wonderful compositions. Here are a few from his terrific repertoire.
A compilation of nadaswarams from various AR Rahman songs:
This video shows a work-in-progress piece that champions the nadaswaram:
In this beautiful composition from his soundtrack for Gautham Menon's Vinnaithaandi Varuvaayaaa, sung by Devan Ekambaram and Chinmayi, AR Rahman blends Christian and Hindu wedding music to create a timeless marriage song:
Beyond appearances
Many have erupted in protest over singer O.S. Arun wearing a cross in some screen grabs shared by many in social media, while singing songs on Christ. Is it not the performer's prerogative, how they choose to present themselves to their audience?
Here in this video Kalesha Bibi and Mahaboob Subhani perform the nadaswaram:
https://www.youtube.com/watch?v=yikSZgRkzJs
'Ek Din Jara Merechhilo'
We'll end this playlist with a Bangla song written by Rabindranath Tagore in 1939 to be sung on Christmas day; the song is also is an "expression of pain for World War II".
The revolution is blue
Ginni Mahi's sound is at once rooted and new. Dressed in blue for this song, she wags her fingers at the camera, melds local instruments and Punjabi sounds, and sings of being a fan of Baba Sahib, one can sense her power almost reach out through the screen. Ginni reverses the gaze; suddenly you realise she is looking at you and isn't presenting herself up for consumption. This exchange is happening on her terms. Ginni's songs are as much as feminism as they are about caste oppression. A true-blue revolutionary who exemplifies intersection.
Not a one-way street
Contrast the comments on the video below with that of the ones under attack currently:
We expect the world to be secular enough to embrace our identity but are unwilling to reciprocate.
For many who seem to be caught up in some sort of a numbers game, obsessed with who is the majority and are paranoid about a 'conversion racket' going on in the country, here's a nugget: The percentage of Christians in India in 1951 was 2.3. In 2011 it was 2.3. The next census is in 2021. So when inflated numbers far outside the truth are circulated and Carnatic musicians are accused of being "stooges of the Vatican" engaging in mass conversion rackets, it is important to ask who is fueling these accusations and who stands to benefit. When the census — which is the only authoritative source of such information — says the percentage is the same, what numbers are these people relying on? Made up ones clearly. It would bode many of these people protesting to remember that we are a country that relies on its Constitution and guarantees equality to all before the law, no matter the percentage of our respective religions, and that these numbers mean nothing. They shouldn't. If they are in an imaginary numbers contest and feel 'hurt' by these imaginary numbers, why should artistes pay the price for these wounds?
Instead of abusing these artistes, we must say 'Thank you for the music'.
Read on Firstpost — TM Krishna on fighting communal forces in Carnatic music: 'If you buckle to goondaism, it's all over'
also read
Lifestyle
Rama Varma studied under Mangalampalli Balamuralikrishna. In this tribute, Varma examines his teacher's musical legacy
Arts & Culture
What would be an ethnographer's delight, the socio-cultural history that On that Note explores is not projected deliberately. It lurks in every incident Sanjay Subrahmanyan narrates and every note he sings, but is never spelt out.
Entertainment
Growing up in south Bengaluru, Deepti Navaratna was encouraged to pursue music from a very young age, gaining a certain mastery over the classical art form. Even when she became a neuroscientist and a faculty member at the prestigious Harvard Medical School, music remained Navaratna's love throughout