Bull in a China shop: Ajit Pawar should ban mobs, not Facebook
Maharashtra deputy CM Ajit Pawar is right to be concerned about what caused the Pune techie to be killed by a mob. But by even talking about a social media ban ala China he is confusing the medium for the message.
Here's an uncomfortable fact.
If there was no Facebook or WhatsApp, Moshin Sadiq Shaikh of Solapur might still be alive today.
Shaikh is the techie attacked and killed by a mob, allegedly associated with the Hindu Rashtra Sena, incensed about morphed derogatory images of Shivaji and Bal Thackeray circulated on social media. Shaikh, of course, had nothing to do with the images but a vigilante group thirsting to teach someone a lesson is not bothered about such niceties.
That's probably what Maharashtra deputy CM Ajit Pawar had in his mind when he talked about how China had a two-year ban on social media and suggested Indian political parties to also "press for a similar clamp down".
How about a two-year ban on hatemongers instead? Facebook didn't kill Shaikh. People did.
Pawar clearly confused the medium with the message. Facebook is visible and as China has demonstrated "bannable".
Ferreting out anonymous posters hiding behind IP addresses, perhaps not even in this country, dealing with social media corporations reluctant to hand over user information – all that is arduous, complicated, and time-consuming work. In the Pune case the Shivaji/Thackeray Facebook page apparently originated from a European country and a mutual legal assistance treaty (MLAT) has to be invoked and a Letter of Rogatory used to proceed.
If that's just a foretaste of what it takes who could blame Pawar for just wanting to turn off the tap.
But it's ironic that Pawar chose to hold up China as a role model and that too just days after the 25th anniversary of the Tiananmen Square massacre that China chose to mark by not marking it at all? In fact, writes Salil Tripathi in Mint, the date of that fateful day, June 4th cannot be a search term in Chinese internet search engines. But where there's a will, there's a way and Chinese have taken to calling that day May 35 instead to elude Big Brother.
Social media, and the online world in general, is very much a cat and mouse game. And governments must live with that reality.
Pawar has hurriedly backtracked on his comments and said he was not talking about a ban. He was talking about "regulation". That sounds like he wants to be Kapil Sibal circa 2012. "The print media is subject to the laws of this country, the electronic media is subject to the laws of this country, My only question is why should social media not be a subject?"
Except social media, as government is finding out isn't exactly like old media and hard to control by old means. Like Topsy in Uncle Tom's Cabin, it just growed. There's no editor that monitors the content. No layers of editorial oversight. No printing press. No television studio. No headquarters. Only proxy servers. It's a wild wild web. And to think that social media can be tamed into becoming a domestic beast of burden only for social good is to live in a fool's paradise.
It blurs the very notion of public and private. If someone says something offensive about a national leader in his personal diary can that person be charged with anything? What if the personal diary is actually a personal blog? What if someone else shares that post or cartoon? Does the onus shift to the sharer? Is someone's Facebook account their personal space where what they share is between them, Facebook and their friends? But is something on a Twitter timeline more of public property? Is a morphed photograph clearly intended to stir trouble the same as a dushtu lok cartoon the same as an M F Husain painting? These are tricky questions we have never had to deal with and we have to understand that the relationship between a Facebook poster and Facebook does not map neatly into the existing models of author and publisher or journalist and media house.
Even Sibal admitted the problem at a Headlines Today townhall.
"It's a new medium, it's an evolving medium. We don't know how to deal with it ourselves. We need to understand the power of the social media. No government is fully aware of its power or how to relate to it."
While Sibal and Pawar's consternation sounds perfectly reasonable the problem is a government is always tempted to abuse in the name of regulation. That's been amply proven by how Section 66A of the IT Act has been used. Instead of being about preserving communal harmony, it's used to silence perfectly innocuous citizens. Shaheen Dada was not hiding behind some anonymous IP when she questioned the Mumbai shutdown after Bal Thackeray's death on Facebook. That made it very easy for her to be arrested.
When Mamata Banerjee's government went after a Jadavpur University professor it was triggered by his forwarding a cartoon her government did not find funny. He was not even the cartoonist which would have been more understandable if no less excusable. Ravi Srinivasan found himself harassed by police after a tweet about P. Chidambaram's son.
That's why the word "regulation" when uttered by the government should raise very red flags.
China too "regulates" social media. After all almost half of its 1.3 billion residents are online and use social media. So it can scoff at Westerners who are fixated on Facebook bans and say Facebook is just jealous of the success of its local alternatives like Sina Weibo and Renren.
But just this March, AP reports Weibo shut down 40 user accounts deemed objectionable. In 2012 when there was a political furore about the ouster of Communist Party star Bo Xilai and rumours of a coup attempt, both of China's microblogging giants Sina Corp. and Tencent Corp. blocked comments leading historian Ma Yong to say Sina chief "Boss Chao is setting model example of netizens: only discuss the weather, don't discuss politics."
China is hardly the heaven of freedom into which India should awake.
But that does not mean there is no issue here. The ultimate test of freedom of expression has always been clear. It does not include the right to falsely shout fire in the middle of a crowded theatre. But at least that man raising the false alarm needed to be physically present in that crowded theatre. Now the firestarter might be continents away hiding behind many firewalls.
Though he's been lambasted, Pawar's concern is not entirely misplaced though his solutions are. Except by his logic we could ban cars to prevent traffic accidents. One could argue that cars are a little more essential to modern life than pictures of yesterday's dinner on Facebook. But that should not be a decision left to the likes of Pawar. In fact, Narendra Modi actually wants his ministers to be active on social networking sites.
Actually if politicians were more pro-active about cracking down on stone-throwing mobs instead of commenting on how "some amount of repercussions was natural" to "painful" posts on Facebook, our democracy would be better served. We should think about how we can build a more resilient democracy instead of tightening the apron strings of a nanny state.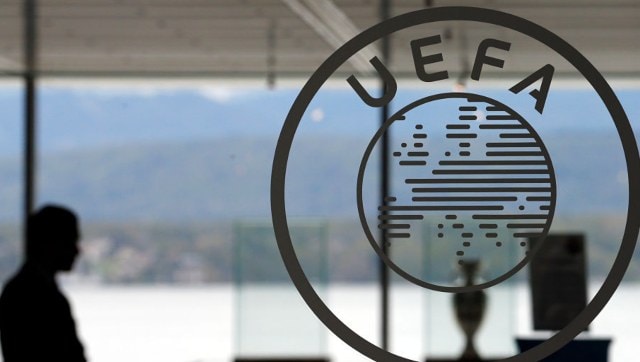 Sports
A number of high-profile footballers have suffered racial abuse in recent months, prompting calls for tougher action from internet giants.
Sports
Sterling suffered the abuse following City's Champions League semi-final second leg victory against Paris St Germain on Tuesday.
Sports
Clubs, players, and governing bodies observed a blackout from 1400 GMT on Friday until 2259 GMT on Monday that was also supported by other sports, businesses, and media outlets.