The smiling countenance of the 36 year-old Lama Lobsang Gyatso, a Buddhist monk who lives in the Mon-Tawang region of Arunachal Pradesh belies his steely resolve to see things through he has set his mind upon. Gyatso, lovingly called Anna, has fearlessly fought against corruption and rapacious development, and campaigned to protect the rivers, wildlife and culture of the Tawang region, home to the Buddhist Monpa community he belongs to.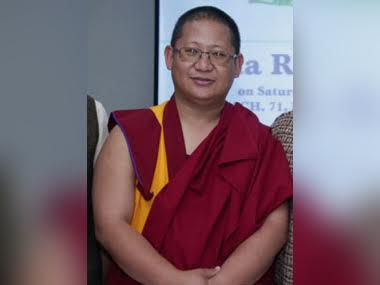 Gyatso was in Mumbai recently to receive the Sanctuary Magazine's Wildlife Service Award for mobilising a movement to save the Black-necked crane and its habitat against the 780 MW Nyamjang Chhu project, promoted by the Noida-based steel conglomerate LNJ Bhilwara Group, to be set up in the Zemithang region of Tawang. This is the place where the rare black necked crane comes for its winter retreat.
Sacred bird
The black necked crane is considered auspicious and holy by the 50,000 strong Monpa community that lives in Tawang. They consider the bird to be the reincarnation of the 6th Dalai Lama — Tsangyang Gyatso, a Monpa — who they believe returns annually to his winter retreat here.
Heading the Save Mon Region Federation (SMRF), Gyatso and his band of like-minded followers have been advocating socio-culturally and ecologically sensitive development in the Mon-Tawang region of Arunachal Pradesh.
Even as a young child and the only son of his parents, Gyatso made up his mind to become a monk. After finishing his matriculation at the Bylakuppe monastery in Karnataka, Gyatso worked at the monastery for a few years before returning to his village in Tawang and living on his own as a monk. He came out of his secluded life engrossed in study and meditation to stand up against destruction to the ecology and the threat to the black necked crane because of proposed hydroelectric projects in the region during 2012.
"There are 13 hydroelectric projects that have been proposed in the region. We don't need these many at all as our community is only around 50,000 members," said the lama seated in a crowded outdoors of the Press Club in Mumbai, far from his serene surroundings of Tawang, sipping his tea and speaking softly about his strife to save the black necked crane.
As he talks, he surveys quizzically the hustle and bustle around him, blowing air over his steaming hot cuppa, while the crowd passing by turn to look at him too as he stand out in his maroon robe.
Arrests, agitation
Gyatso was arrested four times for leading an agitation against the Nyamjang Chhu project. "The black necked crane is god's bird to us, the Monpas. We feed it. The 6th Dalai Lama has mentioned about it in his poetry. We also have it as a motif on our thangkas and other sacred things. I could not keep silent and watch the bird's winter retreat being destroyed by hydropower projects," he says, his voice maintaining an even tone and tenor.
The black necked crane rated 'vulnerable' in the International Union for Conservation of Nature's list of endangered species is classified under Schedule 1 of the Wildlife Protection Act, 1972.
This quiet Buddhist monk has led local rallies and campaigns, met up with parliamentarians in Delhi, reported environment and forest violations to the Ministry of Environment, Forests and Climate Change (MoEFCC), raised awareness through the media, mobilised his community and has taken legal action besides documenting ecologically-sensitive sites affected by certain destructive hydroelectric projects.
Hydropower project suspended
Gyatso met with success when the National Green Tribunal in April 2016 suspended the environmental clearance of the Rs 6,400 crore Nyamjang Chhu project based on the appeal filed by his Federation.
He says that he draws strength from his faith and his life as a monk. "We are not against people or development," he says. It is inter-development that is the focus, he adds.
The Lama is confounded at how people can ravage the environment even as they live amidst it. "As we see it, to survive we have to depend on the environment. If the environment is destroyed, our lives too will be."
His agitation has received strong local support. The locals have stormed the police station when he was arrested. He says that he bears no 'ill will' for those who jailed him or even for those who are setting up the hydro electric power projects. "Our protests are non violent. It is my duty to protect my community and the environment around us."
Lama says that the survival of rare species of birds and plants are threatened by the hydroelectric power projects. "There are small leopards, red panda and many other birds," he says. "I am fortunate to have been born in this region and the community." It is his deep sense of gratitude to his environment and the destruction to it posed by 'development' projects that gives him strength to withstand power and politics, he remarks.
Despite hurdles, Gyatso and the SMRF continue their uphill battle to protect the rivers, wildlife and culture of Tawang. His work has resulted in many villages in the area adopting Gram Sabha resolutions against destructive projects impacting cultural sites, livelihoods and wildlife species.
Though the Nyamjang Chhu project has only been suspended as of now, he is hopeful that the agitation will succeed. " I am in no hurry. One has to be hopeful that things will be better tomorrow." Hopefully it will for Gyatso and his community.
Updated Date: Dec 10, 2016 09:45:20 IST